A modern garage can be used for so much more than housing the family sedan. Whether you're creating a workshop or home theater, adding one of the best garage heaters can keep the space comfortable.
Garage heaters range in size and style, but some are more powerful and efficient than others. This review talks you through the best garage heaters for your square footage, safety tips, and more.
What is a garage heater?
A garage heater is a device that warms your room by creating hot air. If you use your garage for anything other than storing your cars, you'd likely benefit from a heater.
The average two-car garage is 360 square feet. If you want to expand your living space or need a getaway for your hobbies, the garage offers the real estate you need.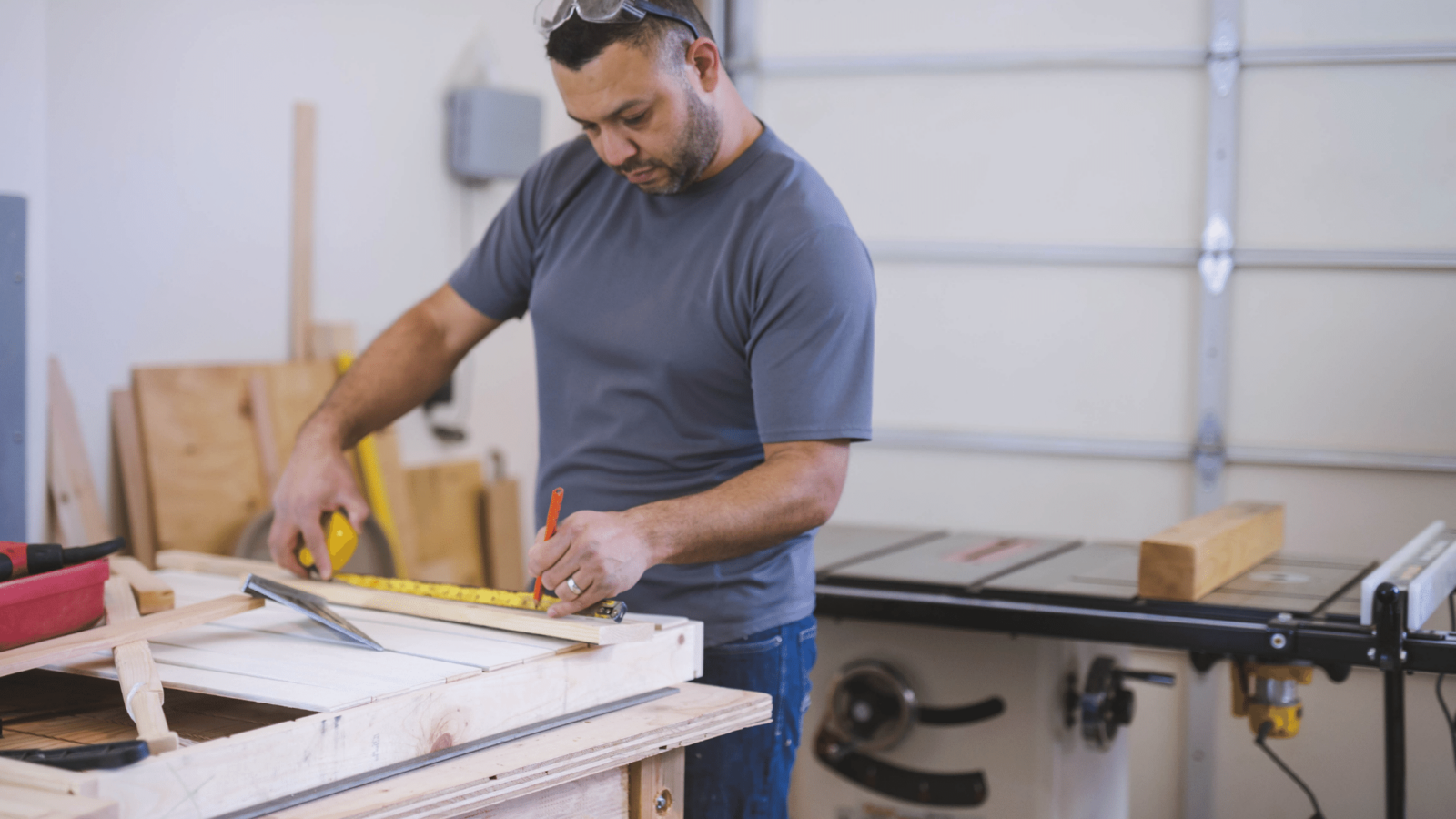 Unfortunately, garages aren't typically well insulated. They can get uncomfortably cold and drafty in the winter months.
With a garage heater, you'll be able to use the room through the winter. The warmth makes the room feel less like a repurposed garage and more like any other space in your home.
Best garage heaters review
Thankfully, you don't have to drain your funds for a quality garage heater. We've rounded up a diverse range of portable and stationary models.
You'll find a range of heat sources and heating methods, so there's a bit of something for everyone. We highlight a value option below, but all of our picks come in under $500. All prices are valid at the time of publication.
Best Electric Heater
Comfort Zone CZ230ER | $298.92
The Comfort Zone CZ230ER is the best garage heater if you need all the floor space possible. This unit blows heat through your whole garage.
The heater weighs 25 pounds and comes with variable mounting, so it hangs up and away from the ground. This is perfect if your space is used as a game room or children are around because it prevents accidental tip-overs.
The CZ230ER must be hardwired and maxes out at 7500 Watts. You can comfortably heat a two-car garage in a colder climate and an even bigger space in milder regions.
The included remote control helps you change the digital thermostat, fan settings, and more to your liking. We especially like the safety feature on this unit. A built-in sensor detects overheating and automatically shuts the heater off to prevent damage.
The louvers provide targeted warmth and the 12-hour timer allows you to automatize your comfort. Have the installation completed by a professional electrician to ensure all the wiring is completed safely.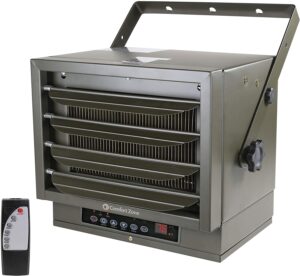 Size
17.5 x 13.6 x 14.2 in
Heating Method
Forced Air
Power
240 Volt Hardwiring
Best Gas Garage Heater
Mr. Heater Big Maxx Natural Gas Heater | $447.99
A big garage needs big heat, and this powerhouse delivers. The Mr. Heater Big Maxx is perfect for lower ceilings since you only need an inch of clearing to mount it.
The 50,000-BTU Big Maxx is a natural gas-fueled, forced air heater that allows for vertical or horizontal venting. This much power can comfortably heat a three-car garage or up to 1250 square feet.
The fan and electric ignition spark require a standard 115V AC supply. Plus, the unit comes with a natural gas to liquid propane conversion kit, so you can customize your heat source.
The unit comes with a three-year factory warranty on all parts and burners and a 10-year warranty on any defects in the heat exchanger.
One downside is that the required venting kit, thermostat, and heat exchanger are sold separately. Still, the heater makes our list because it's easy to install and provides consistent heat.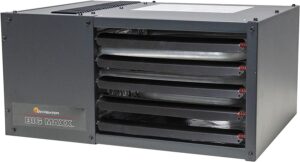 Heating Method
Forced Air
Best Portable Heater
Mr. Heater Big Buddy | $159.99
Who said your heater has to stay in the garage? The Mr. Heater Big Buddy can heat 450 square feet of almost any space, so it's perfect for indoor-outdoor use.
Hook up two one-pound cylinders of propane for a quick blast of heat. The Big Buddy guzzles propane quickly on the high setting, but the 18,000-BTU output is impressive power for a portable model.
You'll get up to 11 hours of heat when used on low and roughly 2.8 hours of use on high. Hose attachments are sold separately, so you can attach a bigger propane tank when needed.
Unlike other portable models, the Mr. Heater Big Buddy has an automatic low oxygen shut-off system (ODS) and accidental tip-over safety shut-off. These are two of the most desirable safety features of a garage heater.
The single-control start knob and three heat settings make this unit one of the easiest to use.
Best Value Heater
Lasko 5586 Digital Ceramic Tower Heater | $72.09
You don't have to pay big bucks for powerful heating. The Lasko 5586 Digital Ceramic Tower Heater makes a great budget-friendly option for smaller garages.
Lasko doesn't cut corners on the safety of the design. The cool-touch ceramic exterior won't get hot, so you can touch the controls without worrying about burns.
This model gets props for being more customizable than most value options. Choose from two heating options: 900 or 1500-Watts with an optional 8-hour timer.
Use the multi-function remote control to keep your space at your desired temperature. The digital thermostat will monitor the room and produce the heat needed to maintain the setting.
At just seven pounds, this unit is easy to move from your garage to inside your home. One drawback is that this unit makes more noise than other options, particularly on the high setting.
Still, this Lasko model has more bells and whistles than most value heaters. We think it's a perfect fit for one-car garages and spaces up to 150 square feet.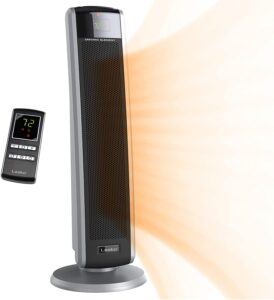 Size
10.5 x 8.8 x 29.5 in
Heating Method
Convection
Best Infrared Heater
Dr. Infrared Heater DR-998 | $146.26
The Dr. Infrared Heater DR-998 isn't exactly a beauty, but its standout features and value earned it a spot on our list. It's an infrared heater, minus the worst parts of infrared heaters.
Most infrared heaters have a glaring con: they emit heat from a single surface, so the heat stays concentrated in one spot. This electric model has an oscillating fan, so you'll get 360 degrees of warm air throughout your whole garage.
The built-in humidifier pumps cool mist back into the room, adding much-needed moisture to dry winter air.
We love that the DR-998 can be used year-round. The fan-only mode gives a stream of cool air when summer returns.
Plus, you can easily plug the DR-998 into any three-pronged outlet. You can roll it between rooms on its caster wheels, and the anti-tip-over setting keeps kids and pets from knocking it over.
The DR-998 is a humidifier, fan, and heater rolled into one. With a sub-$150 price tag, we are impressed.
Heating Method
Radiant, Forced Air, Convection
How many BTUs to heat a garage?
The number of BTUs needed to heat a garage depends on two factors: the size of your garage and the climate where you live. The U.S. falls under eight climate zones, with Zone 8 being the coldest. 
First, find out which zone you call home. The colder the climate you're in, the higher-BTU heater you'll need to get the job done.
You'll also need to find the area, or square footage, of your garage. Measure one long side and one short side of your garage, then multiply the two numbers. For example, a 15-foot long and 20-foot wide garage spans 300 square feet.
Here's a general guideline for gas-powered heaters, depending on your climate zone. This chart doesn't apply to electric heaters.
| Climate Zone | Optimal BTU/sq. ft. |
| --- | --- |
| Zone 1 | 30-35 |
| Zone 2 | 35-40 |
| Zone 3 | 40-45 |
| Zone 4 | 45-50 |
| Zone 5 | 50-55 |
| Zone 6 | 55-60 |
| Zone 7 or 8 | 60+ |
How many Watts to heat a garage?
Electric heaters need about 10 square feet of space per Watt of energy they use. For example, a 5000-Watt electric heater can effectively heat up to 500 square feet.
Types of garage heaters
Garage heaters aren't one-size-fits-all solutions. The many differences in build, heating power, and fuel sources mean you'll want to choose a garage heater based on your unique needs.
Stationary garage heaters
As the name suggests, these heaters sit in a permanent spot in your home. You'll need a pro to hardwire the heater into your ceiling or wall.
One perk of going with a stationary model is powerhouse heating. Portable heaters can't touch the energy outputs on stationary models, so this option is great for two-car garages and larger.
Stationary heaters are pricier than portable models, and you'll be hard-pressed to find a quality model for under $500.
Installing a stationary garage heater isn't DIY-friendly. In fact, trying to hardwire one yourself may violate your local electrical code. Hire a licensed electrician for the job.
Portable garage heaters
Portable models can be carried or wheeled from room to room. If you're planning to move soon or want to use the heater in other spaces, portable is perfect.
Portable models are generally better at creating focused heat. If you spend most of your time in one section of your garage, you may want to opt for a portable model.
Another reason to go with portable is the affordability. Portable garage heaters cost hundreds less than stationary models, and they're way easier to install. Still, you won't get the powerful blasts of heat that a stationary model offers.
Gas garage heaters
Gas-powered garage heaters come in both stationary and portable models. They are less environmentally-friendly than electric, but they're better at heating your space.
Most gas heaters run on propane, but some use natural gas. Propane is about twice as energy-efficient as natural gas. So, between the two, we recommend propane as long as you have proper ventilation.
You'll need to connect a natural gas heater to your home's natural gas line. Have an HVAC pro complete the job. Most propane-fueled models run on cylinders or tanks.
The heat output of gas heaters is measured in British Thermal Units (BTU). Models for smaller garages start around 12,000 BTU, but multi-car garages or extremely cold climates will benefit from 20,000 BTU or more. 
If you live somewhere with frequent power outages, go for gas. Electric models will stop working when the power goes out, but gas heaters will keep on chugging.
Still, gas heaters need proper ventilation to work safely. Follow all manufacturer recommendations when it comes to ventilation to avoid harmful fumes.
Electric garage heaters
Despite the powerful and less expensive heat that comes from a gas-powered heater, electric models are quite popular.
Portable electric heaters plug into an outlet, but stationary models have to be hardwired into your ceiling or wall. Electric garage heaters have two major advantages: you never have to refill the fuel tank, and, when installed properly, there are fewer safety risks.
If your home has power, your electric heater provides warmth. You don't have to store extra fuel or worry about finding a fuel provider.
Plus, an electric heater eliminates the risk of harmful gas fumes. Ventilation isn't needed, so there's one less installation concern with this type of heater.
A major drawback? The heating power from electricity is arguably less than that of a gas-powered heater. For extremely cold climates, a gas-powered unit is likely the better option.
Things to consider with garage heaters
Garage heaters are easy to use, but your safety is a top priority. Decide which unit is best for your space and rely on a certified HVAC professional for installation, if needed.
Safety tips and features
Many garage heaters come with built-in safety features. Look out for anti-overheating settings, which keep your unit from overworking and catching fire.
Most models also have an anti-tip-over setting, which locks your heater in an upright position. For infrared and portable styles, this feature is a must-have. 
If you're using a gas-powered heater, make sure your space is properly vented. Keep a small window or door open so there's a constant airflow in your garage.
Keep your heater away from flammable items. Never set anything on top of or near the heater.
Most models on the market have a grill or barrier covering the heat. Still, it's important to keep pets, children, and other objects away from the heat source.
Heater Size
If your heater is too small for the room, the temperature will never increase to your desired comfort level. Plus, your machine runs the risk of overheating, which is a major safety concern.
If your heater is too big for your room, you'll end up wasting energy and resources. Double check the energy output on your heater, and make sure your garage falls within its maximum square footage.
Forced air vs. convection vs. radiant heaters
Both stationary and portable heaters use different methods to heat your space. Some create concentrated heat, while others use fans to disperse the air through the room.
Forced-air heaters use ductwork, or vents, to send warm air into your room. The air is forced, or blown, through your garage with a fan.
Convection heaters use an internal flame to warm the air, then the air rises naturally. It spreads through your room without the need for a fan, which makes it different from forced air.
Radiant heaters emit, or radiate, heat off a single hot object. You'll feel intense heat if you're standing directly in front of a radiant heater, but it quickly dissipates as you move farther away.
Forced-air heaters are best for big garages. We'd also recommend them if you entertain big crowds or you want an even spread of heat throughout your garage. If you're in the market for a stationary model, it'll probably be forced-air.
If your garage is small or medium, a convection heater will get the job done. Most convection heaters are portable, but there are some stationary models available.
If you spend most of your time in one section of your garage, go for an infrared model. We wouldn't recommend most infrared models for full-garage heating, since they don't have a fan to blow out the hot air.
Best garage heaters
Garages can be reinvented as entertainment spots, workshops, and more. A garage heater helps warm your space, so it feels more like any other room in your house.
Garage heaters are energy efficient and easy to use. They make your space feel more inviting and cozy, so your family and friends can gather and bond.
The post 5 best garage heaters (2022)  appeared first on HVAC Solutions.

Source: HVAC Feed 1