When you're deciding on a safe supplemental heating source for your home or outdoor exertion, battery powered heaters are one of the most searched for options. Unfortunately, quality heaters that operate on traditional batteries, like the kind you likely have packed away in the junk drawer, don't exist.
In our guide, we'll introduce you to some of the top battery powered personal heaters as well as battery powered heater alternatives. Consider your space and portability needs to decide which heater is the best choice.
Best battery powered heater alternatives
Best indoor/outdoor portable heater
The Mr. Heater F232000 MH9BX Buddy is a propane radiant heater that is safe for indoor and outdoor use. When you simply want to be warm, this is the reliable and sturdy device you want. The heater operates between 4,000- to 9,000-BTU and can warm a space up to 225 square feet. It is a propane heater that's safe for indoor use and burns at nearly 100% efficiency.
With just a one pound propane cylinder, the heater can burn for more than five hours on a low heat setting and nearly two-and-a-half hours on high heat. The heater comes with several safety features, including an auto shut-off if tipped over, if the pilot light goes out, or if it detects low oxygen levels. At just nine pounds and with an easy-grip handle, this unit is perfect for outdoor adventures and can serve as a great alternative to a battery powered tent heater.
Best battery powered heater alternative for large space
When you have a space up to 1,000 square feet to heat, the Sengoku KeroHeat CV23K(H) is the best choice. This indoor kerosene space heater is an ideal solution for an emergency heat source. The push-start button and easy flame adjuster mean you can start warming up quickly and customize the heat to your needs.
The 1.9 gallon fuel tank will provide up to 12 hours of warmth. We especially like that this unit is backed by a limited 2-year warranty. It will heat well beyond that of any battery powered heater, even in spaces with tall ceilings or limited insulation, like a garage or warehouse.
Best features on battery powered heater
If you're in the market for more than just heat, the DeWalt DXH12B should make the top of your list. This rechargeable battery powered heater uses the DeWalt 20V MAX or FlexVolt batteries and propane. The rechargeable battery is necessary only if you want to use the LED light bar that's built into the handle, one of three USB charging ports, or the fan that distributes heat in your desired direction.
Otherwise, the unit only needs a single "AAA" battery for the electronic ignition to work. The heat itself is powered by propane. At its highest setting, the unit puts out 12,000 BTUs of heat and 6,000 BTUs on a low setting. We love this device as a multi-purpose solution while you're tailgating or camping.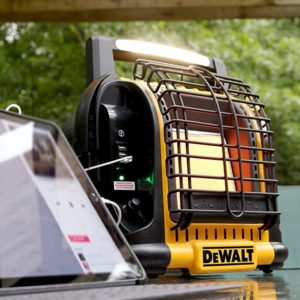 Best cordless battery powered heater alternative
The powerful battery fueled Mr. Heater Hero offers 35,000 BTU, heating up to 850 square feet of space. The heater requires a specific battery or electricity to ignite the propane and run the fans that blow out the hot air. Even while distributing a large amount of heat, the Mr. Heater Hero stays cool to the touch.
The battery offers up to 8 hours of use and the heater can be used while the battery is charging. A 20 pound propane tank provides up to 12 hours of warmth. At 17 pounds, the unit is relatively easy to transport and is built with a sturdy handle for a good grip. We especially love that it is equipped with an accidental tip-over safety shutoff and flame safety shutoff.
Best battery powered camping heater alternative
The Campy Gear Portable Heater & Stove is a small but mighty device. This unit can produce 9,000 BTU and operates with a unique 360° radiant heating design. The heating of this device allows you to stay warm while you enjoy the outdoors. Plus, the one year warranty means you can get help if anything goes wrong in the first 12 months.
One of our favorite features of this unit is the dual-functionality of heating and cooking. Settings allow you to choose "heat" or "heat and cook" to meet your needs. The stand supports a single 12-inch pot or pan. When completely fueled, this unit will burn for up to 2 hours, but can work for longer if a 1 lb propane cylinder is added.
Best small battery powered heater alternative
When it comes to personal space heaters, you can't beat the Lasko Space Heater. This compact device is ideal for warming your office or cubical space. Place it at your feet or on top of your desk for direct warmth. At just six inches tall and four inches wide, the heater takes up minimal space.
We especially love this compact heater because it's low wattage, which means you stay warm but it won't trip the office circuit breaker when you turn it on. This unit is ready to go straight out of the box. Simply plug the six foot electric chord into a standard outlet and flip the power switch. While this Lasko unit won't heat an entire room, it's ideal for year-round use for personal comfort.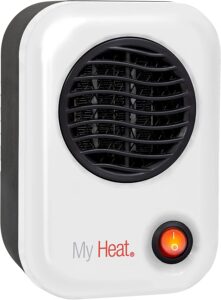 Best modern design battery powered heater alternative
For powerful heat with a modern exterior, turn to the HONEYWELL HCE200B. The ceramic heater offers powerful, 1500-watt heat in sleek design. It's ideal for tabletop or floor placement and offers two heat settings. On its highest setting, the unit can create warmth for up to 150 square feet. For an eco-friendly approach, opt for the low setting.
We were surprised to see multiple safety features offered at this price point. The Honeywell heaters comes with an adjustable thermostat, a tip over switch, cool touch housing and overheat protection. It's only nine inches at its widest point and weighs less than four pounds. At under $40, this portable heater is a must-buy.
What is a battery powered heater?
Battery powered space heaters do not run on batteries alone. Many of them use a fuel source like kerosene or propane for heating and the battery is used to operate other features on the device.
Rechargeable battery powered heaters are typically powered much like a cell phone, with a USB cord. These small heaters are also called hand warmers or pocket warmers. The charge can last for several hours, but the heat generated isn't much more than what will keep your feet or hands warm.
Pros vs. Cons of battery powered heaters
Battery based heaters, or hand warmers, are a great portable option for sporting events, camping, or being outdoors during cold weather. The heaters are safe to operate and can usually hold a charge for 8 to 12 hours.
These personal warmers, or rechargeable battery powered heaters, will keep your hands or feet warm, but not much else. The devices aren't designed to heat any type of space, other than a glove, and certainly won't keep you warm if you're in need of a battery powered tent heater.
How efficient are battery powered heaters?
Whole-home battery powered space heaters do not exist, so we've developed a list of products that can be used indoors or out and serve as a battery powered heater alternative. There are many options on the market today that are safe to use indoors and stronger than battery powered heaters. These heaters can also provide supplemental heat to your house in winter at an economical cost.
Let an HVAC pro help you with your heating system.
Propane heater
Propane is commonly used for furnaces and HVAC systems, but it is also used to power small, portable heaters. It is a clean burning fuel, and these heaters are available in both vented and vent-free forms (the latter is prohibited in California). Instead of using a battery, propane heaters have a fuel tank and an ignition system. There are several types of propane heaters, including radiant, convective, cabinet, tank top, and forced air to name a few.
Radiant and convective heaters distribute warm air in all directions, delivering a balanced warmth throughout the space.
Cabinet heaters are portable and can be moved to a specific space to warm the immediate area. They often come on wheels for easy mobility and typically do not require electricity.
Tank top heaters connect directly to a propane fuel tank and are great for outdoor use at campsites, tailgating, or outdoor gatherings.
Forced air heaters distribute warmth in the direction you choose. They come in a range of sizes and should be operated according to the user's manual when it comes to indoor vs. outdoor use.
The BTUs a propane heater is capable of producing will depend on its size and the capacity of the fuel tank. Smaller heaters produce anywhere between 4000 and 8000 BTUs an hour, capable of heating 200 to 300 square feet of space. Larger heaters with a bigger fuel tank can produce up to 18,000 BTUs an hour, enough to heat 500 square feet of space. Your choice should be based upon the area you are planning to heat and how much you are willing to spend on fuel. A propane heater is one of the best alternatives to battery powered heaters for camping, fishing, traveling, and for use in outdoor areas such as the patio and garden.
Electric heater
Another popular alternative to a battery powered space heater is the electric heater. It is the cleanest and safest of all portable heaters, produces no exhaust or fumes, and works with the press of a button. Most electric space heaters produce forced hot air and some can even be turned into an air cooler in summer. As long as you have a power outlet, you can take an electric heater with you anywhere.
Electric heaters come in all sizes and prices. You can place them on a table, put them in a corner or have them wall mounted. Depending upon the size of the heater, it can heat up to 250 square feet of space, without requiring any kind of ventilation. A standard electric space heater has a wattage of 1500 and can produce up to 5000 BTUs per hour. This is usually sufficient for heating a small room, the inside of a car, a tent, or outdoor spaces such as a garage or a patio.
Kerosene heater
If you are looking for a low-cost, portable alternative to a battery powered space heater, a kerosene heater could be the answer. Similar to propane heaters in many ways, a kerosene heater has a fuel tank, an ignition system, and a wick.
Kerosene is relatively inexpensive, so using it to heat up cold rooms or outdoor spaces could be an affordable solution. Compared to propane heaters, kerosene has a very high BTU output. For every gallon, a standard kerosene heater is capable of producing 75,000 BTUs, enough to warm a large room. These heaters come in either convective or radiant forms.
On the downside, kerosene produces fumes and requires adequate ventilation. Only specified models of kerosene heaters should be used indoors and all ventilation guidelines should be followed to prevent carbon monoxide poisoning. Kerosene heaters are ideal for warming up outdoors spaces, for travel, and for keeping the inside of a tent toasty.
Skip the search and connect with an HVAC expert.
Safety considerations
Regardless of the type of portable heater you select, consider all relevant safety measures. Proper safety tips must be followed to prevent fires, burns, electrical shock, and carbon monoxide poisoning.
Only buy a heater that has been tested by an accredited laboratory
Do not leave the heater unattended, especially in the presence of pets or children
Make sure to have proper ventilation if using a heater that produces fumes
Purchase a heater with an auto shut-off function and a thermostat to prevent overheating
Always check the heater for loose connections, broken cables or plugs before use
Never leave the heater running while sleeping at night or when no one is home
Clean the heater regularly to prevent buildup of dust or debris
Consider the size of the heater, careful to not use a large heater for a small room
Always store the heater in a clean, dry place when not in use
Do not use a heater near flammable substances such as clothes, upholstery, wood, or cables
It's also important to properly store your heater fuel and know how long each lasts.
How to store propane
Store propane tanks on a flat, outdoor surface that doesn't receive direct sunlight. Avoid storing propane tanks in a work shed or garage as those spaces are often enclosed. If the propane tank valve is left open, vapors could fill the space, creating a dangerous environment.
How to store kerosene
Store kerosene in a specified kerosene container on a flat, outdoor surface that doesn't receive direct sunlight. Too much sunlight can degrade the fuel, rendering it useless when you need it for heat. Do not store kerosene in your heater. It's best to use kerosene within six months of opening.
The post Best battery powered heaters of 2022: reviews and buying guide appeared first on HVAC Solutions.

Source: HVAC Feed 1