Ductless air conditioning systems have been around since the 1970s, but homeowners are starting to catch on to their energy efficiency and affordability. We're here to review the best mini split AC units and help you pick the right model for your home.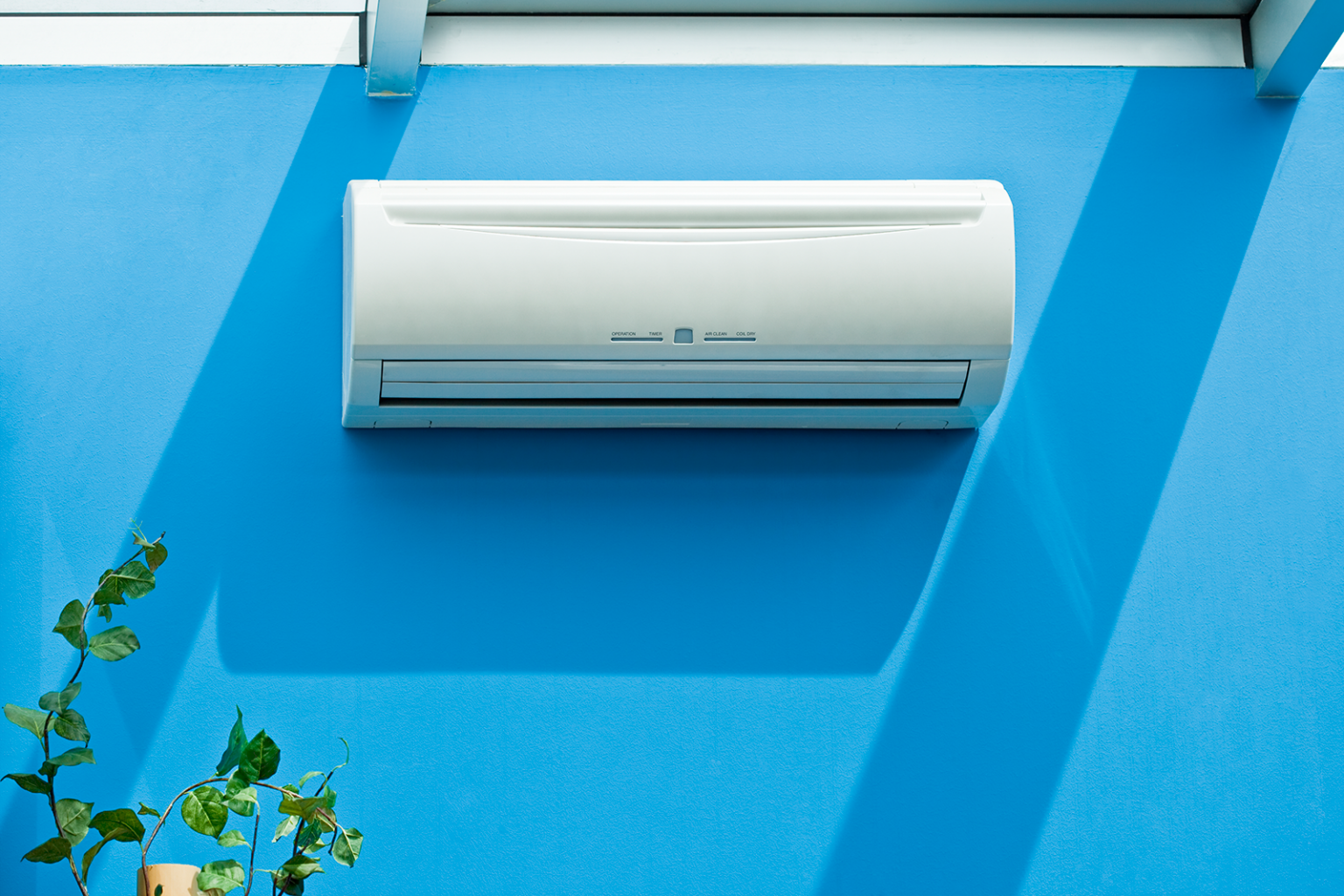 What is a ductless mini split AC?
As the name suggests, a ductless mini split system cools and heats your home without the need for HVAC ductwork. The system consists of an outdoor unit, an indoor air handler that mounts onto your ceiling or wall, and refrigerant lines that connect the two.
Ductless mini split ACs have been popular in Asia and Europe for decades, but they're quickly gaining traction in American households. A number of factors play into this growth:
With regular maintenance, a ductless system can last 20 years or more.
Ductless mini splits are quieter than ducted systems and window ACs. Most of the ductless system's noise comes from the outdoor heat pump, so the indoor air handlers are near-silent.
Many ductless systems double as dehumidifiers, helping remove excess moisture from your space.
There are two types of ductless cooling systems. Choosing the right one will depend on your home's needs.
Single-zone ductless mini split
A single-zone ductless system consists of one condenser (outdoor unit) and one air handler (indoor unit). These systems are best for homes that want to heat or cool a specific space, like an add-on or converted garage.
Multi-zone ductless mini split
A multi-zone system has one condenser that controls multiple air handlers. Multi-zone ductless ACs can connect with up to eight air handlers. If you have a big space, you'll need to opt for a multi-zone system.
Installing your ductless mini split system can cost anywhere from $2,000 to $14,000. The rate varies widely depending on the brand, number of air handlers, and labor costs. As we discuss below, some models make for easy DIY installation. 
We cover pros and cons of each model below, but here's a quick look at our favorites.
Best ductless mini split air conditioner & heat pump overall: Blueridge Five Zone Ductless Mini-Split Heat Pump System 
Best mini split (single-zone): Pioneer Diamante Series Ductless Mini Split Air Conditioner 
Best mini split (multi-zone): Senville Quad Zone Mini Split  
Best mini split for DIY installation: Mr. Cool DIY Ductless Heat Pump Split System 
Most efficient mini split: Gree Sapphire
Best Mini Split AC
Our mini split reviews cut through the confusion of how these systems work and introduce the best options for your HVAC needs.
We've chosen both single-zone and multi-zone picks. We reference both SEER and HSPF below, so let's break down what they mean:
Heating Seasonal Performance Factor (HSPF): This number measures how efficiently your device heats your space. Just like with SEER ratings, the higher the number, the better.
You'll also need an idea of how many square feet you want to treat. Below is a chart showing the ideal square footage ranges for the mini splits we mention in our best-of list.
| Capacity (BTU/hour) | Square Footage |
| --- | --- |
| 9K | 300-500 |
| 12K | 400-650 |
| 18K | 600-1000 |
| 24K | 800-1300 |
| 36K | 1200-2000 |
| 48K | 1600-2650 |
Best mini split overall
Blueridge Five Zone | $5,644.00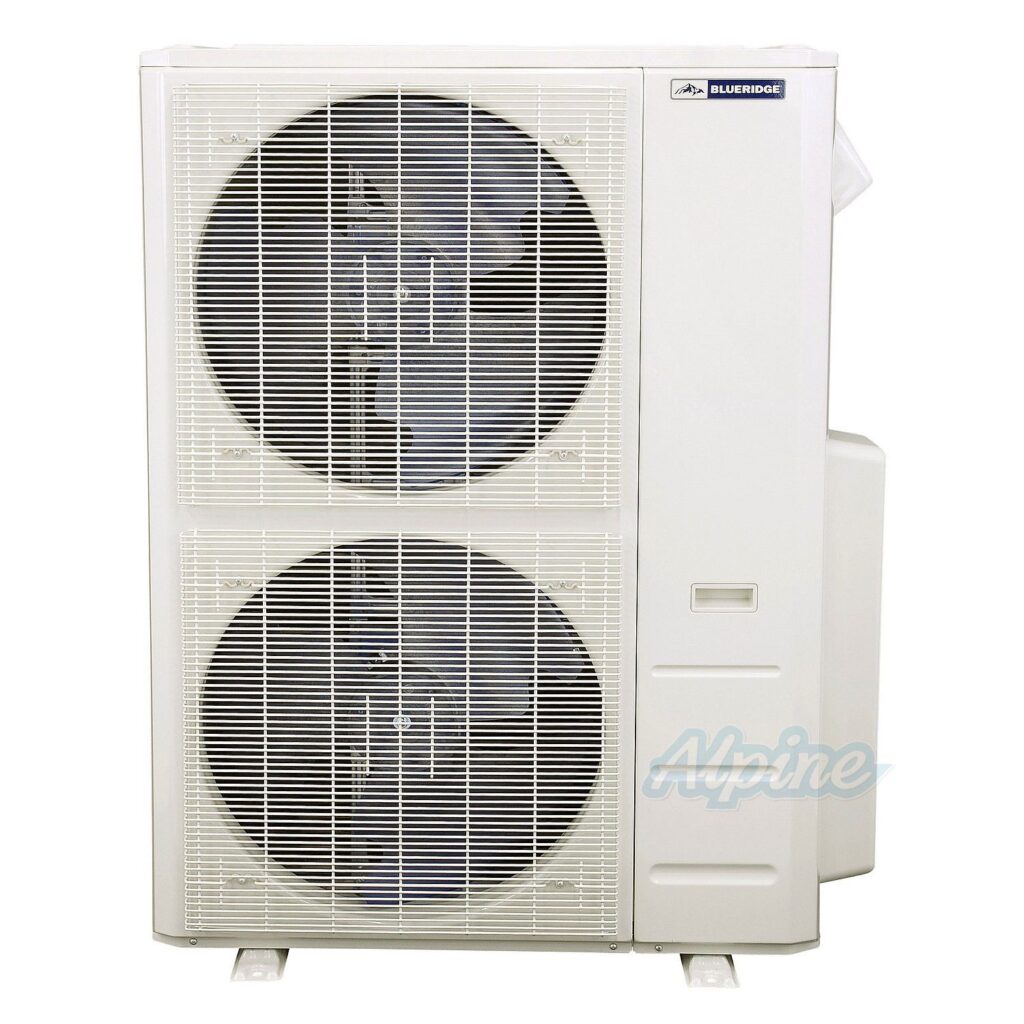 The Blueridge Five Zone system can cool or heat your home without hiking up your energy bill. This mini split comes with five ceiling cassettes, so you don't have to mount a bulky panel on your wall. 
| | |
| --- | --- |
| Capacity (BTU/hour) | 48K |
| Power Input | 208/230V |
| Max SEER | 21.5 |
| Max HSPF | 10.4 |
We are drawn to the system's 21.5 SEER rating and 4 tonnage cooling capacity. Even in an open floorplan, this mini split system can keep your family comfortable.
This ductless system comes with five remotes, one per air handler. You can control the ceiling cassettes individually to get different temperatures in different rooms. If your loved ones bicker over the thermostat, this is the best mini split option for you.
Quiet mode helps this mini split sound as silent as a library. We also love the smart sleep feature, which adjusts the temperature and airflow to your sleep schedule.
Reliability is another reason we gave this ductless system the number one spot. The coil inside the outdoor unit has a gold fin coating, which keeps it from corroding. This feature helps your device last longer and saves you money on repairs and maintenance.
Blueridge has an excellent limited warranty. The compressor is covered for seven years, and the parts are covered for five.
There are a few minor drawbacks to this system. For one, the unit doesn't include many of the materials needed if you want to install it yourself. The materials cost over $1,000 to buy separately, so you're probably better off hiring an HVAC contractor for the job.
Also, ceiling cassettes are harder to install than wall mounts. While they're smaller and more discreet, they are best for drop ceilings.
If you have a standard (drywall) ceiling, you'll have to remove some of your ceiling and reframe it for the cassettes to fit. That's why we wouldn't recommend this unit to anyone renting an apartment or in a temporary living situation.
Still, there's a lot to love about the Blueridge Five Zone system. It's got standout features, an excellent SEER rating for its powerful output, and a durable build that will last you decades.
Best single-zone mini split
Pioneer Diamante | 798.00 – 2149.00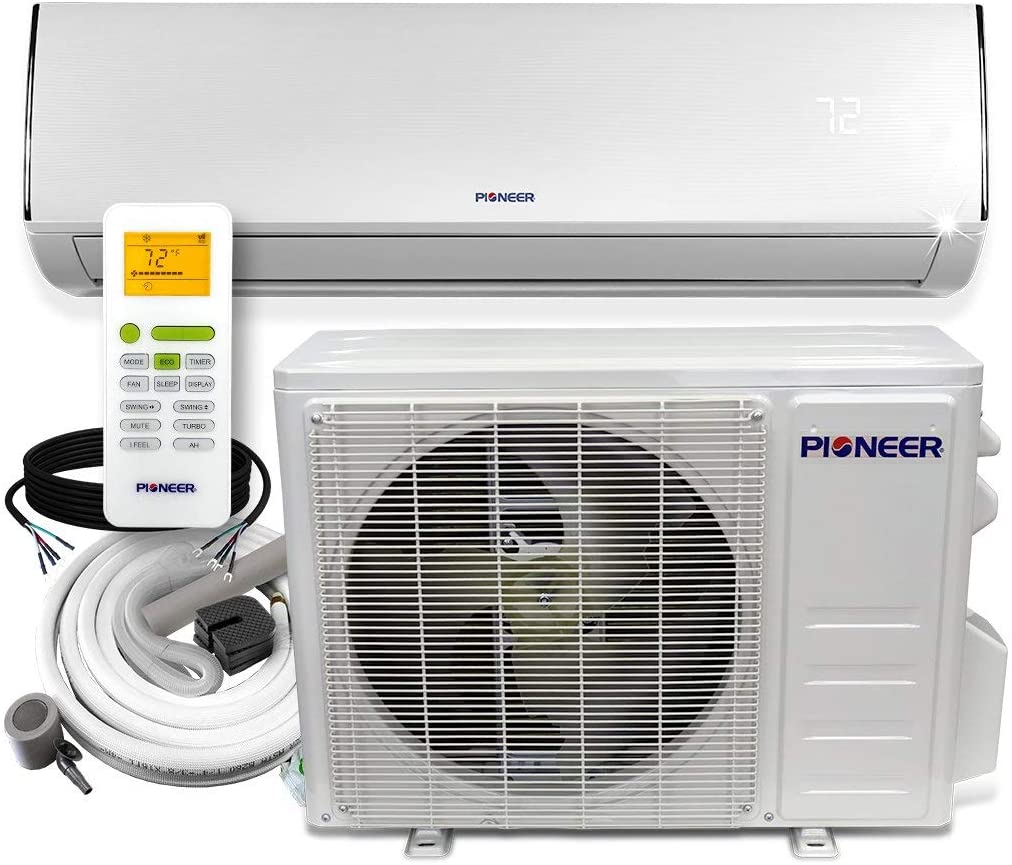 Our favorite single-zone unit won't be an eyesore in your home. The Pioneer Diamante Series boasts a wide variety of sizes and an aesthetically pleasing air handler.
| | |
| --- | --- |
| Capacity (BTU/hour) | 9K, 12K, 18K, 24K, 36K |
| Power Input | 110/120V, 208/230V |
| Max SEER | 17-20 |
| Max HSPF | 9-10.5 |
This model has a dual swing louver system. It sends out the air in horizontal and vertical directions to cover every corner of your space.
The Pioneer Diamante works even when outdoor temperatures get as low as -13 degrees Fahrenheit. It also has freeze protection, so it's a great option for people in cold climates.
Homeowners with construction or HVAC experience may feel comfortable installing this unit. It comes with a complete setup kit, but we recommend hiring an HVAC pro for quality installation. The outdoor unit can accommodate refrigerant lines anywhere from 10 to 25 feet long.
This ductless system has near-silent operation. The air handler works at around 32 dB, making it quieter than your refrigerator.
We also like how the remote has a large, backlit LCD display. It comes with a remote holder that you can mount on the wall, so you don't have to worry about misplacing the controller.
The main highlight of the Pioneer Diamante is the beautiful air handler. It's got a sleek, silvery display that outshines even premium competitors.
It also has a dimmable LED display. When you want to go to sleep, your air handler won't serve as an unwelcome nightlight.
The Pioneer Diamante Series isn't the easiest to set up, and the manual instructions could be clearer.
We do, however, like the five-year compressor warranty, but you must register your device soon after purchasing it to get the five-year parts warranty.
The Pioneer Diamante may not carry a premium price, but its aesthetically pleasing air handler tells a different story. Its top-notch features and high efficiency surpass many other brands, all at a value price point.
Best multi-zone mini split
Senville Quad Zone Mini Split Air Conditioner Heat Pump | $2,798.00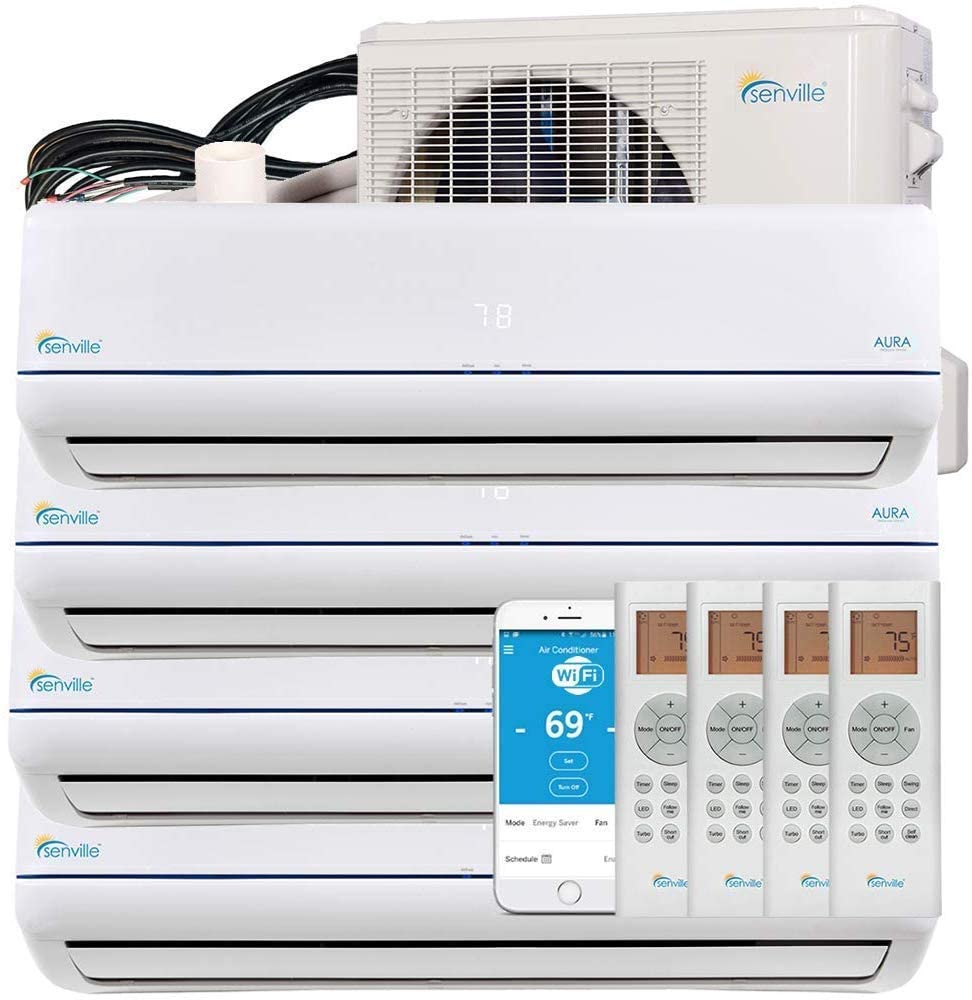 If you want to treat a big space on a budget, this four-zone split system gets the job done without breaking the bank. It's a great value for what you get, making it stand out over other multi-zone systems. 
The Senville Quad Zone mini split system has one outdoor compressor and four wall-mounted air handlers. Most brands charge between $3,500 and $5,000 for the same size unit. Plus, with operation up to 22.5 SEER, you can expect a reasonable energy bill each month.
| | |
| --- | --- |
| Capacity (BTU/hour) | 36K |
| Power Input | 208/230V |
| Max SEER | 22.5 |
| Max HSPF | 8.7-10.2 |
This model comes with a great limited warranty. The compressor is covered for seven years, and all other parts are covered for three years.
If listening to hours of hold music isn't your idea of fun, go for a Senville unit. The brand's customer service answers user questions more quickly and directly than bigger companies. Users often find Senville honors its limited warranty without any fuss.
The mini split comes with a copper line set and an easy installation kit, helping save thousands on installment costs. Of course, if this isn't your idea of a fun DIY project, call on an HVAC professional and expect to pay between $300 to $1,500 for complete installation.
This may be a value pick, but its functional features perform above its price grade. The unit is self-cleaning, has smart app capability, and can even alert you when your refrigerant is leaking.
The Senville Quad Zone packs practical features and high efficiency into a surprisingly low price tag.
Best mini split for DIY installation
Mr. Cool DIY Ductless Heat Pump Split System  | $1,379.49 – 2,374.00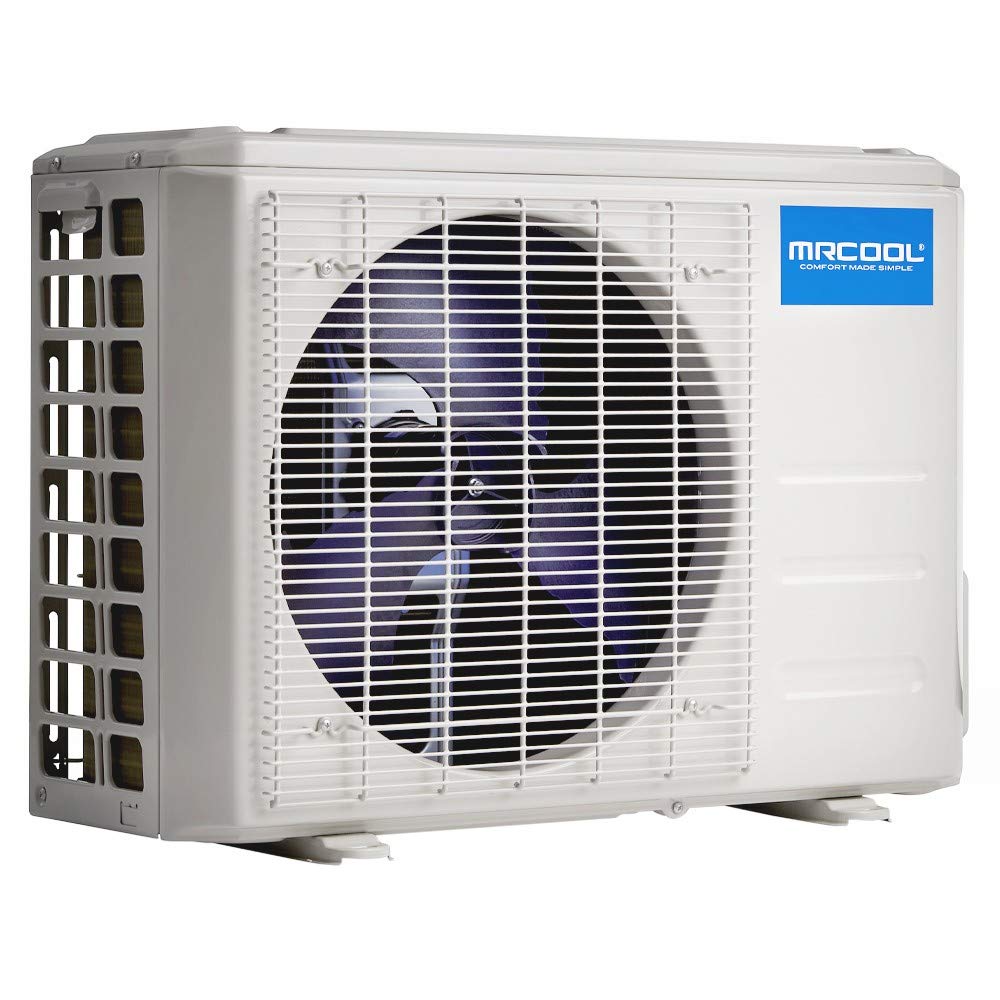 If you like to get your hands dirty, this is the best ductless air conditioner for you. This DIY-friendly option efficiently cools and heats your space with a tech-forward flair. 
The Mr. Cool DIY single-zone ductless system can cool a room up to 750 square feet and comes with the following specs:
| | |
| --- | --- |
| Capacity (BTU/hour) | 12K, 18K, 24K, 36K |
| Power Input | 115V, 230V |
| Max SEER | 16-22 |
| Max HSPF | 8.9-10 |
This mini split comes with a condenser, one air handler, and almost all the equipment you'll need. The only parts not included are tools like a hole saw and a stud finder.
Mr. Cool's products are known for high quality, and this ductless system is no different. This third-generation system continues to make improvements from earlier models.
The third generation's fan has plastic blades instead of metal, making for quieter operation. The system maxes out at 32 decibels, so you likely won't even notice when it's running.
Sleep mode will turn off your device after seven hours of inactivity to save energy. Another handy feature is an alert that notifies you when your device senses low refrigerant.
This model is Wi-Fi compatible, and the SmartHVAC app turns your smartphone into a remote control. You can even control your split system with voice commands using Alexa or Google Assistant.
Mr. Cool DIY can operate in temperatures as low as 5 degrees Fahrenheit. It's a versatile device, but there are a few drawbacks to note.
Some users complain that the DIY manual is vague. Thankfully, Mr. Cool came out with a YouTube tutorial to make setup easier.
This pick costs a pretty penny, starting at a few hundred dollars higher than most split systems on the market. We feel that the convenience of setup and the premium features justify the lofty price tag.
Overall, we find this pick to be a standout for its easy installation. It offers great tech features, smart safety touches, and energy efficiency that's sure to please the DIYer in your house.
Most efficient mini split
Gree Sapphire | $1,540.54 – 2,454.03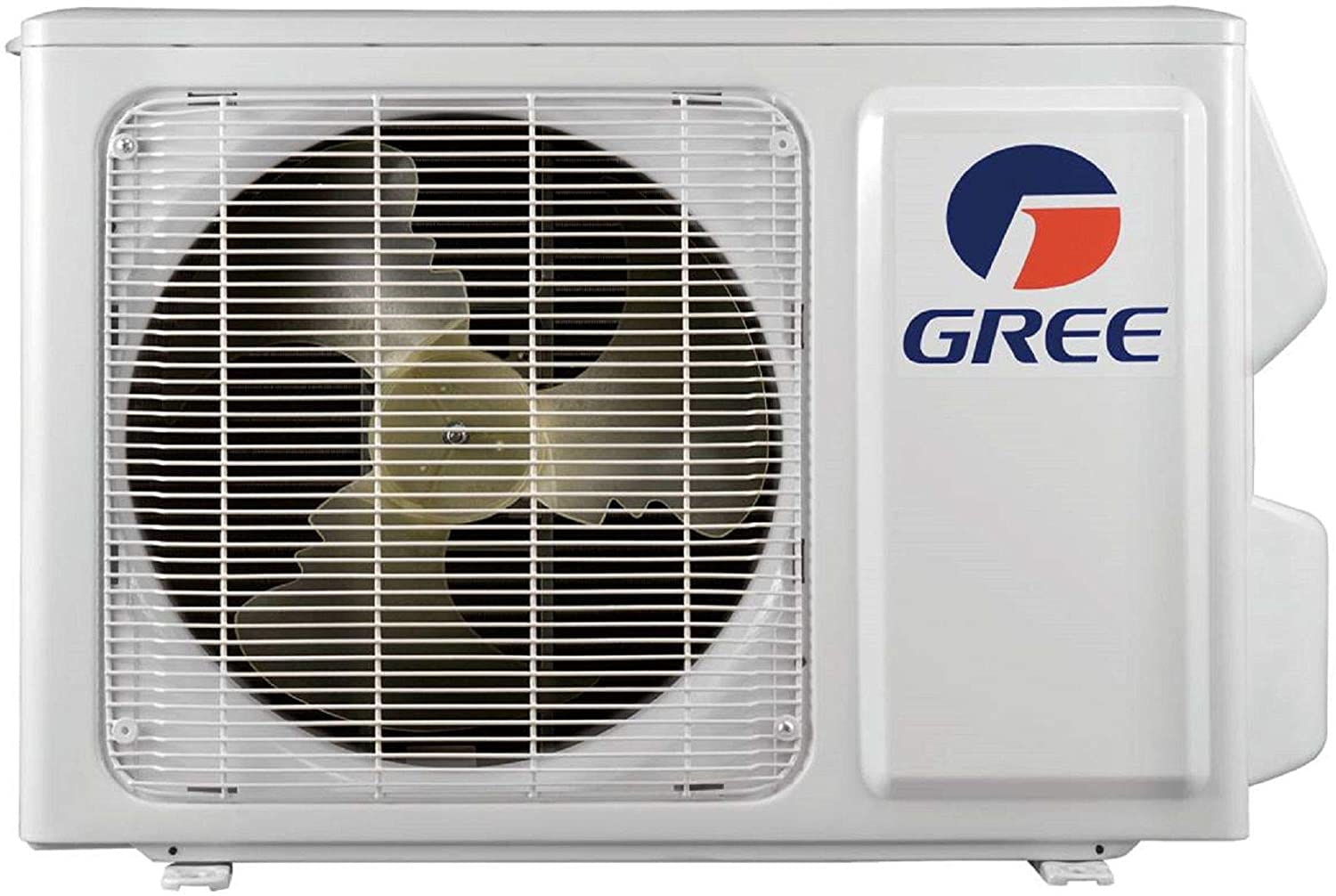 If high-efficiency is your priority, the Gree Sapphire is your mini split system. This pick has the highest SEER mini split on our list (and on the market) by a long shot. It maxes out at an unmatched 38 SEER, far more efficient than most systems that barely breach the 20s. 
With an extra-efficient 9K BTU model, you can expect to see your energy bill decrease during the cooling season. The single-zone Gree Sapphire is available in four different BTU capacities.
| | |
| --- | --- |
| Capacity (BTU/hour) | 9K, 12K, 18K, 24K |
| Power Input | 208V/230V |
| Max SEER | 30.5-38 |
| Max HSPF | 15 |
If you live somewhere with brutal winters, this is the best mini split for you. It can operate in temperatures as low as -22 degrees Fahrenheit.
We love the seven-speed fan and four-way airflow on this model. It saves you energy by working below its maximum capacity for most of the day.
The Gree Sapphire comes with Wi-Fi compatibility. You can use the manual remote control or use the Gree+ app to give commands using your smartphone.
If you're sick of noisy ducted systems keeping you awake, the Gree Sapphire could be your saving grace. This model can get quieter than a whisper from five feet away.
Sadly, the Gree Sapphire isn't compatible with smart thermostats like Nest. Also, there's no ceiling mount available, so your air handler will have to mount to your wall.
Gree also doesn't recommend you try to assemble the Sapphire yourself. In fact, the manufacturer will only offer future support if you have a licensed HVAC contractor install the unit. Still, we can't ignore the impressive fan and the unmatched SEER rating that make it the most efficient mini split available.
Is a ductless mini split worth it?
No matter where you live, a ductless mini split could be a great investment for your home. They have the potential to be more efficient, more customizable, and quieter than traditional ducted systems.
The American mini split market has spiked in recent years. With a wide variety of high-quality products on the market, there's never been a better time than now to get your hands on one.
The post Best Ductless Mini-split AC (2021) appeared first on HVAC Solutions.

Source: HVAC Feed 1