For space-challenged homeowners, the garage could be valuable, untapped square footage. Converting the garage into a bonus area or using it as a workshop may require a garage air conditioner to keep the space comfortable.
Choosing the best garage AC unit calls for a little research into the type of systems available and reliable brands. Fortunately, we've done the work for you.
Best garage air conditioners
Best mini split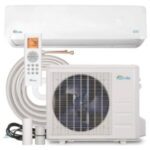 Senville SENL-12CD
Requires professional installation
Energy-efficient
Ideal for larger spaces
Best window unit
MIDEA EasyCool
Easy DIY installation
Cools quickly
Improves air quality
Best portable AC
BLACK+DECKER BPACT10WT
Simple to move
Remote controlled
Quiet
Types of garage air conditioners
Cooling a garage could be done in a few different ways, so we'll cover a variety of price points and explain the most popular systems. A portable air conditioner for the garage may be the most affordable, but depending on how you intend to use the space, you may need a more powerful unit. Read on to find the best garage air conditioner for your set up.
Besides insulation, an AC unit needs ventilation to remove the warmer, humid air from the space. Consider whether your priority is value, energy efficiency, or quality when you select your garage AC.
"A ductless mini split AC for garage is the most energy-efficient option to consider," advises Mickey Luongo, HVAC expert and VP of Total Home Supply. "For a less expensive and more DIY friendly choice, a homeowner can consider a through-the-wall unit such as a PTAC (packaged terminal air conditioner). Many also include heating, which is a great bonus for the colder months." 
Ductless mini split AC for garage
Mini splits are similar to central AC systems and come in two parts: the outdoor compressor and the indoor air unit. They can be mounted on the wall or ceiling and usually only need a 3" hole through the wall to run the conduit between the two components. Best of all, they are the most energy-efficient type of garage air conditioner because they don't have any ducting.
Need help installing your mini split AC?
Portable AC for garage
A portable AC could be another solution if you don't want to permanently install a garage AC unit. They typically come on wheels, allowing you to move the unit around or store it in the winter. However, portable ACs are not as "portable" as you would think.
The units come with an exhaust hose that needs to vent outside. You'll need to run the hose under the garage door or out of the garage window, if one is available. If you don't use an exhaust hose, cooling the room will be difficult since you are not drawing the warm air out of the space.
Window AC for a garage
A window-mounted AC could be an option if you have a window available in the garage. Besides the portable AC, it may be the simplest type of garage air conditioner to install.
Refer to the BTU size chart above when choosing the best window AC. You want to ensure you invest in a unit that has enough power to cool your garage. 
Packaged terminal air conditioner
A packaged terminal air conditioner is often found in hotels and motels. The unit is typically mounted under a window and can heat and cool a space. It's similar to a mini split because part of the unit is indoors and the compressor/condenser is mounted outside. However, a PTAC needs a much larger opening in the garage wall to install and isn't typically as energy-efficient as a mini split. Homeowners who need extra ventilation should consider the PTAC — a mini split AC for garage can cool a room but can't ventilate it as effectively as a PTAC. 
Best garage air conditioners
The following garage air conditioners are among the best available for their type, based on price, customer reviews and functionality.
Best ductless air conditioner for garage
The SENVILLE SENL-12CD MINI SPLIT AIR CONDITIONER is the most versatile and energy-efficient solution for larger garage spaces that suffer from extreme hot and cold temperature swings. The 4-in-1 design ventilates, dehumidifies, heats and cools at 19 SEER.
The 12,000 BTU unit retails for $769 (at time of article publication) and varies in sizes between 9,000 and 24,000 BTU. The system includes washable filters and an installation kit with 16 feet of copper line and wiring. However, professional installation is required.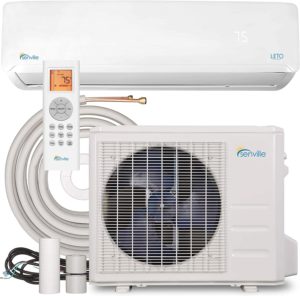 Best window AC for garage
The MIDEA EASYCOOL window air conditioner costs $379 for the 10,000 BTU unit to cool a space up to 450 square feet in size. It's a 3-in-1 that provides ventilation, air conditioning and dehumidification. Easy to install yourself, the unit comes with installation hardware, a remote control and a washable air filter to save you money on replacements.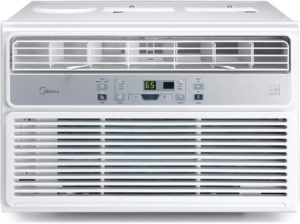 Best portable AC for garage
For maximum flexibility, the BLACK+DECKER BPACT10WT can roll in and out of the garage as needed when you'd like to freshen the space up on a hot day. The unit costs $379 and delivers 10,000 BTU to a space between 150 – 250 square feet.
Its settings are adjustable to cool the space up to 65 degrees, operating quietly at 75 decibels so you can take a conference call or work with minimal distraction. Keep in mind that the unit comes with a vent hose that must run out a window or door to get rid of the warm air from the space.
How many BTUs to cool a garage?
When shopping for the best AC for a garage, the most important consideration is the size of the space you intend to cool so you can buy a unit with the right amount of BTUs. Buying a unit that's too small will overwork the system and increase your monthly energy bill. A portable AC unit that's too large could use more power than you need and cool so fast it isn't able to remove some of the humidity in the space.
ENERGY STAR offers guidance on how many BTUs you may need. To determine the garage's square footage, multiply its length and width. For example, a garage that's 20 feet wide by 20 feet deep (standard two-car garage) will be 400 square feet in size. Use the chart below to determine the best BTU amount based on the size of your garage.
| Garage Size (square feet) | BTU needed |
| --- | --- |
| 250 up to 300 | 7,000 |
| 300 up to 350 | 8,000 |
| 350 up to 400 | 9,000 |
| 400 up to 450 | 10,000 |
| 450 up to 550 | 12,000 |
| 550 up to 700 | 14,000 |
| 700 up to 1,000 | 18,000 |
Proper garage AC insulation
One of the bigger challenges of running an AC for garage gym or other purposes is having enough insulation to maintain the cool air the unit outputs. Garages are not typically well-insulated. Cool air could escape from the garage door while hot air can make its way in.
You could take some steps to insulate the garage better by sealing any cracks or gaps with expanding foam spray. Adding a rubber strip to the bottom of your garage door could also help to insulate the space. Depending on how much of a project you want to take on, adding insulation and drywall to the exposed studs could also insulate the garage further.
Worst garage air conditioners: evaporative coolers
Also known as swamp coolers, evaporative coolers seem like the easiest solution. They use evaporation to cool the room by running air from a fan through a damp pad without all the hassles of venting and installation.
However, evaporative coolers don't work well in an already humid environment. If you live in a dry area such as the Southwest, an evaporative cooler may have fewer issues. However, they can make your garage feel damp and muggy, and potentially cause mildew growth or strong odors from prolonged use.
Explore the top-rated portable air conditioners and window AC units for your space. Whether you're converting your garage into a home office, gym, or playroom for the kids, choosing the best garage AC will create the most comfortable environment.  
Why would I get a garage AC unit?
Converting a garage into a living or working space was a necessary move for some homeowners during the uptick in work-from-home mandates in 2020. Adding a garage AC unit to regulate the temperature and humidity is one of the first steps toward converting the square footage into a livable space.
Plus, for those who live in a real estate market with low inventory or high prices, expanding the usable space is likely cheaper than moving into a bigger home.
Most garages don't have windows you can open for airflow. Adding a vent from your home's AC to the garage isn't the best idea.
"The most important thing to consider when adding cooling to a garage is that the unit should be separate from any system in the rest of the house," explains Luongo. "You don't want a return pulling air into the house if that air has car exhaust or dust from a workshop mixed in. You also must realize that when a garage door is open, a large amount of the cooling is immediately lost. If you just have a vent added from your central air conditioner, the system will not be able to keep up with the influx of heat."
An air conditioner for a garage with no windows extends the usefulness of your converted space without taxing your home's HVAC system. Creating a comfortable space can be as simple as adding a portable AC unit for garage. Ventilating and cooling the space will make your home office or workout space conversion far more comfortable. 
Help me find the right AC for my garage!
The post Best garage air conditioners: should you get a portable AC or a mini split? appeared first on HVAC Solutions.

Source: HVAC Feed 1