Searching for a way to beat the heat as a humid summer creeps into fall? There are plenty of air conditioning options out there. For some rooms, window air conditioning units and air coolers are a good fit, but a small, portable air conditioner may be the simple and effective solution for your space.
Portable air conditioners come in a variety of sizes offering varying degrees of cooling power. It's important to choose the one that fits best with your lifestyle.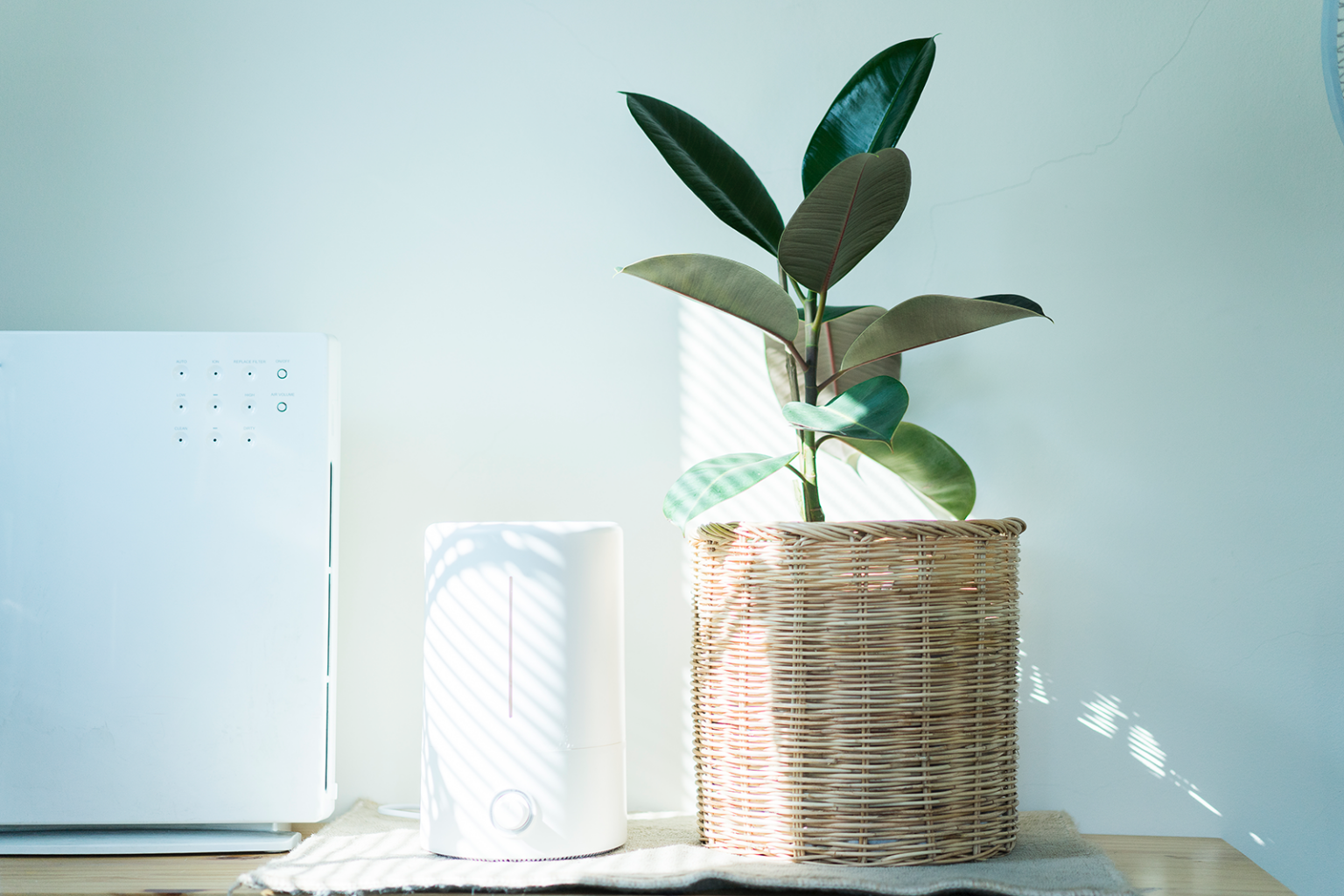 Our guide will help you understand more about how portable ACs work and how powerful they need to be to chill your space. We'll also offer our own recommendations on some of the best portable air conditioner units around.
What is a portable air conditioner?
Portable ACs are cooling units that provide chilled air to a single space and can be moved from room to room as needed. They're simple to install and typically sit on the floor.
When planning where to place your unit, make sure there is access to an electrical outlet and a window. The AC will need to expel hot air, and the best way to do that is through a window. Don't worry, most portable ACs come with a window kit for easy setup.
We'll explore a few recommended models below, but here's a quick list of our favorite units:
Best overall portable AC: Whynter ARC-14S
Best portable AC for a large room: Whynter Elite ARC-122DS
Best portable AC for a small room: Black+Decker BPACT14WT
Best budget friendly portable AC: Shinco SPF1-08C
Best smart portable AC: LG LP1419IVSM
How does a portable air conditioner work?
A portable AC cools your room by taking in warm room air, cooling it, and then circulating it back out, chilled and refreshed. A portable AC also takes excess warm air and moisture from the room and funnels it outside through a hose connected to a window.
Removing warmth and moisture from the room helps lower humidity levels, preventing the hot, sticky feeling throughout the warm months. You'll also have the power to adjust fan speed and temperature to get just the right comfort for your home.
Single hose vs. dual hose portable air conditioners
Portable ACs will either have one or two exhaust hoses in the back. Think of a single hose unit as a small room air conditioner. The larger the room, the less effective a single-hose unit will be.
To cool your space, the portable AC takes warm air and moisture from the room and transfers it outdoors. It then pulls in the remaining indoor air, cools it, and releases it back into the room to cool the temperature.
A dual-hose portable AC is best if you need to cool a large space. Overall, a unit with two hoses is more efficient at removing warm air and replacing it with cool air. One hose is used to bring air in from outside to be cooled and then released into your room. The second hose pulls warm air from your space and dispels it outside.
Portable air conditioner sizes
Portable ACs come in a variety of sizes. Finding the right size for your room is a big part in making the right buying decision.
A unit that is too big will be less effective and efficient. Air conditioners remove both heat and humidity from the air. If the unit is too large, it will cool the room before it has a chance to remove the humidity. This can make your room feel damp and clammy.
EnergyStar has its own sizing chart to help you choose the right model for your space. The chart is organized by room size and paired with the recommended energy capacity for your AC unit. Energy capacity is measured in British Thermal Units, or BTUs. As BTU capacity increases, the weight and size of the model typically will, too.
| Area to be cooled (square feet) | Capacity needed (BTUs per hour) |
| --- | --- |
| 100 to 150 | 5,000 |
| 150 to 250 | 6,000 |
| 250 to 300 | 7,000 |
| 300 to 350 | 8,000 |
| 350 to 400 | 9,000 |
| 400 to 450 | 10,000 |
| 450 to 550 | 12,000 |
| 550 to 700 | 14,000 |
| 700 to 1,000 | 18,000 |
| 1,000 to 1,200 | 21,000 |
Room air conditioner prices
Portable air conditioners, while cheaper than many alternative systems such as central AC and mini split AC systems, can still range from $300 to $600. The price of a room air conditioner will be directly affected by the unit size.
The energy efficiency of your unit should also be considered. You may be searching for a cheap portable air conditioner to fit your needs, but you don't want to see your energy bill spike each month.
While particular units are more efficient than others, this general information from Electric Choice can help you estimate the cost of running a portable AC.
| Portable AC unit (BTU) | Estimated cost per hour |
| --- | --- |
| 5,000 BTU portable AC | $0.19 per hour |
| 8,000 BTU portable AC | $0.31 per hour |
| 10,000 BTU portable AC | $0.38 per hour |
| 12,000 BTU portable AC | $0.46 per hour |
| 14,000 BTU portable AC | $0.54 per hour |
| 18,000 BTU portable AC | $0.70 per hour |
| 21,000 BTU portable AC | $0.81 per hour |
Portable AC installation
In most cases, installing a portable AC takes 30 minutes or less if the installation kit is provided. It's important to get the hoses ventilated properly so the hot air in your room has a direct exit.
Each model has the potential for unique challenges, but some overarching installation pointers to keep in mind include:
Install the unit on even, sturdy flooring
Position the portable air conditioner about 12 inches from furniture in the room
Position the portable air conditioner near a window and outlet
Avoid bending the exhaust hose
While there's no lengthy maintenance checklist for your free standing air conditioner, routine cleaning will keep your unit running smoothly.
Maintenance on free standing air conditioner
Portable air conditioner units are relatively simple to maintain. WIth simple monthly upkeep, your unit should last for several years.
Ensure exhaust hose does not bend
Check regularly for drainage leaks
Keep the room sealed and insulated for better cooling
Maintain and clean filters regularly (every 30 to 60 days or as recommended by manufacturer)
Clean the filter of a portable AC unit by removing the back cover. Note that your unit may have one or two filters. Gently remove the filter and clean with a vacuum or by soaking in warm water and mild detergent. Allow the filters to dry completely before reinstalling.
Portable air conditioner reviews
Best overall portable AC
Whynter ARC-14S | $510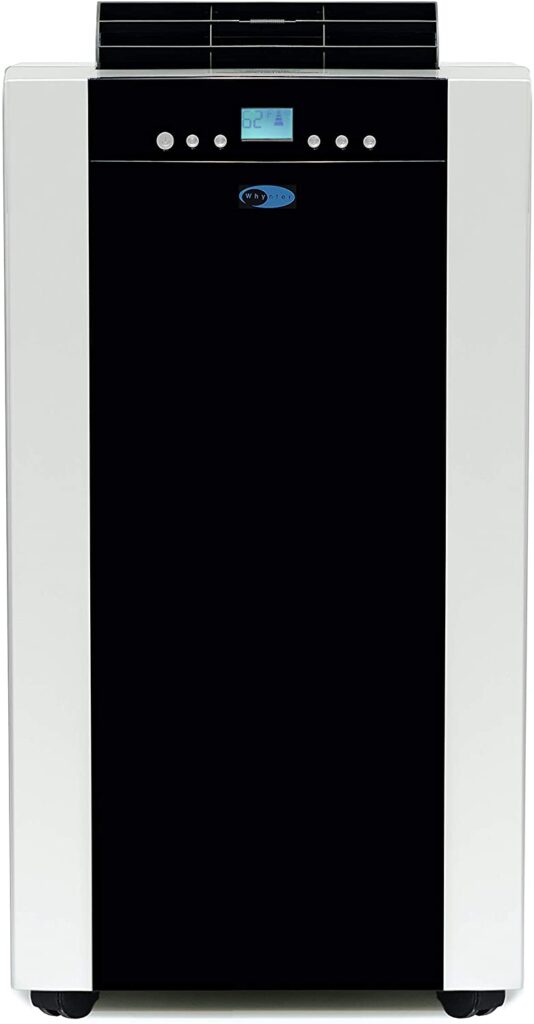 The Whynter ARC-14S wins our best overall spot. This 14,000 BTU unit is a powerhouse when it comes to cooling a room. Its dual hose system chills up to 500 square feet and does it quicker than most other portable units on the market. 
We're especially drawn to Whynter's efforts to go green with the use of R-32 refrigerant and a unique design that uses and recycles moisture collected during the cooling process to produce cool air. (You stay cool and deal with fewer leaks)
The three-speed fan and digital temperature screen give you more control over your room's atmosphere, and the top-notch dehumidifier can remove up to 71 pints of water over 24 hours. The included remote allows you to adjust the settings from across the room.
Conserve energy while you're away with the 24-hour timer and still return home to a frosty welcome.
Best portable AC for a large room
Whynter Elite ARC-122DS | $569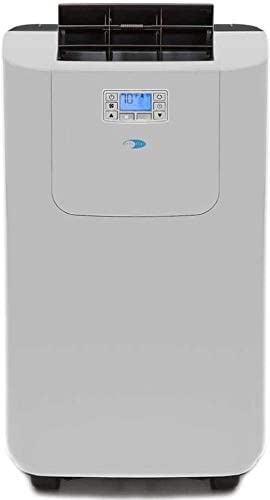 The Wynter Elite ARC-122DS is a great choice for a large room air conditioner. Cool up to 400 square feet with three operating modes: cooling, fan-only, and dehumidifier-only. 
This AC uses dual hoses for higher efficiency and an eco-friendly refrigerant for lower environmental impact. Its 24-hour programmable timer works around your schedule, and an automatic drain clears out any accumulated moisture to make cleanup much easier.
One of our favorite features with this unit is the washable pre-filter and activated carbon filter, which not only filters air pollutants but also helps rid your space of odors.
The unit is equipped with a remote control and install kit. Plus, in the event of a power outage, you'll be back up and cooling in no time with the auto restart after outage feature.
Lastly, if you're short on space, this unit is ideal. It's smaller than nearly all competitors at 29.5 inches tall and 17 inches wide. The 12,000 BTU will keep you cool and your energy bill low.
Best portable AC for a small room
Black+Decker BPACT14WT | $349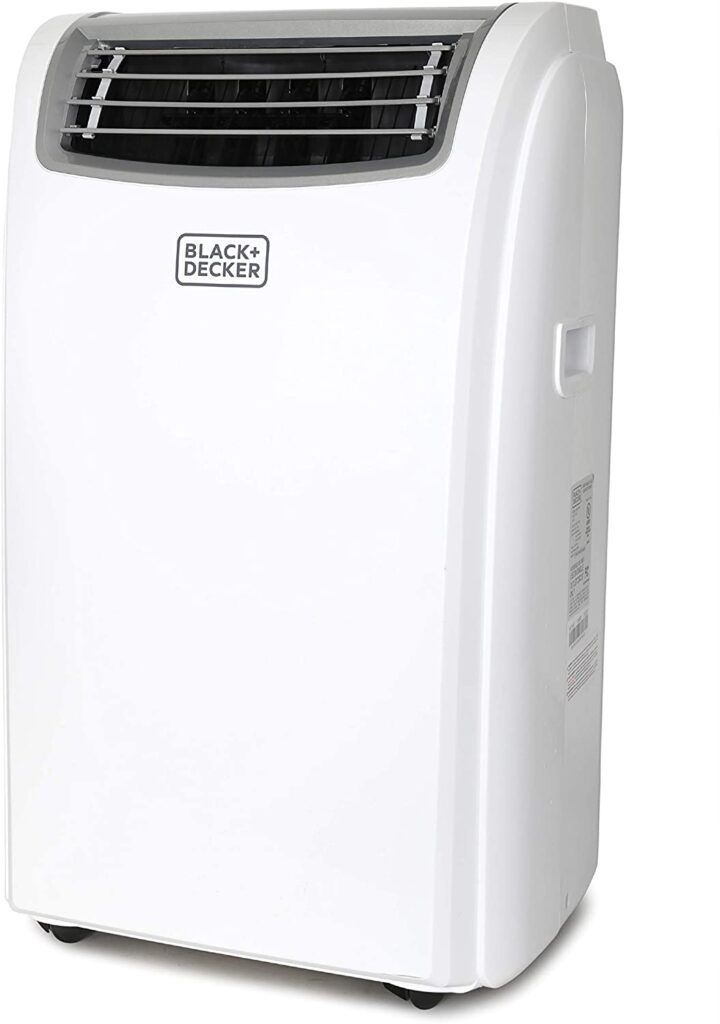 If you've got a smaller space to cool, like a bedroom or office, the Black+Decker BPACT14WT is our top pick for a small room air conditioner. The unit has a stellar cooling performance and can quickly chill up to 350 square feet. 
There are three different modes to choose from: an AC unit, fan, or dehumidifier. It even self-evaporates the condensation that typically collects around your AC for less mess and easier maintenance. The reusable slide-out filter makes monthly cleaning easier than most models.
Run cool air for 24 hours at a time, or set an automatic sleep timer for when you're away. Of course, we love the full function remote control that allows you to control the air from your couch or bed.
We found that the dehumidifying feature on this model was more powerful than most competitors. If humidity control is important, this is your unit.
Best budget friendly portable AC
Shinco SPF1-08C | $259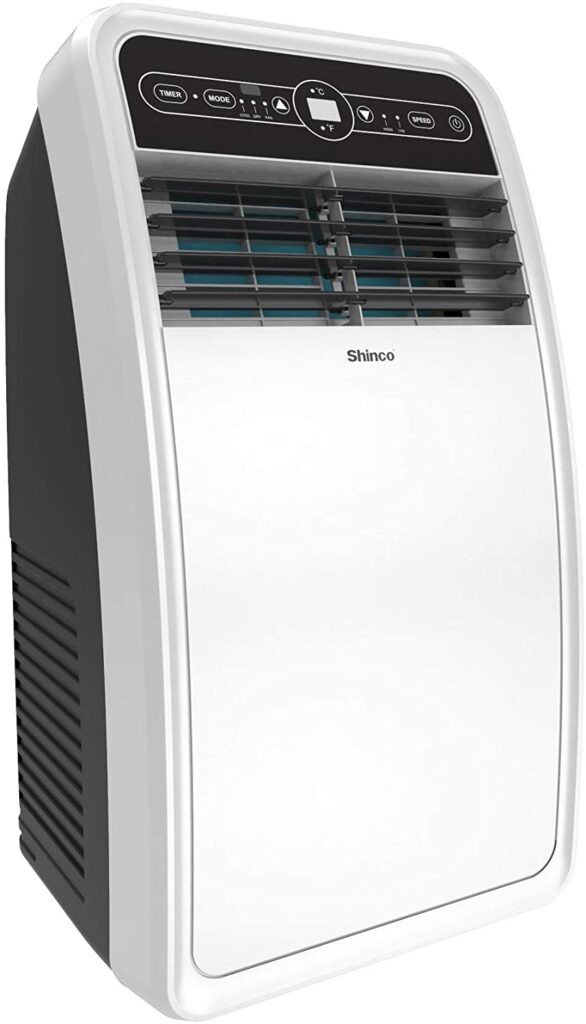 Air conditioners can come with a hefty price tag. While searching for relief from the heat, you're probably weighing prices versus features. We've scoured the internet to find a relatively cheap portable air conditioner that doesn't sacrifice on quality.
The Shinco SPFI-08C is a small air conditioner that can quickly cool a room up to 200 square feet. The LED display and remote make this AC extremely easy to use. 
Just like its competitors, it also lets you choose between three modes: cooling, dehumidifier, and fan. We found this unit to be a little louder than other 8,000 BTU models, but we preferred its easy installation and caster wheels.
If you're looking for a cheap portable air conditioner and don't mind a higher noise level, we recommend the Shinco SPFI-08C.
Best smart portable AC
LG LP1419IVSM | $599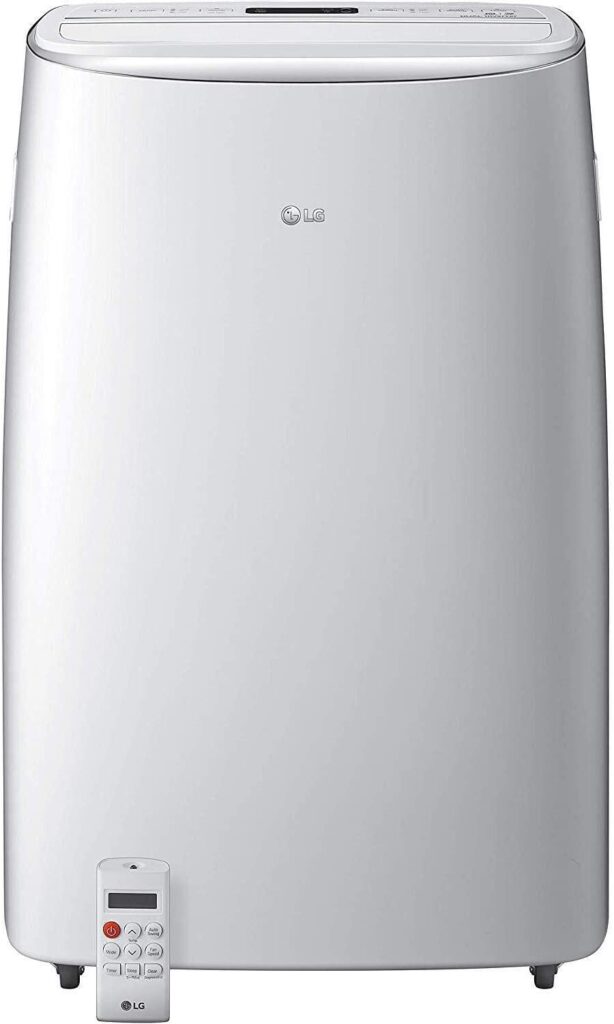 If your house is filled with smart devices, the LG LP1419IVSM smart portable AC will be a great addition to your tech family. This model calls on 10,000 BTU to cool a room up to 500 square feet and uses patented LG ThinQ technology to pair with a smartphone app, Amazon Alexa, or Google Assistant. 
It has three modes—cool, dehumidify, and fan-only—and is great for areas with frequent power outages. The system automatically turns itself back on when power is restored. Plus, the hose is already built into the unit for easy setup, so you can start cooling your room in minutes.
Our favorite feature of the LG smart AC unit is its energy efficiency. The Inverter Technology produces energy savings up to 40% compared to units without the Inverter Technology.
Of course, personalizing your comfort to the ideal temperature before you arrive home is also ideal. You can control this unit from your smartphone or tablet to ensure your space is chilled before you arrive. The app also allows you to schedule an on/off time for the unit.
The device has an auto-shutoff feature if the drainage tank reaches its fill line to help prevent leaks. Plus, this portable AC has a very quiet run mode. Overall, the LG portable air conditioner is a smart choice.
The post Best portable air conditioners of 2021 appeared first on HVAC Solutions.

Source: HVAC Feed 1