Portable heat pumps cool or warm a room in your home. They offer spot cooling and heating, so you gain a comfortable area while consuming less energy. Many units also provide dehumidifying and fan functions. This guide delves more into how combination heating and air conditioning units work, the best units on the market, installation, and pricing.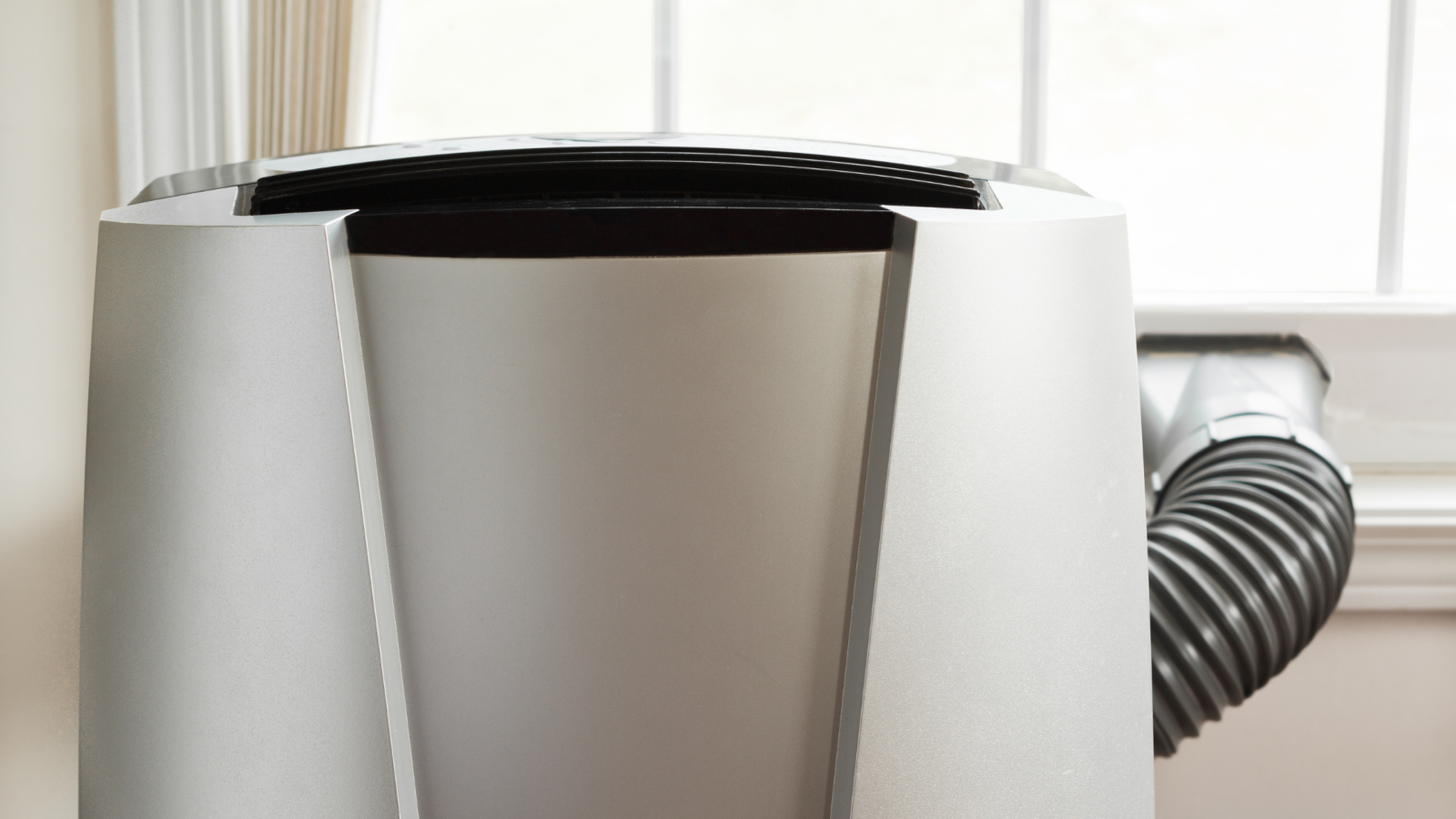 How do portable heat pumps work?
Portable heat pumps work in much the same way as air conditioning units, by pulling in ambient air, warming it and releasing the warmth back into the room. Many portable heat pumps also offer a cooling cycle, which allows the device to be used year-round.
How does a heat pump work in colder weather?
When the weather becomes cool, a heat pump absorbs and distributes heat from the cold air using the refrigerant. The refrigerant changes from a liquid to a gas to apply pressure to heat the air before moving it through your room. It operates like an air conditioner in reverse.
What are the uses for combination heating and air conditioning units?
Combination heating and air conditioning units can be used for a number of reasons and in different environments. Depending on the model, the portable heat pump may serve as a temperature regulator during your camping adventures or to create comfort in a single room.
Alternative to window air conditioners
Window air conditioners might not work in all instances. There are a variety of different styles of windows, meaning not all will be a suitable fit to a standard window AC unit. However, with a portable air conditioner, they universally mesh with all kinds of windows.
Combination heating and air conditioning units do not restrict your view outdoors, and you can attach the hose to the ceiling vent. It makes them a much easier option to set up when you want to keep your room cooler.
Portable heat pumps can be used in a number of settings. Check out the many benefits of these mobile heating and cooling devices.
Keeping your RV comfy
If your RV has a top vent or small window, a portable air conditioner unit will work. Not only does it provide comfort to small living spaces, but it's also easy to set up and remove.
Prevent servers from overheating
Server rooms can run hot. Instead of blasting the air throughout the whole building and consuming excess energy in the process, setting up a portable air conditioner keeps your servers cool at a fraction of the cost.
Supports more airflow
Some rooms in your home might not receive the same airflow as others. It leads to them being much warmer or cooler and uncomfortable during different times of the year. Adjusting your thermostat won't adjust the temperature in only the affected space. Plus, it results in higher energy bills and less operational life of your HVAC. A cost-effective alternative is to use a portable heat pump for spot heating and cooling, as you use less energy and gain more airflow in the space.
Make gatherings more comfortable
When you're hosting a cookout for the big game or have family over during the holiday season, gathering spaces can quickly become stuffy due to the extra body heat. A portable air conditioner can lower the temperature in the room, creating a comfortable environment for your guests without causing a massive spike in your energy bill.
Comfortable travel
Along with RVs, a portable air conditioner can come in handy in rentals and cabins. Like homes, some rooms might not receive steady airflow due to design and other issues. In some portions of the country, like the Pacific Northwest, some rentals might not have central air conditioning. A portable air conditioner with heater provides relief from extreme temperatures when other traditional measures are unavailable.
Best portable air conditioners with a heater
If you live in an area prone to seasonal temperature variances, it makes sense to have a portable unit capable of handling varied climates. Here are some of the best combination heat pumps available.
Whynter ARC-14SH | $555
The Whynter ARC-14SH is a dual-hose unit that packs plenty of power. Its cooling capacity is 14,000 BTUs. BTU is known as British Thermal Units and measures the energy used to cool or heat a room. The more BTUs a portable heat pump has, the more space it can heat or cool.
This unit can air condition a room up to 600 square feet with a minimum temperature of 61 degrees. It makes it perfect for a home office or large bedroom. Meanwhile, it also has a heating capacity of 13,000 BTUs. It can warm a room up to 500 square feet with a maximum temperature of 89 degrees.
One of its best advantages is its dual-hose system, allowing you to keep your space cool while maximizing energy efficiency. It has an EER rating of 10.8. The EER rating measures a unit's energy efficiency by its capacity (measured in BTUs) and power output (watts).
An excellent EER rating is 12, indicating this unit by Whynter is among the most energy-efficient models available. The downside? The secret is out about this combination heating and cooling unit, making availability hard to come by in the summer months.
Another factor to consider is it weighs in at about 80 pounds. It makes moving it between rooms more challenging than lighter models.
Black + Decker BPACT14HWT | $475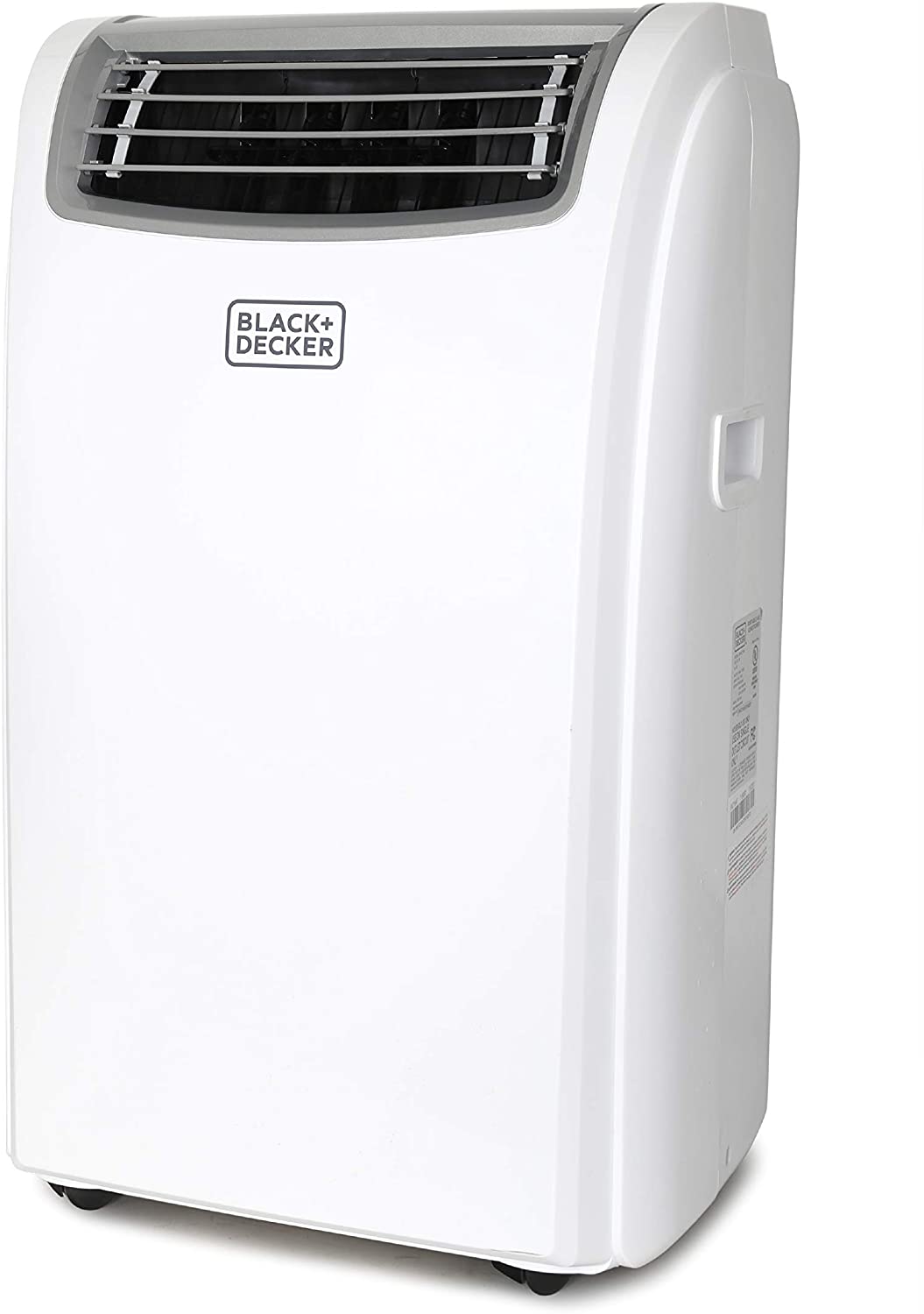 The Black + Decker BPACT14HWT model is perfect for small spaces. Its cooling output of 14,000 BTU and heating capacity of 11,000 BTU can cool or warm a space up to 350 square feet.
The unit weighs about 35 pounds, making it easier to move between rooms than larger portable heat pumps. It earns an EER rating of 9.7, well above the average rating of 8.5. The remote control and LED display make adjusting the temperature easy.
Honeywell MN14CHCS Portable Air Conditioner with Heater | Price Varies
Topping the list of capability and energy efficiency is the Honeywell MN14CHCS. The 14,000 BTU cooling capacity of this unit can chill a room up to 700 square feet in size. When it's time for supplemental heat, the 7,500 BTU heating power can warm up to 500 square feet.
Along with its power, the Honeywell is one of the more energy-efficient models available, thanks to its dual-hose system. It earned an EER rating of 10.3, placing it just slightly below the Whynter ARC-14SH.
One of our favorite features of this unit is its dehumidifying capabilities. It can remove up to 86 pints of moisture from the air every 24 hours. The unit weighs around 90 pounds but has rolling casters for easier mobility.
Depending on where you purchase this unit, you'll pay between $650 and $700. It's especially difficult to find in stock during the summer months.
Serenelife SLPAC10 | $420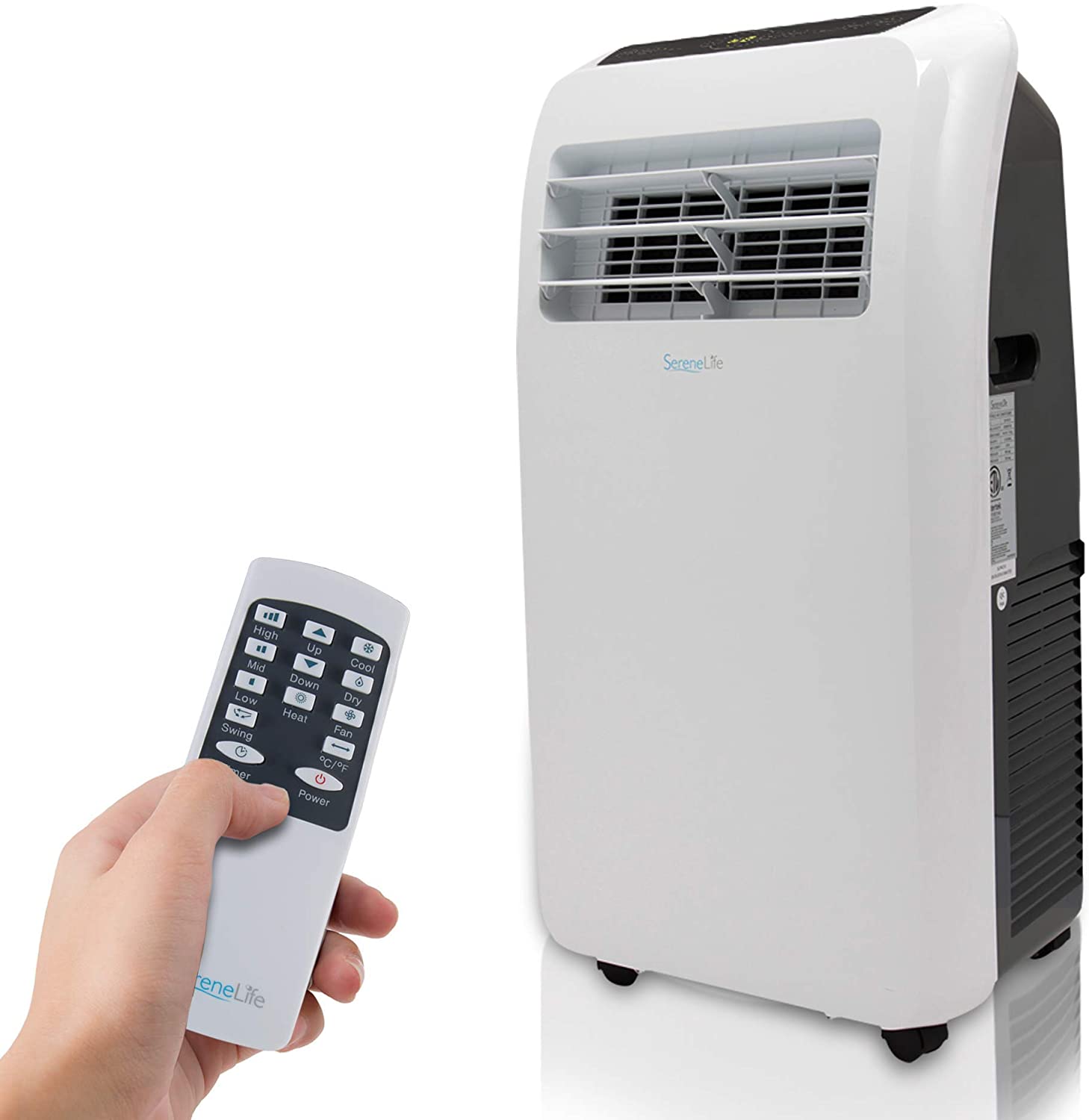 The Serenelife SLPAC 10 comes with many climate control features. It has moving wind vents, providing better air circulation to all parts of a room. It also features a 24-hour timer and multiple fan and comfort settings.
The cooling capacity of 10,000 BTU keeps a smaller room (350 square feet or less) comfortable. It can also warm a space up to 300 square feet with its heating capacity of 9,000 BTU. The lone drawback is its five-foot hose, making for limited placement in your space.
The Serenelife model is not as energy efficient as other models making this list. It has an EER rating of 8.7, but that's still above average for portable air conditioners. Most importantly, it touts affordability relative to other portable units.
Vremi 12,000 BTU Portable Air Conditioner | $450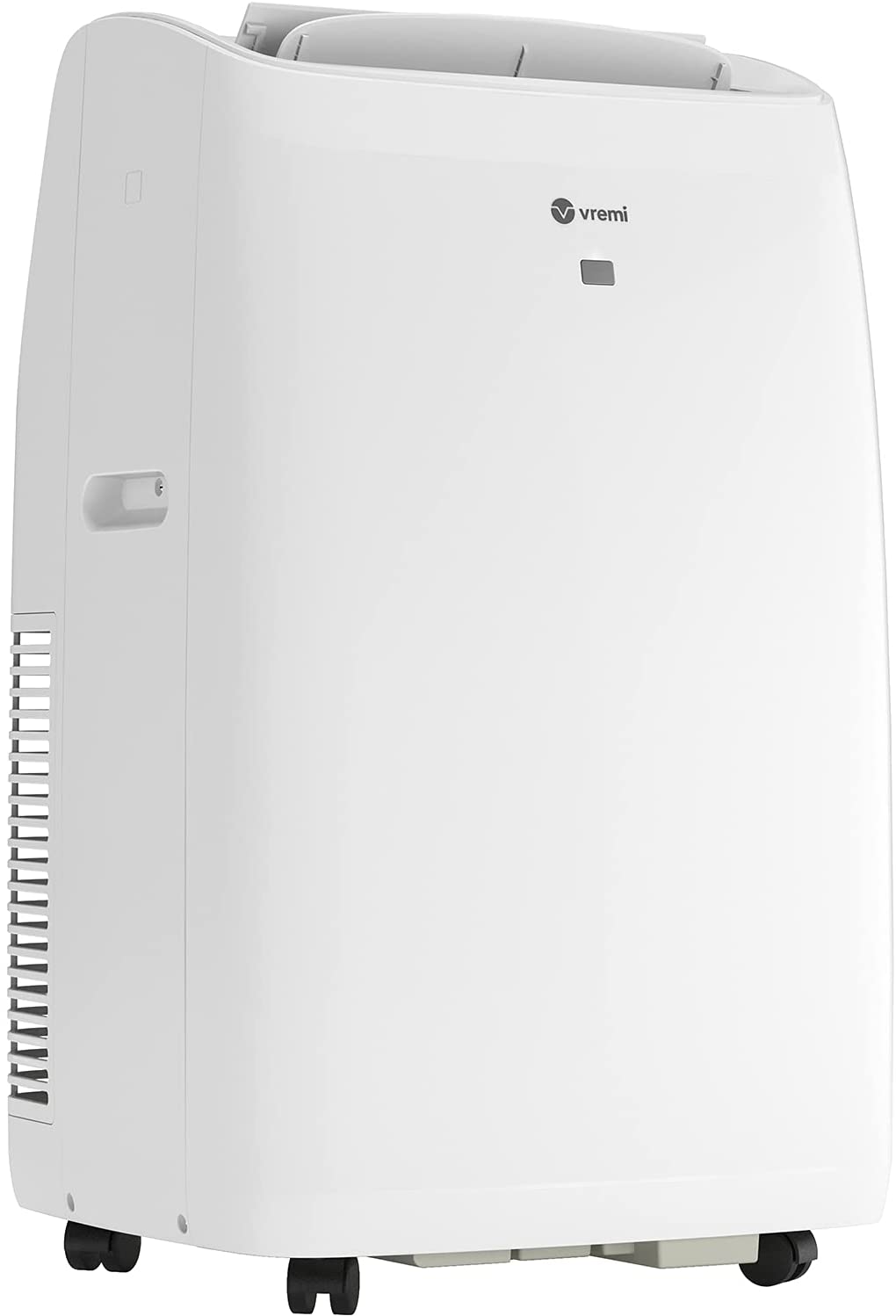 The Vremi portable air conditioner packs a lot of value and features to keep you comfortable. Its 12,000 BTU output is perfect for rooms up to 300 to 350 square feet.
It also offers dehumidification, fan-only, and a sleep mode with white noise. The LED display makes it easy to read conditions, while the remote control contains all the commands needed to program every function of the portable air conditioner. We love that it features a washable air filter you can reuse.
You will need a drain hose if you run the dehumidification and AC modes, as the unit does not have a drain reservoir for the condensation. You can attach a garden hose to run outside as a solution. That aside, this unit offers a lot of value.
What to look for when buying portable air conditioners and heater combo?
When shopping for a combination AC and heater that works for your home, there are multiple factors to consider.
Room size
As noted above, a portable heat pump and air conditioner combo have heating and cooling capacities measured in BTUs. When considering a model for your space, you should account for the square footage of the area before buying. Doing so ensures you select the best fit.
To demonstrate, if you have a larger room, then purchasing one with a lower BTU output means it has to work harder to cool or heat the room. It could use more energy to achieve this and lessen its operational life due to working so hard.
Conversely, having one too powerful for a tiny space results in cooling so quickly it does not remove all the humidity from the area. A good rule of thumb is you need 20 BTUs for every one square foot. Therefore, if your office has 300 square feet, you need a portable A/C with a cooling capacity of at least 6,000 BTUs.
Energy efficiency
You can check each unit's EER rating to see how energy efficient it is. The less energy the unit consumes, the lower your utility costs.
Hose length
The hose length of the portable heat pump determines placement in your room. If you want to place the unit in a position that's further away from the window or sliding glass door, look for a portable heat pump with a longer hose length.
Single vs. double hose
A single-hose portable air conditioner is perfect for smaller rooms (think 300 square feet). Meanwhile, double hose models are best suited for larger rooms.
One hose serves as the exhaust while the other pulls the air in to cool or heat the space. Double-hose systems are more energy-efficient because they use less energy to warm and chill the air. While they tend to be more expensive than single-hose models, the efficiency gained can offset the price difference.
Portable air conditioner and heater combo reviews
Customer reviews of portable heat pumps are a great way to gain insight into how the unit may function in your home. We love reviews that include photos because you can get an idea of size and potential challenges with setting up the unit in your home.
Warranty offerings
Examine a manufacturer's warranty on the air conditioner and heater combo. How long does it last? Do they provide support if parts malfunction during the warranty period? Doing these things can demonstrate how much a manufacturer stands behind the product and the durability it offers you.
Price
If you are on a budget, single hose portable air conditioners cost less on average than their double hose counterparts. However, when considering prices, energy efficiency can matter along with room size. While a double-hose unit is more efficient and works well in larger rooms, a single hose can do the trick in cozier areas.
How to install a portable heat pump?
Since installation for a portable heat pump can vary based on the model selected, it's vital to follow the instructions given with the kit. Often, manufacturers offer installation videos that can guide you through each step of the process. When buying one, here are some things you can expect to receive.
Portable heat pump kit contents
Along with the actual unit, you should receive everything you need to complete the installation. It includes the exhaust hose (for single-hose models) or two for dual ones. You should also receive hose connectors and the install kit for windows or sliding glass doors. Some manufacturers also include foam or weather stripping for better energy efficiency.
Location is vital
It is vital to place the portable unit on a solid floor with close access to the window or sliding glass door and a grounded power outlet. Extend the power cord and exhaust hose to ensure it is close enough to the plug and window respectively before continuing.
Sizing the window kit
Many manufacturers account for differing window sizes. Because of this, you should be able to fit your kit. For example, if you have a traditional window that you slide up to open, place the kit at the bottom and run it across until it fits the window width.
Meanwhile, if you have a window that slides open, you can place it on one side moving vertically. If your window is smaller than the kit, trim the kit materials to match the window's width or height based on how it opens.
Once you have a fit, check that air does not penetrate any areas around the kit. Some come with screws to secure them in place, while others use weather strips to keep debris from entering your home. Close the window to hold the window kit.
Installing the hose
One end of your hose will go into the portable air conditioner. Some models come with the connector in place, but if yours does not, be sure to do this step first to secure the hose. Next, attach the other end of the hose to the exhaust connector. Lock the hose into place.
Powering it on
When plugging your portable model in, use a grounded outlet as it draws much power. Once you plug it in, you will notice two buttons on the outside of the plug reading TEST and RESET. First, you want to press the test button. The system checks to make sure there are no safety problems. If it detects an issue, it powers down right away. If you encounter this problem, contact the manufacturer for support.
If the indicator light powers on then off, you can press the reset button. It will help you connect back to your portable A/C unit, where you can turn it on, adjust the temperature, and more. Use the remote control to run through some commands to check that everything works well.
How to drain a portable air conditioner?
When you use the air conditioner or dehumidifying feature, it draws warm air and moisture from the room. In some models, it has a self-absorption feature that rids of the water for you. However, many models have reservoirs you'll need to empty on occasion.
Luckily, many newer models also have indicator lights. If you see one reading FL, it's telling you the unit's drain pan is full. You can either manually empty this pan or attach a drainage hose, like a garden hose, and run it outside. If you do not have an indicator light on your model, inspect underneath it occasionally to ensure there is not a buildup of water.
Portable heat pump safety tips
Since this is a powerful appliance, it is imperative to exercise caution when using portable heat pumps. Some safety tips to be mindful of include:
Placing the heat pump on a solid surface
Portable heat pumps can be hefty, with some weighing more than 80 pounds. Because of this, you do not want to place it on a table or other furniture where someone could accidentally knock it over. Ideally, place the model on the floor away from other appliances.
Educate children
Naturally, children will be curious about this new thing in your home. However, you'll want to avoid having kids or pets playing nearby. Many of these units are quite heavy, and if knocked over could cause harm.
Clean the air filter often
The unit's air filter prevents allergens and debris from entering your home. Since it is a wall of defense in keeping clean air in, you need to inspect it often. If your portable heat pump has cleanable filters, follow the instructions in your owner's manual for proper cleaning techniques.
Alternatively, if you have one that needs filters replaced, do so every one to two months. Make sure to purchase the right fit by either taking the old air filter with you when you go to the hardware store or by writing the model number down before going.
Consult the pros
If you encounter any issues with your portable heat pump, contact your manufacturer. On some occasions, it requires them to have a maintenance technician visit to repair the problem for you. Unless you have HVAC expertise, allowing the pros to handle the issue is the safest way to approach your challenge.
The post Best portable heat pumps of 2021: reviews and buying guide appeared first on HVAC Solutions.

Source: HVAC Feed 1