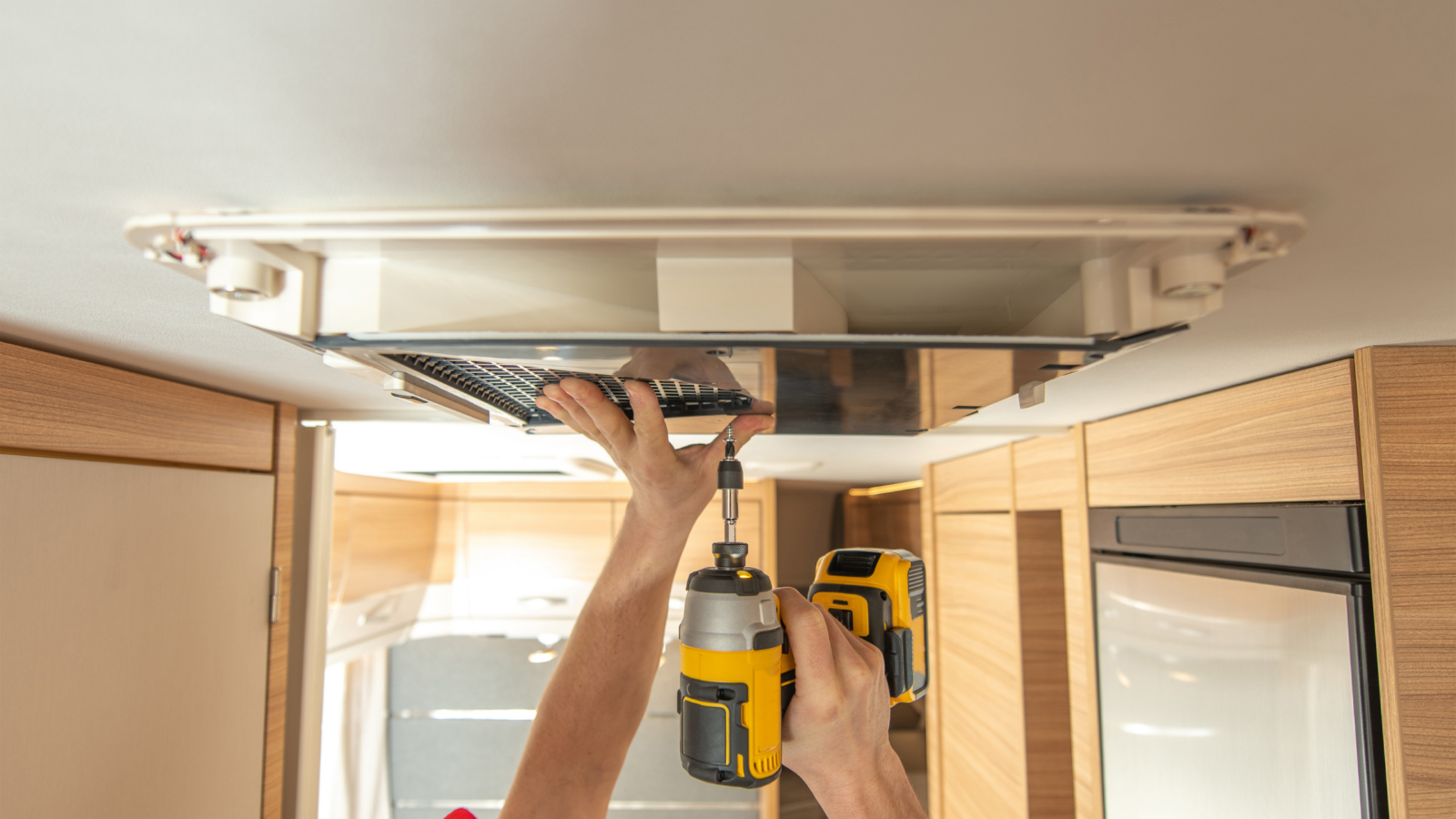 There's nothing like the relief of a cool breeze after basking in the summer heat. Before you plan your next cross-country vacay, make sure you're equipped with a great RV air conditioner.
Most modern RVs come with a ducted or ductless air conditioner. If you're looking to upgrade your current unit or don't have one, there are a few different models to explore. 
RV air conditioner types
Ducted
These air conditioners send cool air through a vent system. Most attach to your RV rooftop. You can open or close these vents, or "ducts", to change the direction of airflow as needed. Some RVs come with a ductwork system built in. If you already have a duct system, you'll want to look for a ducted air conditioner. Your rooftop will also need to be strong enough to hold the unit. Most weigh between 60 and 100 pounds, so your roof should be at least three inches thick to withhold that weight. 
Ductless
This model works without the need for ductwork. Instead, it attaches to the roof of your RV and uses a fan to distribute air. You can adjust the temperature with a manual control panel. This panel attaches to the ceiling of your RV, and it's usually sold separate from the AC unit. Ductless systems distribute air less evenly than ducted systems. On the flip side, they tend to be more affordable. Ductless units are also a great option if you have a vintage model or your RV didn't come with an AC included. Plus, some ductless models can be compatible with ducted systems.
Window
As the name suggests, this type of unit hooks up to an external window of your vehicle. They're not always designed specifically for RVs, but they're a more affordable option for smaller vehicles. Plus, it makes for easier installation. If you'd rather not mount the air conditioner to your window, some small models can fit under a bench or cabinet in your RV. If you have more than 300 square feet to cool, we recommend opting for a rooftop unit. 
Portable
They may not be marketed specifically toward RVs, but portable air conditioners can work well in small vehicles. Portable ACs may be less powerful than ducted or ductless models, but they can cost hundreds less. There's also no installation involved; just plug it into your standard 120 Volt (V) outlet. 
Best RV air conditioners
Our RV air conditioner reviews cover ducted, ductless, window, and portable options. Some of the ductless units can be worked into a ducted system.
Note that only two of these air conditioners can also heat your RV. Some are compatible with heat strips that you can buy separately. 
Best RV air conditioner overall
Our No. 1 slot goes to a reputable brand that delivers an all-around winner in the Brisk II. The DOMETIC RV AIR CONDITIONER can last through years of road trips.
This Dometic RV air conditioner comes in two models: 13,500 and 15,000 BTU. The two options allow you to get the right model for your RV's square footage.
You can buy the Brisk II in black or polar white. It's rare for brands to offer more than one color choice, so we appreciate that added touch.
The ductless unit sits on the rooftop of your RV. The Brisk II weighs 72 pounds, which is in the middle of the pack compared to other RV air conditioners.
You can have the Brisk II integrated into pre-existing RV ductwork. This makes it both a ducted and ductless system, adding points for versatility.
Dometic's second-generation Brisk has aesthetic and functional improvements from the first model. For example, the company made the air openings larger for more cooling power.
Another new feature is the dampening bracket, which helps keep noise levels down. A carbon steel base makes this air conditioner durable and strong for years of use.
The Brisk II doesn't pull dual duty as a heat pump, but you can add a HEATING STRIP to the air conditioner for warmth if needed. It also comes without a manual control, but you can BUY ONE SEPARATELY.
We think this Dometic RV air conditioner has great specs and lasting power for the price.
Best RV air conditioner that heats and cools
Coleman is one of the most reputable RV air conditioner brands. The ducted MACH 15 shows Coleman's knack for creating premium, long-lasting products. 
This unit generates an impressive 15,000 BTU/hour of cooling power. It can also warm your RV's air at a rate of 5,600 BTU/hour.
The Mach 15 uses Freon refrigerant to cool your RV. Freon, or R-410A, is an eco-friendly refrigerant, so you can worry less about the carbon footprint you leave behind.
This Coleman RV air conditioner packs a powerful punch with its cooling fan. The Mach 15 can move 320 cubic feet of air per minute, which means you're cooler faster with this unit.
With the Coleman name comes reliability and high quality. The Mach 15 comes with a detailed installation guide. An added bonus we like is that the gasket, which helps seal your RV air conditioner to the roof, comes pre-assembled.
This option weighs 90 pounds, which can be a drawback during the installation process. Plus, the heating capabilities make this the priciest option in our lineup.
We are bummed that the THERMOSTAT and MANUAL CONTROL PANELaren't included. You'll have to purchase those accessories in addition to the unit. You also need ductwork for the Mach 15, so this model is compatible with fewer RVs than the Dometic Brisk II. 
Still, we wholeheartedly recommend this premium Coleman unit. With dual warming and cooling power, the Mach 15 is bringing the heat.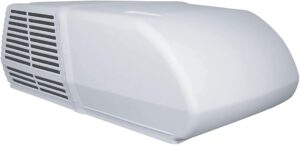 Best affordable RV air conditioner
The ductless ADVENT AIR ACM135 is an excellent value. This air conditioner packs premium outstanding features into a budget-friendly unit. 
You can order this RV rooftop air conditioner in 13,500 or 15,000 BTU sizes. While smaller RVs can get away with the 13,500 BTU model, we'd recommend that bigger RVs size up.
The Advent Air has a 3-speed fan, the most of any product on this list. The 50-pound weight also makes this unit easier to mount than others on the market.
Another standout feature is the watertight gasket, which keeps moisture out of the unit. Premium touches like six foam support pads help reduce noise and keep your air conditioner durable.
Unlike most other models, the Advent Air also comes with a manual control panel included. Considering that this can often cost $100 or more, you're getting an unmatched bargain.
The main drawback is that ASA Electronics lacks the prestige of brands like Dometic and Coleman. We wish the installation manual was a but more detailed, but overall, the Advent Air is undeniably a great option for your RV.
This unit offers premium features at a value price tag. We found it can match or outperform models that cost much more, so we give it two thumbs up.
Best window air conditioner for an RV
If you're in the market for a small RV air conditioner, the LG MOUNTED-WINDOW AIR CONDITIONERis a standout. This Energy Star-certified unit can help get air flowing for hundreds less than other options.
ThisLG MODEL is available in 6,000 or 8,000 BTU models. It can cool up to 350 square feet, which is comparable to the portable model on this list.
You can choose between three cooling fan speeds, and we love that it's one of the quietest RV air conditioners on our list. At 53 decibels, its noise level is comparable to your refrigerator.
This model includes a remote control, but you can also use the control panel in the upper right corner of the unit. Other great features include energy saver mode and auto restart. With auto restart, the device automatically starts itself back up after a power outage.
Since this LG unit doesn't use ducts, it may make for less even air distribution than a rooftop air conditioner. The BTU output of this unit is ideal for an RV with up to 350 square feet of space. Anything more and you'll need to invest in a more powerful unit.
The LG Window-Mounted Air Conditioner is a worthy contender when you need to cool your RV. It's far more affordable than other options, and it makes for an easier DIY installation.
Best portable air conditioner for an RV
For the RVer in need of a do-it-all style unit, our BLACK+DECKER PICKis convenient and affordable. This portable air conditioner cools, heats, has a fan function, and dehumidifies.
BLACK+DECKER's hybrid air conditioner and heater maxes out at 8,000 BTU/hour. It quickly and efficiently cools up to 350 square feet of space and heats a 150-200 square foot RV.
You can set the temperature anywhere from 64 to 90 degrees Fahrenheit. A remote control comes included, but you can also use the top-mounted touch controls on the device.
We love the Follow Me feature on this unit. This setting allows the remote to work like a thermostat and adjust the fan's temperature in real-time.
We found the reusable air filter easy to remove and wash. Plus, you shouldn't have to manually drain this unit during cool mode thanks to the self-evaporating operation.
Another highlight is BLACK+DECKER's solid warranty. This model comes with a one-year part and labor warranty and a five-year compressor warranty.
The carrying handles and rolling casters help make this model extra travel-friendly. Rolling this unit on and off the RV is much easier than dealing with rooftop installation.
One main drawback is that portable air conditioners just won't cut it for larger RVs. The smaller BTU output makes this BLACK+DECKER model better suited for a one-room RV or a camper.
We should warn light sleepers that at its highest output, this unit produces 54dB of noise, the volume level of steady, hard rain. Switch the AC to sleep mode to lessen the noise. Still, we love the wide temperature range and easy carrying on the BLACK+DECKER portable model.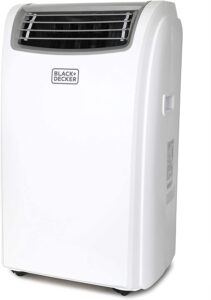 RV air conditioner size
An RV air conditioner's cooling output is measured in British Thermal Units (BTU). 
13,500 BTU air conditioner is enough to cool about 550 square feet of space. This size is ideal for most small to medium RVs. Larger RVs should opt for a 15,000 BTU unit. This heavier duty system can cool up to 875 square feet. 
Rooftop air conditioners can be anywhere from 10 inches to two feet tall. If you're concerned about adding height to your RV, these models may not be ideal.
Window and portable RVs aren't going to effectively cool more than one to two rooms. That's why they work best in small campers, or in tandem with a rooftop system.
If your RV is more than 32 feet long, we recommend buying more than one air conditioner. One rooftop system won't be enough to cool that large of a vehicle.
RV air conditioner maintenance
Regular check-ins with your unit can greatly extend its lifespan. Plus, you'll be able to catch small issues before they worsen over time.
Make sure your unit is not connected to a power source before you touch or clean it. Perform seasonal maintenance on your unit and, if applicable, clean the filter each month or as recommended by the manufacturer.
RV rooftop air conditioner maintenance
You'll want to inspect your rooftop air conditioner about four times per year.
First, you should check your shroud. It is a plastic cover that fits over your rooftop AC unit. The shroud protects the system from water damage and debris.
Over time, exposure to the sun's heat, rainstorms, and other weather may damage your plastic shroud. Keep your air conditioner in tip-top shape by replacing the shroud once or twice during your unit's lifespan.
You should also inspect the gasket, which is a mount that keeps your RV sealed to your rooftop. The seal should be airtight because a rainwater leak can reduce your air conditioner's efficiency.
When you take the shroud off, you'll see metal coils. (Check out this video on how to remove or replace an RV air conditioner shroud.) Spray them with a household cleaner, and let the cleaner soak for 15-20 minutes before hosing the coils down. 
Another important step is to clean the filter with soapy water. You'll need to replace the filter every three to six months. Make sure every component dries completely before you put the shroud back on.
RV window air conditioner maintenance
Once per month, you should wash your air conditioner filter. You can hand-wash the filter with mild soap and warm water. (This video walks you through the steps of cleaning a window AC unit.)
Cleaning your filter is not a substitute for replacing it. You'll still need to buy a new one every six weeks to six months depending on how often your air conditioner runs.
Next, you should unscrew the exterior of the grill. Just like the filter, the grill should be hand-washed with soapy water. Two to four times a year, remove the grill and clean the coils. With a soft-bristled brush, you can comb the coils and remove any dust that's settled into the cracks.
These steps also apply to cleaning a portable air conditioner. The only difference is that you unscrew most portable models from panels in the back instead of removing a front grill. 
Should I install an RV air conditioner?
Hot, muggy weather can put a damper on any vacation. If you want reprieve from the relentless heat, an RV air conditioner can give you the blast of cool air you need. These air conditioners come in a wide variety of sizes and power levels. With so many models available, you can mix and match units to get your ideal cooling experience. Plus, RV air conditioners can be both budget and energy-friendly. With one in tow, you'll feel cool and comfortable out on the open road. 
The post Best RV air conditioners for 2022 appeared first on HVAC Solutions.

Source: HVAC Feed 1