Looking for the best vented propane heater? We've got you covered. This helpful guide includes information, reviews, and troubleshooting tips. 
Vented propane heaters are an affordable option compared to other heating products. They're relatively simple for a professional to install, and can effectively heat small spaces, tiny homes, or cabins.
Many vented propane heaters don't require electricity to operate, making them ideal for structures in remote areas, workshops, and locations prone to winter power outages. They can also solve heating issues, like cold spots, in traditional homes.
If you're considering a vented propane heater for your space, choose the one that best meets your needs from our list below.
Vented propane heaters: Pros and cons
Not sure if a vented propane heater is right for you? Think about the potential benefits and drawbacks before making your choice.
Pros of vented propane heaters
Ideal for smaller spaces
Units are vented, so potentially dangerous gasses aren't circulated indoors
Propane is cost-efficient compared to other types of heating fuel
Inexpensive compared to other types of heaters
Propane burns clean and is more environmentally sound than other methods of heating
Cons of vented propane heaters
Generally can't heat large spaces
Propane can be dangerous; there's potential for fires or carbon monoxide poisoning if the heater is not installed properly
Units get hot, which may not be safe for families with small children or pets
Propane heaters vs. electric heaters: Which is best for you?
An electric heater may be a better choice in some situations. A few benefits of electric heaters include:
You don't need to worry about storing and refilling propane tanks
Installation is simple and DIY — you just plug the heater in
There are no concerns surrounding ventilation or potentially flammable gasses
However, propane heaters do have some unique benefits:
They're usually less expensive to purchase and operate
Propane burns hotter, so they heat more efficiently
Using propane is more environmentally friendly
Additionally, you can use most vented propane heaters with no electricity, making them useful for heating remote locations or sheds and workshops without existing electrical wiring.
Vented propane heaters vs. ventless propane heaters: which is best for you?
Vented propane heaters allow the fumes created from burning propane to vent outside of your space. With a ventless propane heater, those fumes will remain inside unless you open a window or create another way for the fumes to escape. It's extremely hazardous to allow propane fumes to accumulate within a space.
Because of the possible danger, we do not recommend using a ventless propane heater indoors. In fact, it's illegal to do so in some areas.
For outdoor use, there are two types of ventless propane heaters available:
Infrared systems warm ceramic panels that radiate heat into the space. They are better for heating a small targeted area.
Blue flame systems use convection to warm the air. They are preferred for keeping a larger space at a consistent temperature.
Choosing the best vented propane heater
To determine which is the best-vented propane heater for your needs, consider the following:
| | |
| --- | --- |
| Size of space | British Thermal Units (BTU) is the measurement used to gauge how big of an area your heater can heat. Generally, multiply the square footage of your space by 20 to estimate the necessary BTU. For example, a 100-square-foot room would require a 2,000 BTU heater. |
| Placement | Where do you plan to put your heater? Do you have space on an external wall where it can vent? Do you prefer a wall-mounted or free-standing unit? |
| Size of unit | Will your room accommodate a large heater or do you need something sleek and compact? Will you have to maneuver the unit when you purchase it? (Some weigh 90+ lbs.) |
| Lifestyle | Do you have children or pets that may touch or knock into the heater? |
| Budget | How much do you want to spend on your heater? Is this a long-term home improvement investment or something you plan to use temporarily? |
| | |
Best vented propane heaters
Our team relies on product testing and customer feedback to determine the best indoor vented propane heaters. The HVAC.com experts also vet our selections. All prices are valid at the time of publication and may change on the retailer's website.
Best overall vented propane heater
The Rinnai EX08CP Wall Mounted Direct Ventilation Furnace Propane heater runs quietly and features a heat-proof front cabinet that keeps kids and pets safe. It's a thin unit that heats powerfully. While we recommend this unit for a space up to 400 square feet, some homeowners find it heats up to 600 square feet.
The programmable thermostat helps maintain a comfortable temperature for day and night and creates a more energy-efficient experience. This unit also offers a variable speed fan to keep the temperature more consistent so you stay more comfortable.
The Rinnai EX08CP needs electricity to operate, so it's not the best vented propane heater for spaces with no electricity.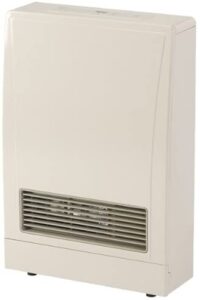 Size
18.1"W x 27.4"H x 10.1"D
Best for small spaces
If size is a concern when heating your space, we recommend the US Stove AGDV12L Ashley vented propane heater. This unit has a slimmer profile than others on our list. It doesn't have all the bells and whistles of some other systems, but it's a reliable unit for small spaces that don't require constant heating.
The US Stove is designed to heat up to 350 square feet of space. We found that it consumes more propane than other units, but it doesn't require electricity for use.
We particularly like this vented propane heater for mobile or modular homes. Installing the heater was simpler than comparable models. It mounts on any outside wall for direct venting. We recommend hiring an HVAC pro if you're not trained in vented propane heater installation.
The automatic shutoff and thermocouple safety valve ensure that the pilot light is working properly and turn the unit off if the light goes out. Finally, the built-in thermostat and comfort dial allow you to customize your temperature and keep it more consistent over time.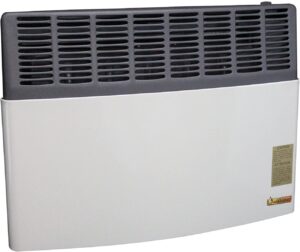 Size
17.5"W x 31.88"H x 6.75"D
Best modern design
Martin's MDV12P propane direct vent heater is stylish, with a die-cast aluminum grill that complements stainless steel appliances. This unit uses convection heat, which means it warms the air in the room and that warm air keeps you and others comfortable.
Installation is straightforward, and the Martin heater has an energy-saving feature we love. As the unit approaches the desired selected temperature, it automatically reduces the flame and slows fuel consumption. The flame will consistently burn to maintain the indoor temperature.
The built-in thermostat will keep a space of up to 350 square feet warm. The low-to-high dial guides the thermostat to the correct temperature. As one of the most affordable units on our list, we're highly impressed with the heat produced and ability to keep the temperature consistent.
Size
15"W x 22.625"H x 7.125"D
Best for large spaces
The Empire DV55E vent wall furnace is a large and powerful unit. It can heat several rooms or an entire basement. 
The technology in this unit makes it more than 80% efficient Annual Fuel Utilization Efficiency (AFUE). Put simply, this heater converts 80% of the fuel used to heat. The unit is backed by a 10-year warranty.
At $3,700, this is a considered purchase for your home. We advise you to shop around. We found the price can vary up to $1,000 on different dealers' websites. If you don't need a unit this large, Empire makes a number of smaller units at lower price points. The DV55E is best as a long-term investment due to its hefty price tag. 
It works with any 24-volt wall thermostat, including programmable thermostats. The operating system is extremely quiet and the sealed combustion chamber means your indoor air quality won't be compromised.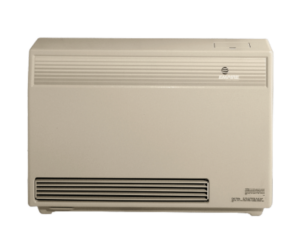 Size
26"W x 37"H x 15.75"D
Best budget-conscious
The HouseWarmer HWDV150BP is a forced air heater that packs a punch for its relatively low price point. As the least expensive option on our list, we are pleasantly surprised at how well the HouseWarmer unit stands up to the competition.
The 15,000 BTU can warm a space up to 525 square feet. We love this vented propane heater for a cabin or a workshop, because it doesn't require electricity to run.
While it operates quietly, it doesn't come with a thermostat. The unit is either on at full power or completely shut off. An optional thermostat is available for an additional cost.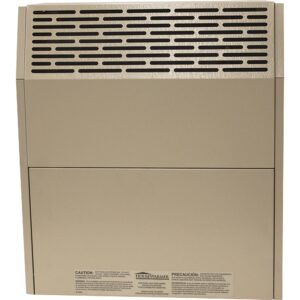 Size
25.31"W x 25.31"H x 9.5"D
Best vented propane heater for your needs
Wondering which of our picks best meets your needs? Check out the table below.
How to install a vented propane heater
While there are a number of online tutorials that detail how to install a vented propane heater, we think it's a job best left to the pros. Let us connect you with a top-rated local HVAC expert for a complimentary quote.
Troubleshooting a vented propane heater
Heater not working? Give these tips a try before calling a repair person. Refer to your user's manual to identify the parts of your specific heater. Always turn the heater off before attempting to troubleshoot. 
| | |
| --- | --- |
| 1. Check the propane tank | If it's off, turn it on. If it's empty, replace it with a full one. |
| 2. Dust the unit | Remove dust on the external parts of your heater by wiping with a soft cloth or vacuuming with a brush attached to the nozzle. |
| 3. Clean the pilot tube | Insert a sewing needle or bent paperclip into the pilot tube to ensure nothing's clogging it. |
| 4. Clean the gas valve | Insert a sewing needle or bent paperclip into the gas valve to make sure there are no obstructions. |
| 5. Adjust the thermocouple | Check that your thermocouple is close to the flame. If it can't make contact, try moving it closer. |
Still not sure what the problem is? Consider hiring a certified HVAC technician to check it out.
Safety tips for vented propane heaters
It's important to follow these tips to ensure your vented propane heater is operating safely. A buildup of gas in an enclosed space can be very dangerous.
Install carbon monoxide and smoke detectors in the space you're heating.
Purchase a wall-mounted unit if you have young children or pets, and mount it in a place they can't reach.
Choose a heater with the correct BTU rating for your space. Make sure there's a high-temperature guard on the front and an automatic shut-off feature in case it tips.
Don't place furniture, decor, or other items on or in front of your heater.
Don't install your heater in a location near potentially flammable materials, such as window curtains, bedding, or piles of paper.
Don't spray aerosols, including air fresheners or cleaning products, near your heater.
Dust your unit regularly using your vacuum's hose or a soft cloth. (Turn the heater off first.)
Do not leave your heater running unattended. Turn it off if you are leaving the space.
Have your heater inspected regularly by a licensed HVAC professional.
What's the best propane heater, indoor, vented?

The best propane heater, indoor, vented according to our research is the EX08CP Rinnai vented propane heater.
What's the best vented propane heater, no electricity?

The US Stove AGDV12L Ashley Direct Vent Propane Gas Heater is the best vented propane heater, no electricity according to our research.
What's the best vented propane wall heater?

The EX08CP Rinnai vented propane heater is our pick for the best vented propane wall heater.
What's the best vented propane heater for cabins?

We think the US Stove AGDV12L Ashley Direct Vent Propane Gas Heater is the best vented propane heater for cabins.
What's the best small vented propane heater?

The Martin Propane Direct Vent Thermostatic Heater MDV12P is the best small vented propane heater.
What's the best vented propane heater with a thermostat?

The EX08CP Rinnai vented propane heater is the best vented propane heater with a thermostat.
The post Best vented propane heaters 2022: reviews, tips, and troubleshooting appeared first on HVAC Solutions.

Source: HVAC Feed 1