Winter can bring shimmering snow, beautiful evergreens, and that uncomfortable draft in the hallway. With a ventless propane heater, you can keep your space toasty without ductwork or a chimney.
This buyer's guide is your cheat sheet for all things propane ventless heaters. We cover the pros and cons, things to consider before buying, and our favorite models in 2022.
Best Ventless Propane Heaters
How does a ventless propane heater work?
A ventless propane heater can warm your home without the need for vents or ductwork. The heater doesn't need an outside air source, because it draws in oxygen from the room where it's placed.
The two components of a ventless propane system are the indoor heater and the outdoor propane tank, which connect through wires.
The heaters we cover in this review use propane gas as their fuel source. When the propane gas is exposed to oxygen, the gas ignites and turns into a flame to create warmth.
Once the flame heats the air nearby, the warm air is circulated throughout the room. Some heaters come with zoned heating, so you can control which rooms get more airflow.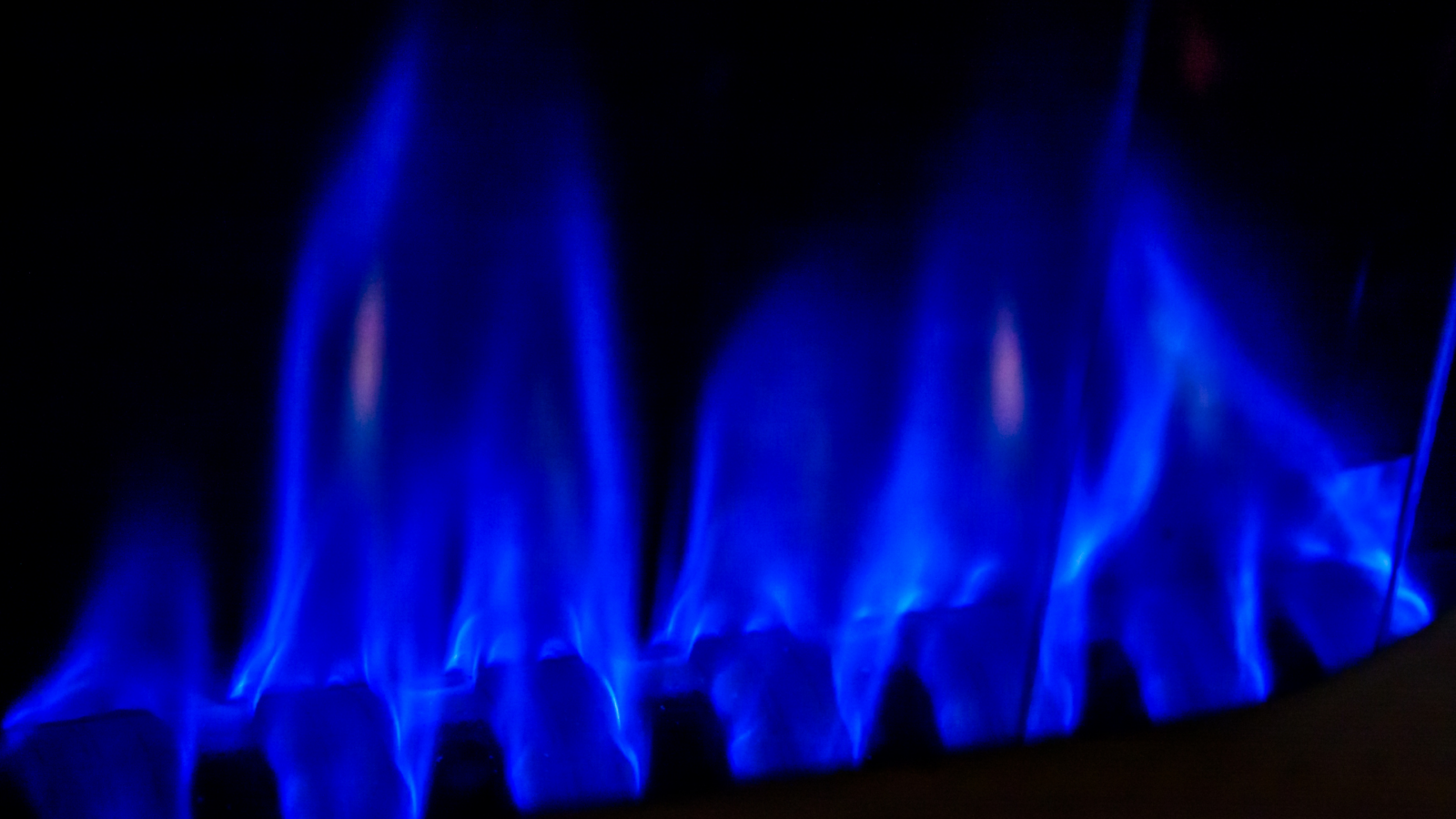 Radiant vs. blue flame heaters
There are two varieties of ventless propane heaters. Blue flame heaters work like a convection oven. They pull in cold air, heat it up, and send the warm air back through the room.
Infrared, or radiant, heaters are less sophisticated. They radiate heat, but they aren't powerful enough to create hot air or blow it through your home.
Most infrared heaters use electricity, so many propane-fueled models have been discontinued. That's why our best-of list focuses mainly on blue flame heaters.
If you're looking for powerful heat, go with a blue flame model. An infrared heater can only heat a few hundred square feet, and they're harder to find in stores and online.
Have a pro install your ventless propane heater
Propane ventless heater: pros and cons
We think of ventless gas heaters as a double-edged sword. While they are more convenient and affordable than vented options, they also have the potential to be less safe.
Thankfully, most models have features that tackle the biggest safety concerns, like carbon monoxide and tip-overs. We dive deeper into safety tips below.
| Pros of ventless propane heaters | Cons of ventless propane heaters |
| --- | --- |
| Higher energy efficiency than vented heaters | Generally can't heat large spaces |
| No chimney or pipe is needed for ventilation | Oxygen depletion risk increases with ventless models so a window or door should be available in installation areas |
| Many models are easy installation or DIY | Propane can be dangerous; there's potential for fires or carbon monoxide poisoning if the heater is not installed properly |
| Sleek, modern designs to many blue flame models | Oversized unit can create high humidity levels in the home |
| Propane burns clean and is more environmentally sound than other methods of heating | |
| | |
Propane vs. electric heaters
An electric space heater is another option to explore. Electric heaters are more affordable than propane on the front end, but they're likely not going to cut it for your heating needs.
Propane heaters can produce much more heat and energy than electric models. Most electric models max out at 1500 Watts, which converts to about 5,000 BTU.
On the other hand, propane heaters operate at 30,000 BTU. With six times more power than electric heaters, propane brings you more bang for your buck.
Plus, propane will work even when the power goes out. We recommend an electric model as a supplemental heat source, but it can't heat more than one to two people comfortably.
Unless you're heating a space under 200 square feet, propane is the way to go.
Things to consider with a ventless gas heater
Propane ventless heaters can vary in quality, heating power, and more. No matter which model you've got your eyes on, make sure the specs are setting you up for success.
Safety features: With a ventless model, we can't overstate the importance of solid safety measures. Every model in our best-of list has an oxygen depletion sensor, and we don't recommend you buy one without this added touch. Other features to keep in mind are an overheating sensor and a tip-over sensor.
State and local laws: Some states have tight restrictions on the use of ventless heaters. For example, California effectively bans them. Check your state and local guidelines, as well as electrical codes, before making the purchase.
Heating power (BTU): The heating capacity of a ventless gas heater is measured in British Thermal Units (BTU). The higher the BTUs, the more powerful your heater is and the more energy it will use up. Most ventless heaters operate at 30,000 BTU, but premium models can run at a lower capacity for better efficiency.
Have an HVAC pro inspect your heating system
Best ventless propane heater
Our criteria for selecting the best ventless propane heaters was heating power, cost, safety features, and customer ratings. We only chose models with oxygen detection sensors.
We focused primarily on blue flame models, but there's also a portable pick in the mix. No matter your budget or living space, we can find the best ventless propane heater for you.
Best ventless propane heater with thermostat
You'll be hard-pressed to find a more powerful, reliable unit on the market. The Rinnai ventless propane heater safely offers unmatched heating ability.
The blue flame Rinnai FC824P is zoned, so you can customize the temperature in each room with the built-in thermostat. The Rinnai brings you quick heat, warming up to 1,000 square feet in less than 30 minutes.
With the Rinnai, you'll literally and figuratively be able to sleep at night. The 44 dB(A) operation is quieter than your refrigerator, so you can rest undisturbed.
Plus, great safety measures like an anti-tip-over switch and a childproof lock bring you peace of mind. A 36-month parts warranty is another added benefit.
This wall-mounted ventless propane heater is pricier than most, but we think it's well worth it. Rinnai's quality reputation and the elevated safety features earn the FC824P a spot on our list.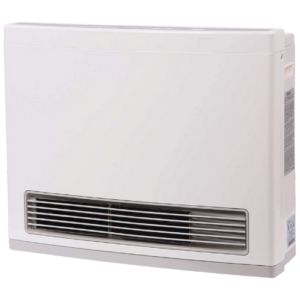 Best value
The Mr. Heater F299830 is a breeze to install and can bring surprising heat. This affordable blue-flame option can maximize both your energy use and your budget.
If you aren't a fan of DIY projects, you're in luck. You can order this 30,000-BTU heater with legs and store it on your floor for installation-free heat.
The five burners on this model release an impressive amount of heat. Most value picks max out at two to three burners, so we appreciate the premium features packed into the F299830.
In a perfect world, we'd replace the knob-controlled thermostat with a built-in model. The Mr. Heater F299830 is still a standout value against both budget and premium competitors.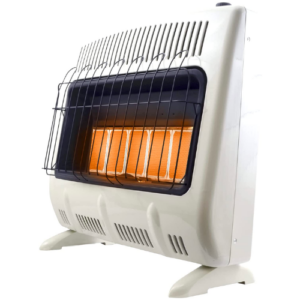 Size
23.75 x 11.25 x 27 inches
Fastest ventless propane heater
The blue flame Dyna-Glo BF30PMDG can heat up to 1,000 square feet in 15 minutes. This fast-acting model will create a warm space in a hurry.
Need even faster heat? The optional fan attachment can create warmth even quicker and more evenly.
With three speed settings and a variable control knob, you'll get a custom heating experience. The heater can run at 24,000, 27,000, or 30,000 BTUs to optimize energy use.
Whether you're cold-natured or just impatient, the Dyna-Glo is perfect for you. It gets to work quickly, right when you need it.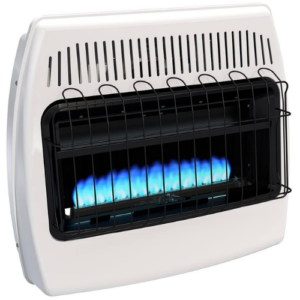 Size
28.07 x 10.51 x 24.09 inches
Best ventless propane heater with blower
With a wide variety of models, this chameleon of a heater can fit in almost any space. The Bluegrass Living gas heater boasts three sizes, with capacities ranging from 10,000 to 30,000 BTUs.
We love how this heater comes equipped with any setup tools you need. You'll get both a mounting bracket and attachable legs, so you choose whether to install the unit on your wall or place it on the floor.
This model also includes a blower, which spreads the air farther, faster, and more evenly. With an included temperature control dial, the heating power is in your hands.
Bluegrass Living won't nickel-and-dime you with extra add-ons. For a great value and powerful heating, look no further than this model.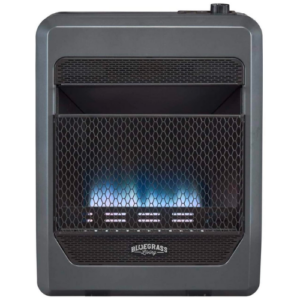 Best portable ventless propane heater
Wherever you wander, this model is bringing the heat. The Mr. Heater MH18B can warm 450 square feet on three heat settings, making it perfect for your next outdoor excursion.
The Mr. Heater unit runs on two one-pound cylinders of propane. The highest 18,000 BTU/hour setting will only last you two hours, but you can get a longer run time on medium or low.
Even if you buy your propane in bulk, this unit can fit your needs. Mr. Heater sells hose attachments, so you can hook up a bigger tank if one-pound cylinders don't fit your need.
This pick may be portable and light, but it doesn't skimp on safety. The MH18B has a low oxygen sensor, an anti-tip-over setting, and grills to cover the heat.
Mr. Heater makes our list twice because of its consistent high quality across its product line. Whether it's portable or wall-mounted, Mr. Heater does vent-free warmth well.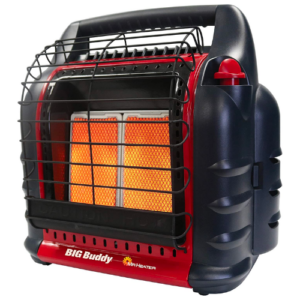 Size
16.7 x 11.2 x 12 inches
Installing your ventless propane heater
Ventless propane heaters make for easy installation. If you're comfortable drilling a small hole in your wall, it's DIY-friendly.
First, choose a location for your heater. As long as the indoor heater and outdoor propane tank can connect, you have a lot of flexibility.
Screw your mounting bracket onto the wall. Some models come with mounting equipment, but most have to be ordered separately.
Finally, slip the heater onto the bracket. After you drill a small hole through the wall with a 2-inch drillbit, you can connect the propane tank to the heater.
If drilling a hole in your wall makes you uneasy, call your local HVAC professional.
Troubleshooting your ventless propane heater
If your heater is not working properly, try our common troubleshooting tips.
First, check the pilot. This is the small flame that should always stay lit in your heater. If the pilot is out, make sure your propane is connected to the heater and there's gas in the tank.
If the pilot is weak or flickering, we recommend calling a professional to check it out. The thermocouple, a component that controls the pilot, may be broken.
Another common problem involves the igniter. If the electrical connection around the igniter is malfunctioning, you may not be able to turn your heater on.
Any time your heater smells like burning plastic, chemicals, or electricity, immediately shut it off and call an HVAC technician.
Safety tips
Ventless heaters carry some safety risk, but a few small steps go a long way in keeping you safe.
Keep a carbon monoxide detector in the same room as your heater.
Mount your heater away from any flammable items.
Mount the heater in a room with proper ventilation. For your safety, you should be able to open a window or door to let in fresh air if needed.
If your heater starts to smell of burning plastic, rubber, gunpowder, or chemicals, turn it off immediately.
Make sure your unit has grills or some barrier covering the heat, especially if it's infrared.
Get your heater inspected at least once a year.
If you're looking for some extra warmth this winter, a ventless propane heater may be right for you. They're more convenient and budget-friendly than traditional vented systems.
Ventless models are commonly used as supplemental heat, but they can often warm spaces up to 1,000 square feet. Going vent-free can keep your home's temperature high and your energy bills low this winter.
The post Best ventless propane heaters 2022 appeared first on HVAC Solutions.

Source: HVAC Feed 1