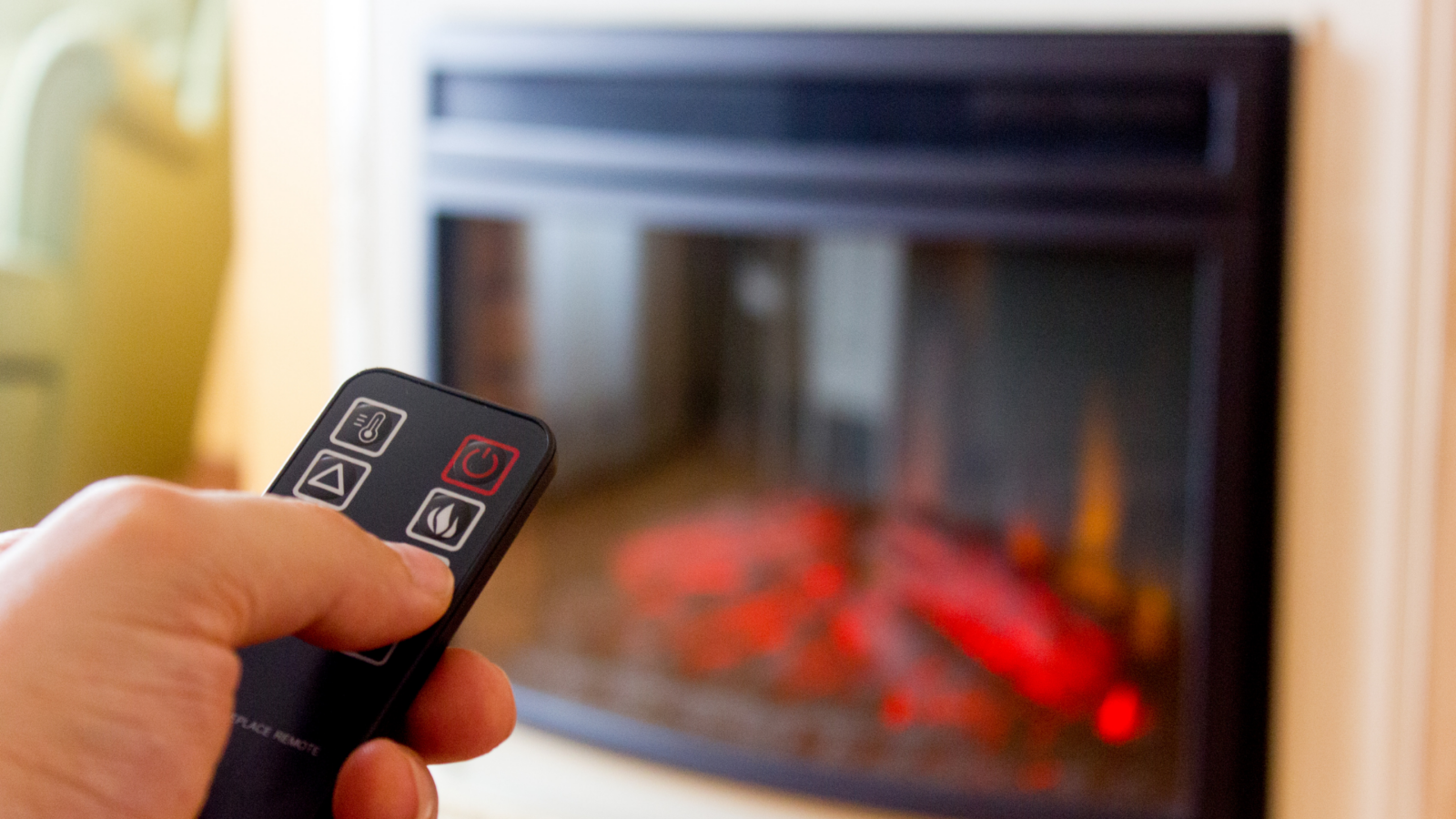 Home isn't always where the hearth is. A wall mounted electric fireplace can help your family enjoy smoke-free fireside coziness. Our wall mount electric fireplace reviews below cover the best options on the market. With this guide in tow, you'll find the right model for your home.
Best wall mounted electric fireplace
What is a wall mount electric fireplace?
American households are flocking to electric wall fireplaces, and for good reason. An electric fireplace can supply ample heat with energy efficiency that saves you from paying outrageous energy bills each month.
Electric fireplaces can heat your living room without burning wood. No woods means there's no smoke. Since there are no emissions into the air, wall electric fireplaces are more environmentally friendly than traditional models.
Wall fireplaces also make for easier installation than their wood-burning counterparts. The wall mounted variety mounts onto your wall and plugs into your standard 120V outlet. You don't need a chimney to use an electric fireplace, so this option is great for apartments.
Best wall mounted fireplace
This review spans a variety of sizes and price points. Every option we included can be mounted on your wall. Three of our picks also have the option to be recessed into your wall, which we note below. 
Best electric fireplace overall
Customizability is the name of the game with this hybrid option. The R.W.FLAME earns our best-recessed pick for its array of features and wide range of sizes.
This electric fireplace is available in six lengths, ranging from 30 to 68 inches. It can heat up to 400 square feet.You can run the R.W.Flame at two different heat settings. The low setting runs at 750 Watts, and the high setting runs at 1500 Watts.
The first generation of this model was 6 inches deep. This second-generation version is only 3.85 inches deep, making it sleeker and less intrusive.
You can recess the R.W.Flame into your wall. If you're looking for a less invasive DIY project, you can also mount it to the wall. Whichever option you choose, the 3.8 inch-wide screen keeps your fireplace from looking bulky.
This option is chock full of customizable features. You can toggle between 12 color options for the flame and bed.
The R.W.Flame also offers five flame speed options and five flame brightness levels. You can change the settings via remote control or the touchscreen on the fireplace itself.
Another perk to this model is its near-silent operation. It operates at 38 decibels, which is quieter than library conversation.We think the flames on this model could be more realistic. Plus, it would be nice for the R.W.Flame to come with logs or pebbles to change out the ember bed.
Safety features like auto-shutoff prevent the fireplace from overheating. R.W.Flame offers a one-year limited warranty on this model, and the brand stands behind its products.
Ultimately, we still give the R.W.Flame two thumbs up. With near-endless customizability for flame color and speed, it offers something for everyone.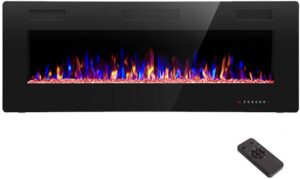 Best recessed electric fireplace
Our No. 1 recessed pick is sure to be a crowd-pleaser. The MYSTFLAME ULTRA SLIM has an elegant look to back up its higher price tag.
This versatile model can be either mounted onto your wall or recessed. There's a manual included to walk you through installation for both methods.
The Mystflame Ultra Slim comes in five lengths, ranging from 50 to 95 inches long.
You can set the Ultra Slim to high at 86 degrees Fahrenheit, or low at 62 degrees F. The power output ranges from 750 to 1500 Watts, depending on the heat setting.
There are nine color options for the flame. With both logs and crystals included for the ember bed, you can decide which look suits your fancy.
This model is 5.5 inches deep, so it's not the thinnest fireplace on our list. Still, the ultra-thin bezels make this pick look elegant and unobtrusive.
One major downside to this model is its heaviness. The Ultra Slim weighs in at 79.8 pounds, tipping the scales at nearly twice as much as most other electric fireplaces.
We especially like that this unit is equipped with upper front vents, which support better heat distribution throughout the room. This unit can heat up to 450 square feet of space.
You may need a helping hand if you want to recess this inwall electric fireplace. Once you tackle the set-up, the Mystflame Ultra Slim's luxe look and color choices will speak for themselves.
Most powerful electric fireplace
With this powerhouse pick, the days of huddling by a puny fire are over. The DIMPLEX WINSLOWbalances unmatched heating ability with a sleek, modern look.
This electric fireplace can warm an impressive 1,000 square feet. Most electric models tap out around 400 square feet, so we give the Winslow praise for its high power.
The Dimplex Winslow comes with a wall mount. Though some tools like screws are not included, installation takes just 15 minutes.
With the included remote control, you can change the fireplace settings without having to get off the couch. There's also a touchscreen control panel on the top right corner of the fireplace.
This wall mounted fireplace will fit any aesthetic. The Winslow comes with logs, so you can make your fireplace look like it's burning wood. If you prefer modern touches, you can swap out the logs for pebbles or crystals.
The Dimplex Winslow comes with side strip lighting. This feature creates a faint, blue glow behind your electric fireplace.
We also love the Dimplex Winslow's relatively low price tag. Competing brands can charge $1,000 or more for fireplaces that cover similar square footage.
We wish you could switch out the color of the flame itself. Unlike most competing models, the Winslow only offers an orange glowing flame.
Some users mention a higher noise level than with other models. Still, the Dimplex Winslow's beautiful look and great features for the price are hard to ignore.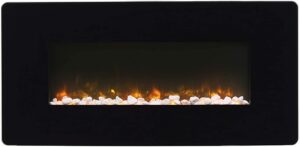 Best electric fireplace with smart tech features
Sitting by the fire with some good tunes makes for a peaceful vibe. With the TOUCHSTONE AUDIOFLARE, music lovers can get their dream fireside experience.
This model comes with a Bluetooth speaker. You can sync it up to your phone and play music while you sit by the cozy fire.
The AudioFlare's unique color options give you flexibility. The hardware is available in both black and stainless steel, giving it more of a gas fireplace appearance.
The flames are realistic-looking blue, yellow, and orange. You can choose between five flame intensity settings.
The AudioFlare has both high and low temperature settings. The high setting runs at 1500 Watts per hour, and the low setting uses 750 Watts per hour.
Most other options on our list have some degree of flame color customizability. It also releases heat from the top, so Touchstone recommends keeping it at least eight inches below a TV.
We wish the AudioFlare had more flame options, but that's not a dealbreaker in our book. This pick helps you mimic the experience of sitting by a crackling fire with campfire songs or completing a seasonal setting with soft music and warmth.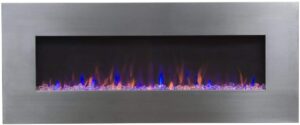 Best affordable electric fireplace
You don't have to spend big bucks to get a reliable electric fireplace. The NORTHWEST BLACK ELECTRIC FIREPLACE is our value pick because it delivers great features at a fraction of what competitors charge.
This model comes in one 36-inch length and 5.7-inch depth. The Northwest is priced about $200 lower than competing units, but the brand isn't cutting corners on features.
You can customize the flame color to amber or blue. The heat can be set to high output at 1500 Watts, or low output at 750 Watts.
The included remote control helps you change the color and heat settings. We love how all the materials you need, from the mounting hardware to the decorative crystals for the base, come right in the box.
Still, we see that Northwest had to make some sacrifices to keep costs low. There is no touchscreen panel on the fireplace, so fireplace changes must be made from the remote control.
Also, the heat comes out of the top of the device. You should avoid placing this fireplace directly below a TV to avoid heat damage.
The Northwest electric fireplace isn't the sleekest or most tech-advanced option in our roundup. It may have fewer bells and whistles, but we can't ignore its high quality at hundreds less than the competition.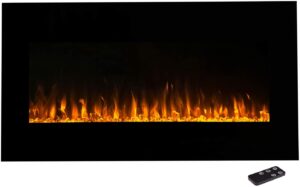 Installing an electric fireplace
To install a wall mounted electric fireplace, you'll use a mounting bracket that's typically included with the unit. The device will protrude from your wall, but most modern models are less than six inches wide.
Some wall models are recessed, meaning they sit inside the wall. You need to cut through your wall to install this model, so hiring a contractor may be the best bet if you've never completed this type of project.
To use a recessed fireplace, your walls should be at least 10 inches thick. Those 10 inches cannot have pre-existing electrical wiring through them.
While you can safely DIY the installation, hiring a pro is a better option. According to Angi, the average installed cost of a recessed fireplace is about $700. 
One perk of a recessed or inwall electric fireplace is that it won't protrude from your wall. Still, wall mounted electric fireplaces are the most DIY-friendly option.
Need a pro to help install your electric fireplace?
Is a wall fireplace for me?
Electric wall fireplaces are ideal for homes where a secondary heating source will offer energy efficiency each month. They're also a great option for homeowners who are conscious of their environmental footprint and want to avoid the emissions of wood-burning fireplaces.
Wall mounted fireplaces are great for apartments or homes, as they don't require a venting system. Some models can be recessed into your wall, making them a more permanent fixture.
Plus, added features like color customizability and smart capability help keep you entertained while you stay cozy. Electric fireplaces can help elevate your home to a new level of comfort with ease. No wood, no chimney, no problem.
The post Best wall mounted electric fireplaces for 2022 appeared first on HVAC Solutions.

Source: HVAC Feed 1