Window heat pumps are versatile units that offer the cool air you need to be comfortable in the summer and warmth in the winter. This supplemental heating source can help keep you comfortable as temperatures begin to dip.
What is a window heat pump?
Also known as a window AC with heat pump, these devices are functional year-round. The unit is mounted into a window frame and requires either a 115-volt or 230-volt power outlet, depending on the model you choose.
A heat pump window unit comes in a number of sizes and, depending on the unit, can require different power outlets. Our guide will answer the question, "What is a heat pump air conditioner?" and offer recommendations of systems that will best fit your needs.
Why choose a window heat pump?
Staying cool in the summer and warm in the winter doesn't have to require a hefty installation bill from an HVAC company. For those living in an apartment, loft, or mobile home, a window-mounted heat pump is one of the most affordable and efficient ways to create a comfortable environment.
Plus, for a garage or workshop that isn't connected to a home's ductwork but needs better temperature regulation, a window heat pump is a great heating solution. Choosing the best heat pump air conditioner for your space will depend on your budget, room size, and window measurements.
Best window heat pumps
Best overall window heat pump
The Frigidaire FFRH1822R2 can handle heating and cooling medium to large-sized rooms. The unit can effectively cool a space of up to 1050 square feet and provide supplemental heat at 16,000 BTU. It features a low-power start-up, helping keep your energy bills in check. We especially like the LED display screen on this unit and its quiet operation. A special 230V electrical outlet is required to power this window heat pump.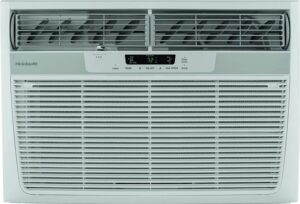 Best window heat pump for small room
For heating small rooms, the LG LW8016HR is the best option. The unit can cool a room up to 320 square feet and offers supplemental heating at 3,850 BTU. At just 69 pounds, this unit isn't too difficult to maneuver and operates with a standard 115V outlet. For a bedroom, office, or small workshop, this model will supply warmth with a touch of the remote. It has a low noise performance and comes with a custom install kit so you can begin warming your space in minutes.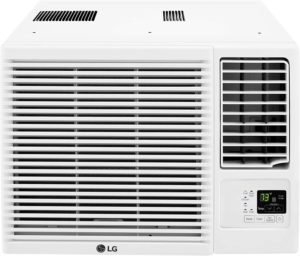 Best window heat pump for large room
The KOLDFRONT WAC18001W can offer warmth for rooms up to 700 square feet. It's important to note this unit requires a 30 Amp 230 Volt breaker to function properly, but it offers a number of features that make your supplemental heating more enjoyable. Four operation modes allow you to customize the cooling or heating functionality to your needs. Plus, the 4-way air directional louvers are perfect for directing the warm or cool air to the desired area.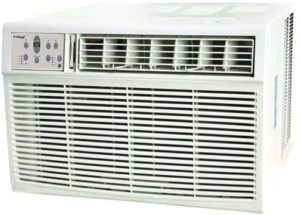 Best window heat pump for noise control
The FRIEDRICH CHILL SERIES EP24G33B comes with standard installation hardware, but its 146-pound size makes it a two-person job rather than attempting a solo install. The unit offers four modes of operation (Fan, Cool, Money Saver, Dehumidify) and runs surprisingly quiet for such a powerful unit. The air filter is reusable, so if you opt for this model, see our window AC filter cleaning steps above. One of the best features of this unit is the auto-restart, which allows you to turn the unit back on after a power outage and the device will restart with the previous settings.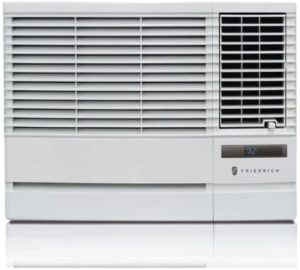 Best smart window heat pump
The LG LW8021HRSM incorporates LG ThinQ Technology so you can start or stop cooling or heating, change the mode, or set the temperature from your smartphone. Plus, this unit integrates with Amazon Alexa and Hey Google so you can change settings with simple voice commands. The unit will operate smoothly with a standard 115V energy supply. Create the perfect heating schedule with the 24-hour timer. Even cleaning is made simple with the washable filter in this unit and installation is simple with the kit that comes with the model.
Best size heat pump air conditioner
A properly sized window heat pump will depend on the size of the room you're trying to heat and your window size. Most units are able to fit into standard or double-hung windows.
Use the table below to determine how many BTUs you'll need to heat your room. While a number of factors can affect the efficiency of the unit, this chart will give you a good starting point for sizing.
Square Feet
BTU
(British Thermal Unit)
>150
5,000
150-250
6,000
250-300
7,000
300-350
8,000
350-400
10,000
400-450
12,000
450-500
14,000
500-550
15,000
550-700
18,000
700-800
20,000
800-900
22,000
900-1,000
25,000
How does a heat pump window unit work?
The heat pump window unit operates either in heating mode or air conditioning mode, based on your desired settings. When AC mode is selected, the unit pulls warm air from the room and processes it over the refrigerant coils. The air is cooled during the transfer and is then re-released back into the room to lower the temperature.
When in heat mode, the window heat pump pulls outdoor air into the unit and passes it over the refrigerant coils to warm the air. The warm air is then pushed out into your space to increase the temperature.
Because the unit is in use year-round, it's important to keep the window AC unit filter clean. Check the filter for cleanliness every four to six weeks, replacing and cleaning (if reusable) as needed.
The owner's manual that comes with your window heat pump will explain in detail how to change or clean the filter. A dirty filter restricts airflow, which causes the unit to pull more energy and work harder to heat or cool your space.
If your device calls for (or you prefer) a reusable filter, here are some basic tips for cleaning the window AC filter:
Remove the front panel of the window heat pump (some models have front panels that unhinge from one side and do not need to be removed completely).
Gently remove the filter.
Lay the filter in your kitchen sink or bathtub.
Use water and dish soap to gently cleanse the filter. A soft-bristle brush or sponge can be used for hard-to-remove debris.
Rinse the filter.
Allow the filter to completely dry before placing it back into the unit.
A clean filter will allow your window heat pump to heat and cool more efficiently. Make this simple cleaning process a monthly routine.
Window heat pump energy efficiency
The heating and cooling output of a heat pump air conditioner is determined differently for each mode. The cooling efficiency is measured by CEER and EER (explained below), while the heating efficiency is measured by HSPF (also explained below).
Cooling efficiency of window heat pump
The Combined Energy Efficiency Ratio (CEER) and Energy Efficiency Ratio (EER) are the two ways cooling efficiency is calculated for a window AC with heat pump.
EER is measured by the results of the air conditioner's functionality when the indoor temperature is maintained at 95 degrees. CEER is a measurement of the combined efficiency of when the unit is "on" but not operating and when it's cooling a space.
The average EER for a window heat pump is between 8.5 and 10. A rating above a 10 provides high energy-efficiency while cooling.
Heating efficiency of window heat pump
The Heating Seasonal Performance Factor (HSPF) is calculated by taking the total heating required in British Thermal Units (BTUs) during the winter season and dividing it by the amount of energy used to produce the heat during the same time period.
A minimum HSPF of 7.7 is required of all heat pumps, but in order to gain the EnergyStar label, a unit must offer an HSPF of 8.2.
Window heat pump noise level
The operational noise level of a window heat pump will vary depending on the unit purchased. Some models are specifically designed for minimal noise while others offer features like "sleep mode" that are quieter when that setting is selected.
The average window heat pump will operate around 45dB (decibel). For comparison, the average dishwasher operates between 50-60dB and a vacuum runs at approximately 80dB.
The post Best window heat pumps of 2022: Buying and pricing guide appeared first on HVAC Solutions.

Source: HVAC Feed 1