In the right conditions, you may not even notice a fan is running. However, a ceiling fan making noise is a red flag. Noises from the fan can be a major nuisance and get worse over time.
A noisy ceiling fan may be caused by something as simple as a loose fan blade screw. This guide will help you figure out how to stop your ceiling fan from making noise so it can operate as efficiently (and quietly) as possible.
Don't want to bother with a DIY repair? Click below to connect with a pro who can help keep your home cool when your ceiling fan's on the fritz.
Skip the search and connect with an expert.
If you think your fan's beyond repair, check out our picks for a replacement.
Troubleshooting your ceiling fan noise
There are several types of ceiling fan noises. Fortunately, most issues can be corrected without having to replace the ceiling fan. Some of the most common noises include:
Ceiling fan making clicking noise
A ceiling fan clicking may be due to one or more of the fan blades being loose. This is typically an easy fix. All you need to do is tighten the screws on the blade, which are often located close to the fan motor. In addition, check the light fixture's screws and ensure they're also properly attached. Sometimes, a loose ceiling fan light can cause the clicking sound.
Rattling noise
A rattling ceiling fan can be caused by something loose, such as a screw that has fallen into the wrong place. Check the inside of the light fixture for a loose screw that may have come off and fallen into the glass globe. A rattling noise may also be caused by a loose or improperly installed bracket. It may be necessary to change your ceiling fan brace if this is the case.
Ceiling fan humming
A humming ceiling fan is typically due to frequency or electric issues associated with the ceiling fan remote or the light switch. This happens most often when a ceiling fan is operated on a dimmer switch. Hire an electrician or HVAC specialist to change the fan to traditional breeze settings.
Ceiling fan making grinding noise
A scraping or grinding noise can sound alarming but may also be a simple fix, depending on the cause. A ceiling fan making a grinding noise may be caused by unbalanced blades that make the fan wobble.
Ceiling fan blades can become unbalanced by dust collecting on the blades when the fan isn't in use. Clean the blades by wiping them down with a damp rag to remove any dust and debris causing them to be unbalanced. Cleaning the blades periodically reduces the chances of your ceiling fan making noise and the amount of dust dispersed into the air.
If cleaning the fan blades did not eliminate the grinding noise, the solution may be more involved. The fan's motor and/or bearings may need oil. However, WD-40 isn't a one-size-fits-all solution. Consult your user manual to determine what type of lubricant is compatible and the best location to oil the bearings.
Not all fans require oiling. Some modern fans may have sealed housing that does not allow you to oil the bearings or motorized parts. This means you need a technician or electrician to lubricate the dry bearings. Depending on the level of noise, it may be less expensive to replace the fan with a new one.
How to oil a ceiling fan
If you have the type of fan that needs to be lubricated, look for the oil fill opening, normally located near the downrod. You may be able to insert a small pipe cleaner roughly 1/2" in and remove it to see the fan's oil level. If the pipe cleaner comes out clean or barely has any oil on it, your fan's oil is low.
Use an oil or lubricant approved by the manufacturer to replenish and protect the fan's motorized parts. You'll typically need to add as little as a few drops or up to one or two ounces of oil. Once you add the lubricant, clean off any spills and let the oil settle for a few minutes. Run the fan and listen for noises. Hopefully, you've solved the grinding sound yourself.
If none of these tips help, click below to connect with an HVAC professional for repair.
Find me a local HVAC expert now
Quiet ceiling fan options
At some point, a fan may be too old or worn to run as quietly as you would like. If you perform the maintenance and repair tips provided and still don't like the sound your fan outputs, you may need to shop around for a different fan. In general, new ceiling fans are likely to be quieter than ones from 10 years ago.
The Hunter Devon Park ceiling fan brings farmhouse vibes with its Edison bulbs and Mason-jar-style glass shades. We love that its blades are reversible to either barn wood or a stone finish.
This quiet ceiling fan is designed for indoor spaces only. It comes with a remote control so you can adjust the fan speed or lights from anywhere in the room. It also includes a pull-chain for manual control.
Most ceiling fans on the market today are dated or overly modern looking. We appreciate how the Devon Park fan combines a traditional design with contemporary style.
Hunter's WhisperWind motor will deliver comfortable airflow quietly.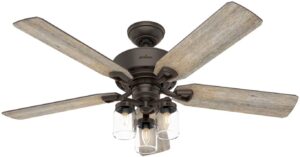 The Prominence Home Alvina is a reliable ceiling fan at an affordable price point. With five finish options (bronze, farmhouse bronze, nickel, satin nickel, and farmhouse white) and reversible blades (chocolate maple or light cherry), it blends easily within any home decor style.
Installation of this quiet ceiling fan is simple and DIY-able. It comes with three bulbs and a hardware pack for mounting and assembly.
The Alvina is designed for indoor use only. Its motor runs quietly at all three speeds, creating a pleasant breeze.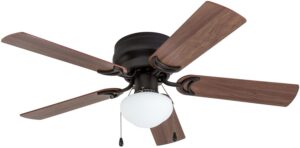 The Honeywell Palm Island ceiling fan serves up tropical breezes in your indoor and covered outdoor spaces. Its bronze palm leaf design invokes poolside piña coladas.
The Palm Island is easy to install with three mounting options. Its reversible motor helps you cool down in the summer and circulate warm air in the winter.
This Honeywell fan runs quietly – no louder than palm leaves rustling on the beach. It features solid construction and a weatherproof finish.
Without a built-in light, this fan is better for spaces with existing recessed or lamp lighting.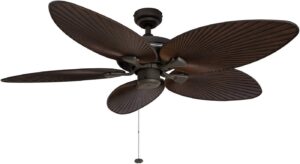 How to prevent your ceiling fan from making noise
Preventing a noisy ceiling fan is possible with periodic maintenance. Some steps you can take to ensure your fan runs smoothly include:
Checking the oil level and adding more (on select fans)
Cleaning the dust off the top and bottom of the blades
Making sure all screws are properly tightened
Checking to see if the fan wobbles
Cleaning the light fixture
Checking and replacing the batteries in the fan remote
A good time of year to perform fan maintenance is right before the warmer spring and summer months begin, when the fan is most likely to get the heaviest use. A regular maintenance routine doesn't take long and will keep noises at bay so you can enjoy a comfortable room quietly.
The post Ceiling fan making noise? How to fix it now appeared first on HVAC Solutions.

Source: HVAC Feed 1