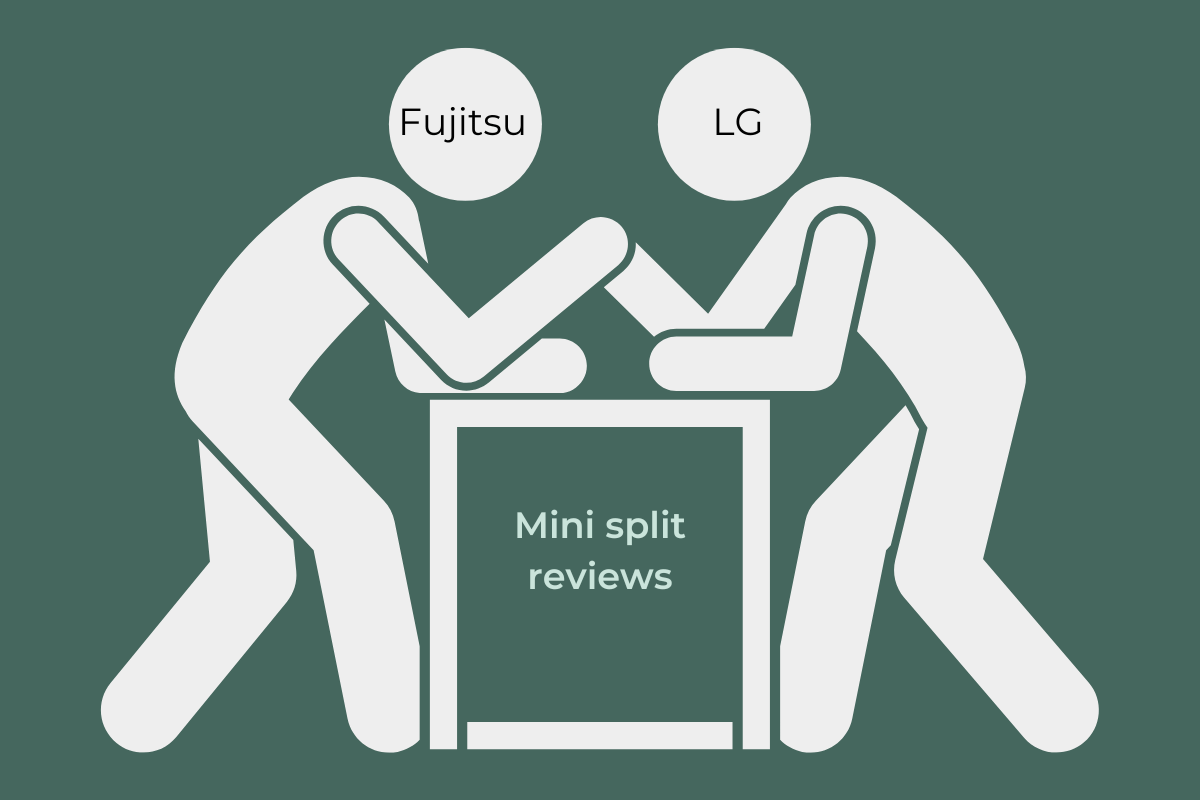 Ductless mini split ACs are gaining popularity. Customers appreciate their efficiency, affordability, and ease of installation compared to traditional air conditioners.
But what brand is best? In this piece, we'll review the pros and cons of Fujitsu mini splits vs. LG mini splits.
LG vs. Fujitsu mini splits
| | LG | Fujitsu |
| --- | --- | --- |
| 🏠 Headquarters | South Korea | Japan |
| 🏆 Noted for | Innovation | Reliability |
| 💰 Mini split pricing | $3,500-6,500 | $3,700-5,700 |
| ☔ Warranty | 10 years | 5-7 years |
LG mini splits
LG is a well-known manufacturer of home appliances and electronics. The company is based in Seoul, South Korea.
As a brand, LG is known for innovation. It's currently ranked fourth in the world for published patents.
In the HVAC industry specifically, LG is considered a mid-tier brand. The average price of its mini split systems ranges $3,500-6,500, including installation.
Fujitsu mini splits
Fujitsu is a multinational brand, selling technology hardware and software, telecommunications products, and electronics. It's based in Saga, Japan.
The company's been making residential and commercial air conditioners for over 50 years. Fujitsu's latest models use artificial intelligence and Internet of Things (IoT) technology to automate cooling.
HVAC experts prefer Fujitsu units for installations in smaller spaces. They are known to be reliable and competitively priced. Fijitsu mini splits range $3,700-5,700, including installation. 
Connect me with a local mini split dealer.
LG ductless mini split reviews
LG offers a comprehensive line of mini splits, which include an indoor unit (evaporator) and an outdoor unit (condenser). Its indoor units meet various mounting preferences, from floor to wall to ceiling. You can mix and match elements to design a unique HVAC system specific to your home. 
LG outdoor units are quieter and more energy-efficient than conventional AC condensers. Its variable-speed inverter technology allows them to function at the optimal level to seamlessly maintain the desired indoor temperature.
LGRED° is LG's proprietary heating technology that enables effective warming in extreme weather conditions. While some mini split manufacturers build outdoor units for more temperate climates, LG says its compressor can operate in weather conditions as low as -13℉.
Single-zone LG mini splits
LG offers single-zone ductless systems as bundles containing one indoor and one outdoor unit. Each indoor unit is wall-mounted or cassette style (ceiling mount).
Depending on your needs, there are three product lines to choose from: Standard efficiency, Mega, and Mega 115V. Each line has several models with varying BTU output. Check out our AC Size Guide to learn how many BTUs you need to cool your room. 
Multi-zone LG mini splits
LG's multi-zone mini split offerings are much more varied. You can pair an outdoor unit that meets your capacity needs with an indoor unit that matches your mounting preference and aesthetic.
For example, the LG Art Cool Gallery line offers indoor units that mount to the wall. They look like picture frames, and users can customize digital artwork to display on the unit. 
The LG Art Cool Mirrored line features indoor units with a mirrored exterior to better blend with your home's decor. 
LG also has indoor mini split components that mount on the ceiling and lower on the wall.
LG's current line of mini splits includes the following elements. (Note: Click on the model number for product details.)
LG mini split outdoor components
LG mini split indoor components
Product line
Mounting style 
Model numbers
Power
Art cool premier
Wall
LA090HYV3
LA120HYV3
LA150HYV3
LA180HYV3
LA240HYV3
9,000-26,000 BTU
Art cool mirror
Wall
LA090HSV5
LA120HSV5
LA180HSV5
9,000-22,000 BTU
Art cool gallery
Wall
LMAN097HVP
LMAN127HVP
9,000-11,200 BTU
4-way cassette
Ceiling
LC098HV4
LC128HV4
LC188HHV4
LC188HV4
LC249HHV
LC369HHV
LC429HHV
LC489HHV
9,000-52,000 BTU
Low-wall console
Low wall
LQ090HV4
LQ120HV4
9,000-13,000 BTU
Extended piping
Wall
LS243HLV3
LS303HLV3
LS363HLV3
22,000-35,200 BTU
LG mini split bundles
Fujitsu mini split reviews
Fujitsu's line of mini splits is called Halcyon. It offers single- and multi-zone systems supporting up to eight zones.
Most Fujitsu mini splits can be controlled wirelessly via its FGLair app. The app integrates with Google Home and Amazon Alexa for voice control capabilities.
The company prides itself on reliability, claiming 99.99% of its products don't require replacement within their expected lifespan. Fujitsu uses state-of-the-art testing to ensure durability amid extreme weather conditions.
Fujitsu's mini splits are also energy-efficient. A number of its products have earned the "Most Efficient" ENERGY STAR rating, functioning more than twice as efficiently as the minimum standard.
Single-zone Fujitsu mini splits
Fujitsu sells its single-zone mini splits as a bundle, including one indoor and one outdoor unit. With more than 40 bundles, Fujitsu has four times more selection for single-zone mini splits than LG.
Fujitsu offers a variety of indoor mounting options, as well as outdoor units specialized for low-temperature operation and energy efficiency. 
Confused by all the options? Let us help pick the best mini split for you!
Multi-zone Fujitsu mini splits
Fujitsu's line of multi-zone mini splits is not as varied. It sells a handful of outdoor units, some of which are optimized for areas that get especially cold in the winter.
There's an assortment of mounting options for Fujitsu's multi-zone indoor units. Each type has a few capacity options depending on what size room you're cooling.
Fujitsu's current line of mini splits includes the following product options.
Fujitsu mini split outdoor components
Fujitsu mini split indoor components
Fujitsu mini split bundles
Product line
Zones + mounting
Model numbers
Power
LPAS
Single + wall
09LPAS1 
12LPAS1
18LPAS1
24LPAS1
30LPAS1
36LPAS1
9,000-34,000 BTU
RL2
Single + wall
9RL2
12RL2
9,000-14,000 BTU
LZAH1
Single + wall
09LZAH1
12LZAH1
15LZAH1
8,500-13,000 BTU
LZAH1B
Single + wall
09LZAH1B
12LZAH1B
15LZAH1B
9,000-18,000 BTU
LMAH1
Single + wall
09LMAH1
12LMAH1
11,500-19,100 BTU
LMAS
Single + wall
09LMAS1
12LMAS1
18LMAS1
24LMAS1
9,000-25,200 BTU
LZAS1B
Single + wall
09LZAS1B
12LZAS1B
15LZAS1B
9,000-18,000 BTU
LZAS1
Single + wall
09LZAS1
12LZAS1
15LZAS1
9,000-18,000 BTU
RULX
Single + floor
18RULX
24RULX
17,000-24,000 BTU
RLFFH Series
Single + floor
9RLFFH
12RLFFH
15RLFFH
9,000-18,000 BTU
RLFF
Single + floor
9RLFF
12RLFF
15RLFF
9,000-18,000 BTU
RSLX
Single + ceiling
36RSLX
34,100-36,500 BTU
RGLX
Single + ceiling
18RGLX
24RGLX
30RGLX
36RGLX
42RGLX
18,000-47,000 BTU
LUAS1
Single + ceiling
09LUAS1
12LUAS1
18LUAS1
9,000-27,000 BTU
Fujitsu vs. LG mini splits: pros and cons
While both Fujitsu and LG deliver comparable mini splits at a mid-range price point, each brand has distinct benefits and drawbacks.
LG mini splits
| ✅ Pros | ❌ Cons |
| --- | --- |
| Array of indoor multi-zone options | Few single-zone bundles |
| Unique indoor cabinets, including mirrored cases and art displays | Only wall-mount units for single-zone systems |
| Ability to control some systems via app | |
| Larger range of capacities available | |
| Extended piping options | |
| Longer warranty period (10 years) | |
Fujitsu mini splits
| ✅ Pros | ❌ Cons |
| --- | --- |
| Wide variety of single-zone bundles | Limited multi-zone options |
| Outdoor units optimized for low temps | Traditional-looking indoor cabinets |
| Ability to control some systems via app | Shorter warranty period (5-7 years) |
| Generally more energy-efficient | |
| Typically less expensive | |
How to buy a mini split
If you're ready to invest in a mini split, its best to contact a certified local dealer for your chosen brand.
You can purchase mini splits from third parties like Amazon or other HVAC retailers. We don't recommend this. Many manufacturers void their warranties if their products are purchased or installed by third parties.
We also don't recommend going the DIY route for installation. Setting up a mini split involves refrigerant. Only licensed HVAC technicians can legally handle refrigerant.
 HomeAdvisor says you should expect to pay about $500 in labor costs for mini split installation. 
Connect me with a local mini split dealer.
Fujitsu vs. LG mini splits: The bottom line
Fujitsu and LG are both known for producing quality home electronics. We feel each brand can benefit different mini split shoppers. 
Fujitsu mini splits are best for users:
Concerned with decor aesthetics
In need of a multi-zone system
Who plan to stay in this home for at least 10 years
LG mini splits are best for users:
Shopping for a single-zone system
Looking for low pricing
Who prioritize energy-efficiency
Still not sure which is best for you? Click below to connect with an expert who can help you choose. 
Connect me with a local mini split dealer.
The post Fujitsu vs. LG mini splits (AC and heat pump systems) appeared first on HVAC Solutions.

Source: HVAC Feed 1