Air purifiers are the cleaning devices of the moment, with one in four American households equipped with one. Our Levoit air purifier reviews walk you through the brand's top-selling units and help you decide which is best for your needs.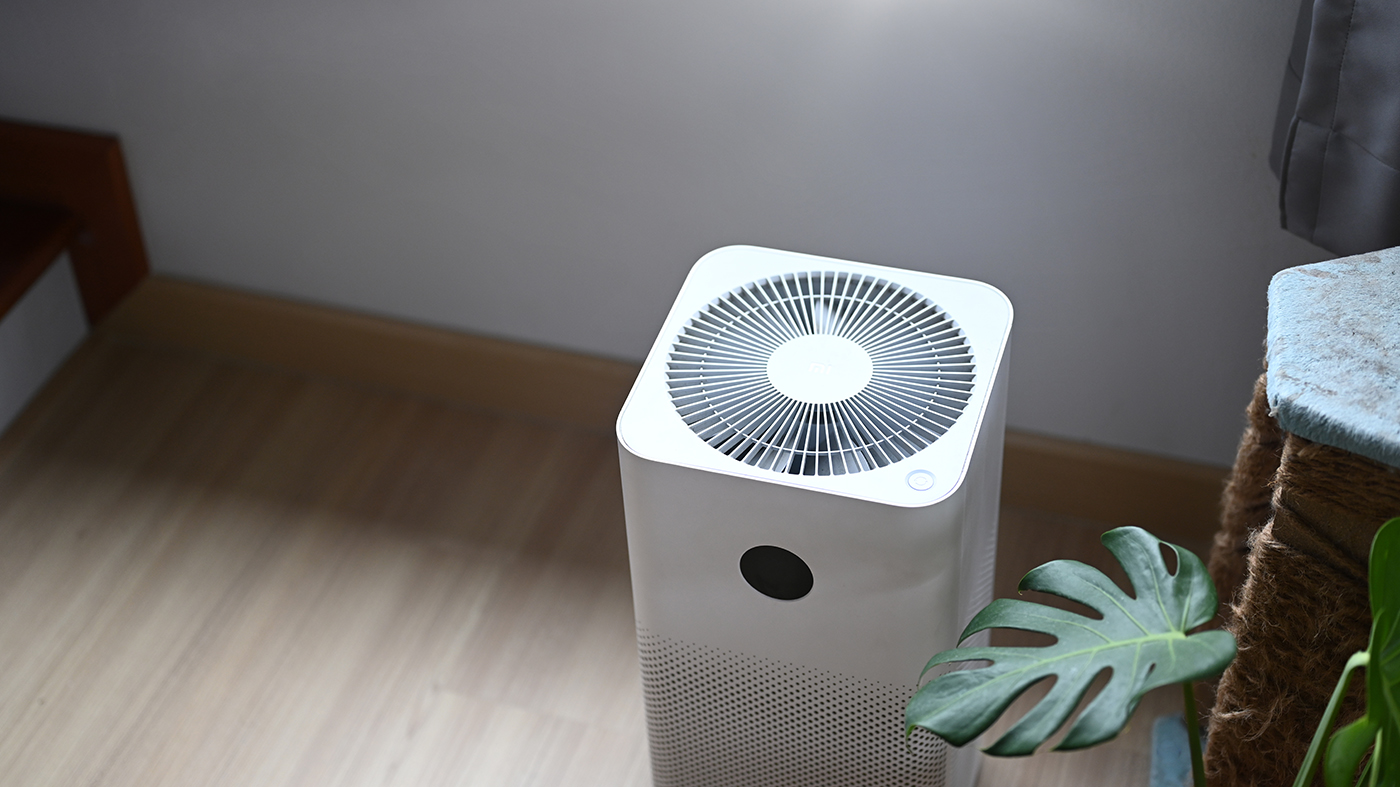 Below, we dive into Levoit's reputation and introduce the brand's most popular models of air purifiers. We then showcase how Levoit stacks up to the competition in price, features, and overall value.
Does Levoit make good air purifiers?
Levoit is the #1 best-selling air purifier brand, according to NPD Group, and this isn't by coincidence. Its products are known for efficiency, effective cleaning power, and a great price tag to boot. 
All of Levoit's air purifiers fall into one of four series. We've included the price range of each series and the square footage it covers.
Types of Levoit Air Purifiers
Fancy air purifiers can cost $1,200 or more, but you don't need to pay big bucks to get a quality machine. Levoit and its product line bring this concept to life.
As a brand, Levoit combines high quality with affordability. Levoit's air purifiers often cost about half what other brands charge for similar models.
| | | |
| --- | --- | --- |
| Series | Price | Square Footage |
| Core | $89.99-219.99 | 219-403 |
| LV | $59.99-299.99 | 158-463 |
| Vista | $89.99 | 172 |
| Vital | $119.99 | 300 |
Three of Levoit's four best-selling air purifiers come from the Core line. The Core and LV series have a variety of sizes and prices, but Vista and Vital are standalone products.
Levoit's prices top out at $299.99, drastically lower than other brands that carry $500+ purifiers.
We love that many high-end features come standard with Levoit's air purifiers. Let's break down the features that are packed into each Levoit model.
Levoit air purifier features
Levoit is consistent with several features across all its air purifiers.
Ozone-free: Ozone is the primary component of smog. The California Air Resources Board (CARB) recommends staying away from any products that emit it. Thankfully, all of Levoit's air purifiers are ozone-free. 
Quiet: A Levoit air purifier won't get louder than your AC unit. Even on its highest setting, Levoit purifiers max out at 55 decibels (dB). Lower settings run 30 dB or less, softer than the sound of light rain.
Warranty: A one-year limited warranty comes standard with Levoit air purifiers. If you register your device online within two weeks of buying it, you can extend the warranty another year.
Three-Stage Filtration: Levoit's air purifiers use three types of filters to stop dirty air in its tracks. Some brands use only two filters for their value purifiers, so Levoit gets extra points for valuing efficiency across the board.

Pre-filter: Once dirty air gets sucked into your purifier, it first hits the pre-filter. This filter tackles the biggest, most visible germs, including pet fur, lint, and hair.
True HEPA filter: This filter picks up allergens like pollen, smoke particles, and dust. Unlike many competitors, Levoit uses true HEPA filters in each product. More on this unique feature below.
Activated carbon filter: This filter catches odors, the smallest and sneakiest contaminants. Smoke, ammonia, and even volatile organic compounds (VOC) like formaldehyde won't stand a chance.
True HEPA vs. HEPA-type filters
The Levoit difference that stands out to us is the brand's use of true HEPA filters in all its purifiers. Many brands claim to use HEPA filters, but "HEPA-type" filters are essentially a marketing ploy. HEPA-type filters pale in comparison to true HEPAs.
HEPA-type filters catch up to 99% of contaminants, as small as two microns (that's two-millionths of a meter). True HEPA filters are held to a higher standard. 
True HEPA filters must be 99.97% effective at picking up germs. They can catch contaminants as small as 0.3 microns, like tobacco smoke and lead dust. The smallest germs are often the most dangerous, and only true HEPA filters can tackle them head-on.
HEPA-type and HEPA-like filters can't trap the smallest, most irritating particles. They are marketed under the HEPA title to mislead customers into buying lower-quality filters. 
True HEPA filters are the way to go, especially if you suffer from allergies. You can buy Levoit filter replacements directly through its website, or through third-party retailers. 
Levoit Air Purifier Reviews
Let's take a look at Levoit's four best-selling air purifiers. For each product, we'll show you the features we love and take an honest look at where it falls short.
Learn whether Levoit's most popular air purifiers are worth the hype.
Core 300 True HEPA Air Purifier | $99.99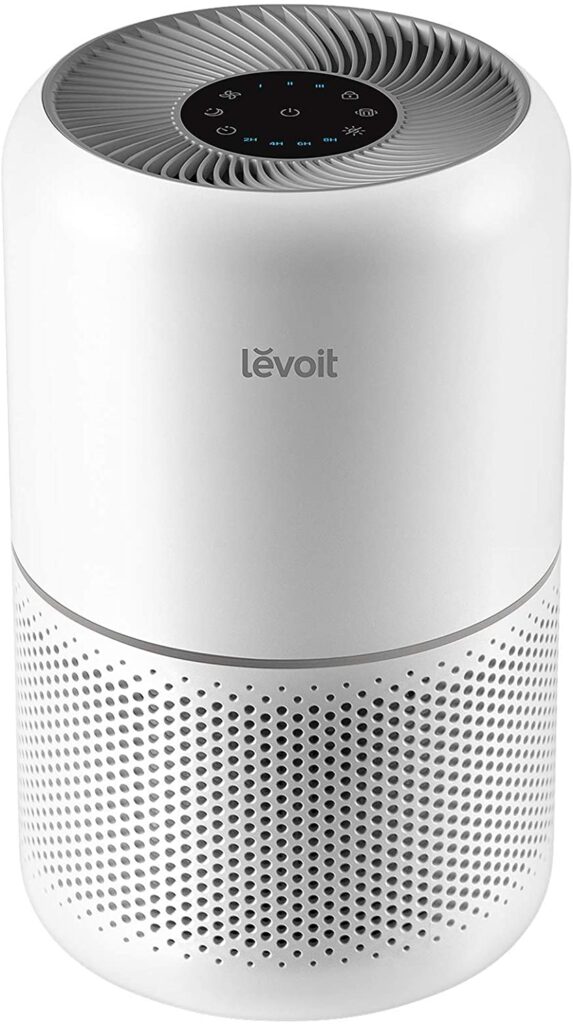 The Levoit Core 300 True HEPA Air Purifier maybe for small to medium-sized rooms, but it packs a big punch. This Energy Star-certified model is affordable, coming in at just under $100 for great cleaning power. 
The Core 300 is a DIY setup that takes just minutes. It has three fan speeds, and you can set the timer to two, four, six, or eight hours of cleaning.
This compact air purifier has a high CADR (Clean Air Delivery Rate) for smoke, dust, and pollen. CADR is represented by a numerical value. That number is the cubic feet of air that an air purifier can clear of a contaminant in one minute.
In other words, CADR measures how effectively an air purifier does its job. In one minute, the Core 300 can clean a 14-by-15 foot room of:
141 cubic feet of smoke
140 cubic feet of dust
145 cubic feet of pollen
The Core 300 can clean a 219 square foot room in 12 minutes. Even pesky mold spores won't stand a chance against this device's quick-acting power. That's why we named the Core 300 the fastest air purifier for mold earlier this year.
The nighttime features are another highlight of the Core 300. At the push of a button, you can turn off the air purifier's bright LCD display. This feature seems like common sense, but most air purifier brands don't offer it.
When you're ready to call it a day, you can enable sleep mode. This setting puts the fan at a whisper-like 24 dB while you rest.
Levoit's attention to detail and user experience elevate it above the competition. Some brands' fans are so loud that shoppers are forced to choose between a restful night of sleep and clean air. That's a decision we don't think any customer should have to make, and neither does Levoit.
Still, there are a few things we'd change about this product in a perfect world. We'd prefer if this purifier had an air sensor, so it could measure the room's air quality and adjust as needed.
This device also doesn't have a child lock, so parents will need to keep it away from a baby or toddler's reach. If you love smart technology, you may be disappointed to hear that the Core 300 has no app capability.
Though it's not the flashiest or most tech-forward air purifier, the Core 300 is an excellent value that outperforms devices three times pricier. No wonder it's the top-selling Levoit compact air purifier.
Core 400s Levoit VeSync Smart True HEPA Air Purifier | $189.99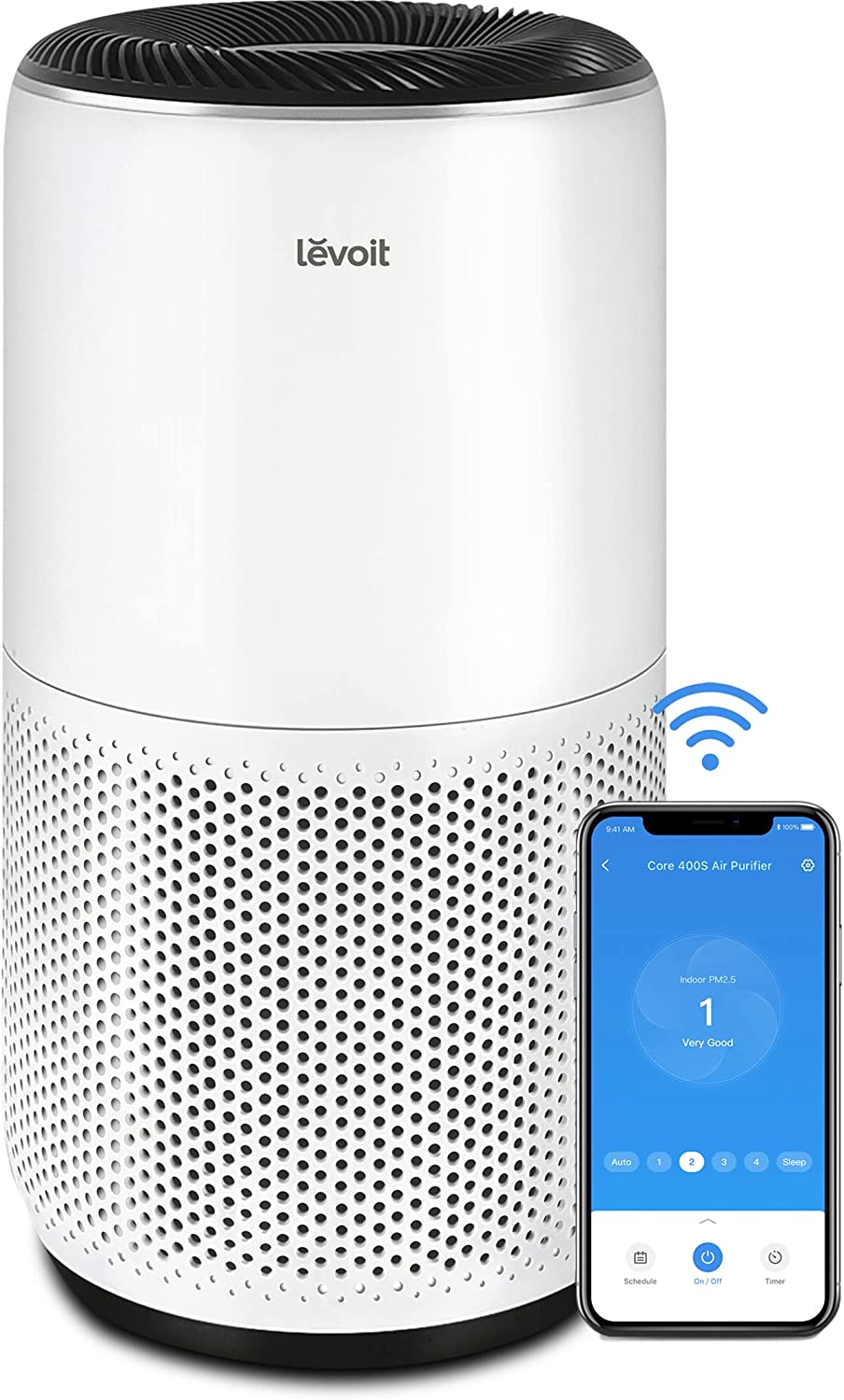 Touted as a tech-heavy air purifier, the Core 400S is the brainchild of Levoit and its parent company, VeSync. This powerhouse machine can clean up to 403 square feet, and its smart technology makes it user-friendly. 
The Core 400S uses VortexAir

technology to pump out fresh air in a 360-degree cone shape. This technology helps the machine clean every square inch of indoor air.
The Core 400S has many high-end features that the value Levoit models lack. For example, it has sensors that scan the room for dust particles. Then, the air purifier's display will show you how much dust is in your room.
You can watch the germ count drop in real time as your device gets to work. Levoit suggests its device can report these numbers back to you 10 times faster than competing brands can.
This air purifier links with the VeSync Smart Home app. The app helps bridge the gap between you and your machine, giving you a glimpse into how well your air purifier is cleaning your room.
The Smart Home app lets you check your filter's lifespan and gives you real-time updates on your air quality. The Core 400S can also measure your air quality and report it back to you as either Bad, Moderate, Good, or Very Good.
You can link the Core 400S to digital assistants like Amazon Alexa and Google Assistant. With their help, you can change your air purifier's settings with just your voice.
This big air purifier is surprisingly quiet and light on energy. Like the Core 300, this device has sleep mode. You can set your fan to a quiet 24 dB and drift off to sleep without compromising your air quality.
The Core 400S maxes out at 38 Watts of output. Competing devices like the Honeywell HPA300 put out 100 Watts or more, so Levoit may help you score a lower electricity bill. 
As with any air purifier, some features leave more to be desired. The smart technology isn't failproof, as a number of customer reviews note that the VeSync app momentarily crashes.
Still, we'd recommend the Core 400S to anyone with a large room. Whether you're tech-savvy or simply want clean indoor air for your family, you'll find the smart features to be genuinely helpful and functional.
Core P350 Pet Care True HEPA Air Purifier | $119.99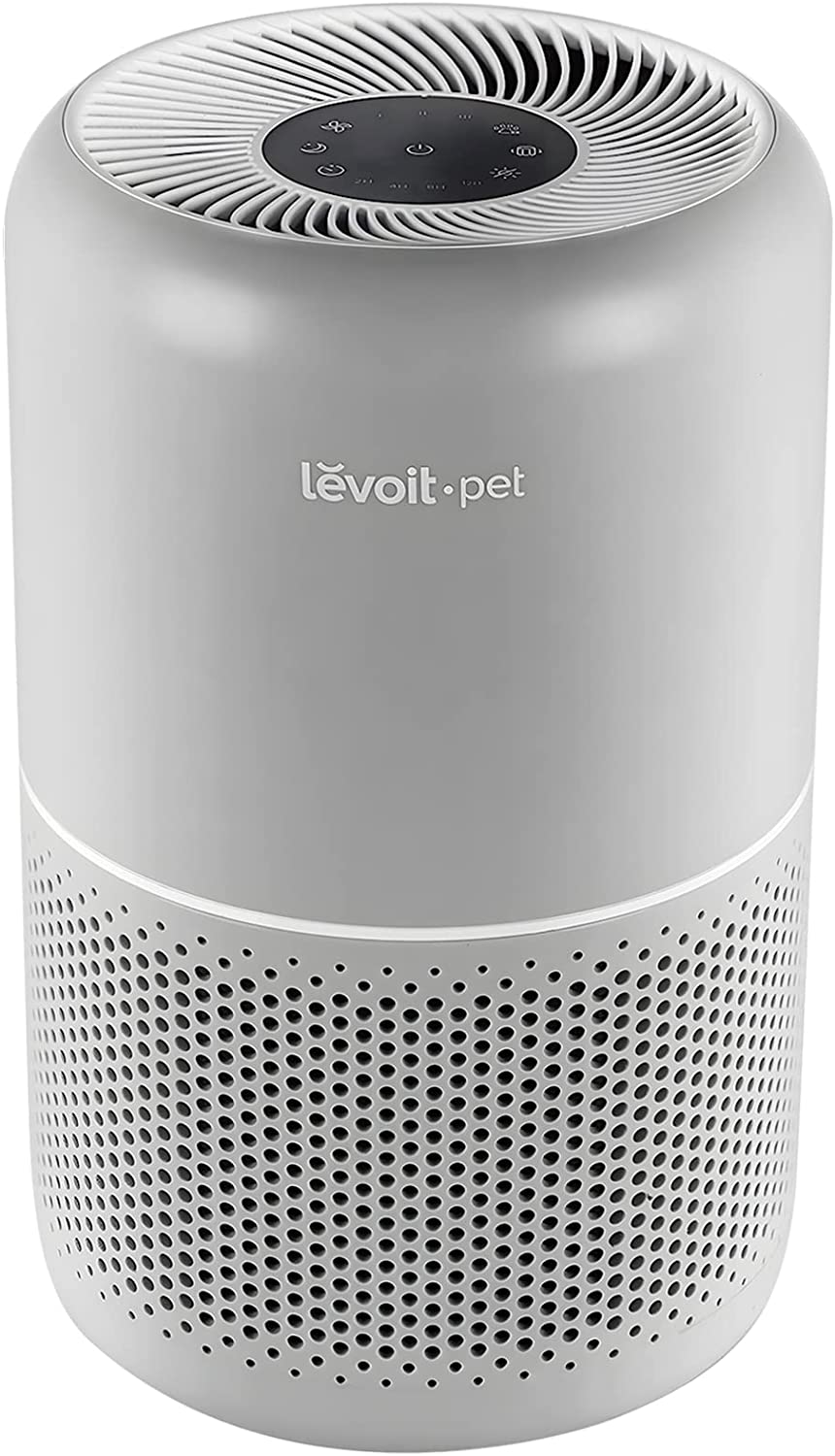 Your pet may be adorable, but the allergens they carry are far from it. Pet fur itself is not an allergen, but the dander and dust it collects can lead to stuffy noses and swollen eyes.
The Core P350 Pet Care True HEPA Air Purifier can keep pesky pet dander under control. It's very similar to the Core300 we discussed earlier, but a few extra touches set it apart. 
This model comes with a special pet allergy filter that breaks down dust and dander. It also comes with a pet-proof lock setting, keeping your furry friend away from the controls. 
The Core P350's similarity to the Core 300 is both a pro and a con. They cover the same square footage and pick up smoke, dust, and pollen at a high rate. They're also a great value for the price point.
One drawback is that the Core P350 costs $20 more than the Core 300. Since they're so similar, if the pet-proof lock and upgraded filter aren't needed for your home, stick with the Core 300.
You also don't need to buy the Core P350 to use its pet allergy filter. The filter is compatible with other models like the Core 300. While we'd still recommend the Core P350 to pet owners, the pet allergen filter stands out more than the device itself.
LV-Pur131S Smart True HEPA Air Purifier | $189.99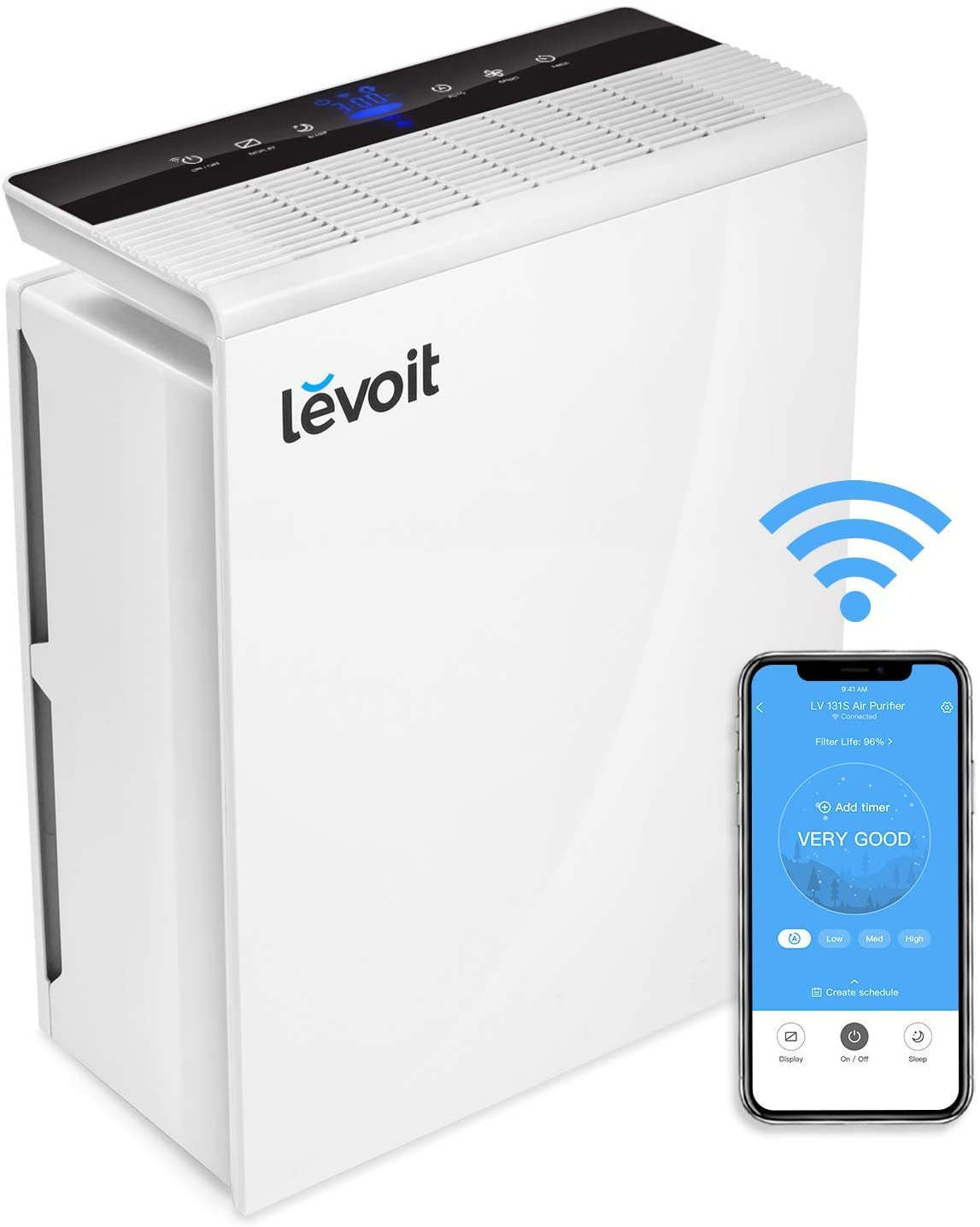 The Core series may be Levoit's most popular, but they're not the only strong products in its lineup. The LVPur131S Smart True HEPA Air Purifier shows that Levoit is more than a one-trick (purifying) pony. 
This air purifier looks like a desktop hard drive, with an LCD display and a rectangular shape. It may be bulkier and less aesthetically pleasing than the Core series, but its odor-fighting powers help this model hold its own.
The LV-Pur series comes with a honeycomb-shaped activated carbon filter. Levoit explains this filter can drive out odors 30% more quickly and 30% more efficiently than their standard air purifier filter.
This air purifier also comes with an air quality sensor. You can activate Auto Mode, which changes your fan speed in response to your air quality reading. That way, you'll know your device isn't over or under-working while cleaning your air.
The LV-Pur131S can link with the VeSync app. This smart technology helps you change your air purifier's settings and check in on your device's efficiency. You can also use voice commands with digital assistants like Alexa and Google Assistant.
With sleep mode, this device can get quiet. At a minimum 27 dB, it will sound like rustling leaves as you sleep.
There's one notable drawback to the LV-Pur131S. While this air purifier covers up to 360 square feet, its cleaning power is less speedy than the Core300. If you're looking to clean your room quickly, opt for the Core300. If you have a larger room and some patience, the LV-Pur131S is your best bet.
The LV-Pur131S is a strong product for a sub-$200 price tag. If you're sick of unpleasant smells filling up your large space, this could be a great option for you.
Our Take on Levoit Air Purifiers
Levoit wasn't founded until 2017, but it has taken the air purifier industry by storm. Levoit can back up its high sales with high-quality products to match.
As a value brand, Levoit stands out for exclusively using true HEPA filters. Comparable brands like Holmes and Febreze can't say the same.
Many Levoit air purifiers have high CADR ratings, and they tend to cover a large square footage for the price. They go above and beyond what other value brands can deliver.
We also love Levoit's attention to user experience with features like sleep mode. They make sure their products are not only efficient, but also functional and convenient enough that people will actually use them.
Still, Levoit has some blind spots to address. For one, all of their models are made with plastic. If you prefer aluminum or more expensively-packaged air purifiers, you may need to look at Dyson or another premium brand.
Also, Levoit's filters aren't exactly a bargain. The replacement filters start at $30, while most value brands charge $20 or less. 
The one-year limited product warranty is lackluster for air purifiers. Some Honeywell models have 5-year parts and labor warranties.
Levoit air purifiers only come in black and white, so the color variety is somewhat limited. Our critiques of Levoit are nitpicky because the brand has such elevated attention to detail and quality for the price point. 
The price tags on Levoit air purifiers may be low, but their quality is high. This brand delivers efficiency and functionality at an unmatched value. We can confidently say the popularity of Levoit's air purifiers is well-deserved.
The post Levoit air purifiers: reviews and ratings appeared first on HVAC Solutions.

Source: HVAC Feed 1