While the benefits of humidifiers for home are plenty, you need to know which one is built to meet your needs at your budget. We've taken the time to research the market, gather key information, and offer it here. Your decision on which is the best humidifier to purchase just got much easier!
What is a humidifier?

A humidifier is a home appliance that typically relies on cool or warm mist ultrasonic technology that creates water droplets that are dispersed into the air, increasing a room's humidity level. Depending on the type of humidifier unit you purchase, it will create and expel moisture in different ways.
When deciding which is the best humidifier for your room, it's mostly a matter of preference. The pros and cons of each style will help you decide which will make a bigger impact in your space.
Best humidifiers
Best humidifier for a bedroom
With more than 42,000 five-star reviews on Amazon, the Pure Enrichment MistAire Ultrasonic Cool Mist Humidifier is our top choice for a bedroom humidifier.
Enjoy year-round comfort and relief from sinus and allergy congestion with the dual misting speed (high or low) function. The 360° mist nozzle allows you to maintain a consistent flow of humidity throughout a small- to medium-sized room.
We especially think this is the best humidifier for nighttime use thanks to its ultra-quiet fan and automatic shut-off. Plus, the nightlight feature makes it a great option for a child's room.
You won't mind adding this sleek design to your nightstand or dresser. And easy tank refill and cleaning mean you get all the benefits of a bedroom humidifier with minimal maintenance.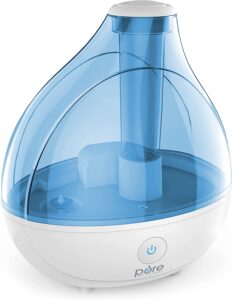 Best humidifier for a large room
Adding moisture to the air in a large space has never been easier than with the Levoit LV600HH Hybrid Ultrasonic Humidifier.
The 1.5-gallon tank modifies the humidity level in rooms up to 753 square feet. The larger tank also allows up to 60 hours of operation time on the lowest mist setting.
We found the built-in humidity sensor to be a great bonus. The sensor reads the room and adjusts the mist flow to keep the humidity level consistent.
If you want to change the settings from across the room, use the handy remote control included in the packaging. Set a time for auto-shutoff and add essential oils for a touch of aromatherapy.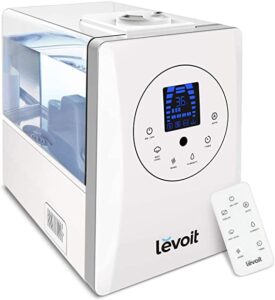 Best ultrasonic humidifier
The Taotronics Cool Mist Humidifier climbed its way to our top ultrasonic choice with its nearly-silent operative performance and consistent distribution of humidity in the room. We also like the LED display sleep mode for uninterrupted rest, or you can opt for a soft glow that's perfect for a little one's room.
The TaoTronics Cool Mist Humidifier also adjusts the humidity in a 400 square foot room in a little over an hour, which is faster than other tested ultrasonic humidifiers and why it's our pick as the best ultrasonic humidifier.
Select from the three mist levels for up to 30 hours of run time without refilling the tank. The ability to control the device from your smartphone via the SunHome app makes creating the optimal environment easy, even when you're on the go.
Best humidifier for easy cleaning
Make adjusting the humidity level in your space fuss-free with the Honeywell HCM350B Germ Free Cool Mist Humidifier. This device has a patented process that kills up to 99.9% of water-borne germs and bacteria, eliminating the pollutants before they're distributed into your home.
With three different levels of moisture output and sound, you can customize the humidity level and volume to your comfortability. When it's time to clean the humidifier's tank, simply add the parts to your dishwasher. We chose it as the best humidifier for easy cleaning because cleanup really couldn't get any easier than that!
Best small humidifier
Get big results in a small space with the Mooka 2-in-1 Cool Mist Humidifier. We voted this device as the best small humidifier because of its dual-mist levels, 180° mist nozzle, and run time of up to 21 hours.
This small unit is the best humidifier option for an office, mudroom, or other small space. You can also enhance your room with essential oil fragrances diffused by this humidifier.
The base and tank will need to be cleaned every two to three days, and you never have to worry about the unit running while dry thanks to the auto-shutoff when the water reservoir gets low.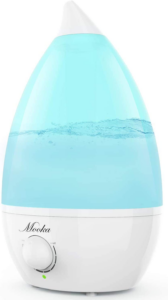 Bottom line: Choosing the best humidifier
Choosing the best humidifier for your home depends on a variety of factors. From the size of your space to the desired moisture output level, selecting the unit that works best will create a comfortable environment that allows you to breathe easy.
If, however, you're more interested in keeping a consistent humidity level throughout your entire home without refilling or cleaning a mobile unit, a whole home humidifier is the better option.
The post The best humidifiers for your home appeared first on HVAC Solutions.

Source: HVAC Feed 1