Do you have a stuffy space you need to cool? A small portable air conditioner cools effectively without drastically increasing your energy bill.
In this piece, we've done the hard work for you by finding and reviewing the smallest portable air conditioners. Check out our picks and choose the one that best meets your needs.
Best small portable air conditioners
Portable air conditioner vs. air cooler
Some of the units we highlight in this piece are portable air conditioners while others are air coolers.
Air conditioners use a refrigerant or chemical coolant to cool the air. Air coolers use water and ice to do the same.
Air conditioners require ventilation to run. They collect hot air and move it outdoors. Air coolers circulate the air in the room.
Air conditioners are generally more powerful and can cool a larger space. Air coolers use less power. They can even run on batteries.
Choosing the best small portable air conditioner
Weigh the following factors when picking the best small portable air conditioner for your space:
| | |
| --- | --- |
| 📏 Size | Check the dimensions to ensure the AC fits your space. And consider the weight if you'll be moving it frequently. |
| 💨 Output | Traditional air conditioners measure their output in BTUs. Check out our piece on AC size to learn how many BTUs you need. Other coolers will likely indicate how much square footage they're intended to cool. |
| 🔌 Power source | Some portable ACs and coolers plug into a standard electrical outlet. Others run on batteries. Some may take a charge. Consider how you're planning to use your unit and choose accordingly. |
| 🪟 Ventilation | Traditional air conditioners require window ventilation. Chillers do not. If you aren't permitted to block your window (or just prefer not to), a chiller is for you. |
| 💰 Cost | Prices vary widely. One of the units we've reviewed below costs about $20, while another is around $600. Budget is an important consideration when choosing a small portable AC unit. |
Small portable air conditioner reviews
Smallest portable air conditioner on the market
The Arctos Portable Air Conditioner Fan is the smallest portable air conditioner we've reviewed. It's diminutive at about 6.5 inches wide and 9 inches high.
This system isn't technically an AC – it's an air chiller. That means you must fill it with ice and water before each use.
We like that this chiller runs quietly and has a calming, pleasant LED light. It's battery-powered, so you can put it anywhere independent of outlet placement.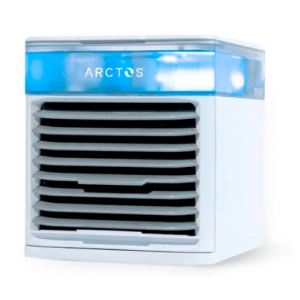 Size
6.5" x 5.51" x 9.05"
Best small portable air conditioner for apartments
The BLACK + DECKER portable air conditioner is one of our favorites. It comes in 7,500-, 8,500-, 10,000-, 12,000-, 12,500-, and 14,000-BTU models, so you can choose the one that best fills your space. Some models provide heating in addition to cooling. The 14,000-BTU model is one of the highest BTU portable air conditioners.
We love that this small portable air conditioner comes on wheels, allowing you to easily move it from room to room. It also comes with an easy-to-install window venting kit.
This BLACK + DECKER system works to dehumidify your space. You can use it as a fan if you don't need full AC cooling.
The BLACK + DECKER portable AC features a remote control that acts as a thermostat. It has three fan speeds, sleep mode, and a 24-hour timer.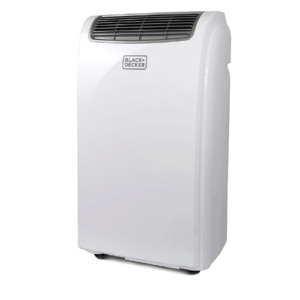 Size
12.6" x 12.6" x 26.4"
Best air conditioner for dorms
Most college dormitories won't allow you to install a window air conditioner or a portable AC that requires ventilation. We think this AOLOS evaporative cooler is a better bet.
First, it's just over $100, perfect for a student's budget. It's about 14 lbs., so you'll have no problem carrying it upstairs. It's slim and compact, fitting in the smallest dorm room.
The ice cartridges used in this system need to be re-frozen frequently. So, only purchase this unit if you have a mini-fridge or access to a communal fridge.
Without ice, the AOLOS cooler works as a fan, circulating air in your room. It comes with a remote control for convenience. And it's mounted on wheels, so you can easily wheel it down the hall to share some cool air with friends!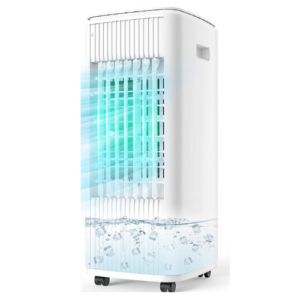 Size
11.61" x 9.65" x 22.48"
Best small portable air conditioner for your office
The Evapolar evaCHILL is a small portable air cooler that fits on your desk. It's perfect for an office environment because it's quiet and discrete.
While many small air coolers like this require ice to function, the evaCHILL only needs water. If you don't have access to a freezer at your workplace, this system is ideal.
This Evapolar chiller plugs into a USB. No awkward cords cluttering your workspace – you can plug this into your laptop.
The evaCHILL won't cool a large space. But it's effective for cooling you while you're sitting at your desk. And it looks cute doing it!
Best portable air conditioning for cars
We don't recommend using a portable air conditioner in your car. Traditional models are too big and require more power than your car can provide. Coolers need water and ice, which can easily spill in your car.
If you need to supplement your car's existing AC, we suggest the Xool dashboard fan. It mounts to your dash and plugs into your car's cigarette lighter. (If your car doesn't have a cigarette lighter, you can use this adapter.)
The Xool dashboard fan doesn't provide cooling. It's just a fan that will help circulate air in your car.
The company also makes a backseat model that clips onto the front headrests. This is ideal for cars that only have AC vents up front. Especially if you have kids or pets who frequently ride with you.
If you're looking specifically for an RV air conditioner, check out our reviews of the best air conditioners for RVs.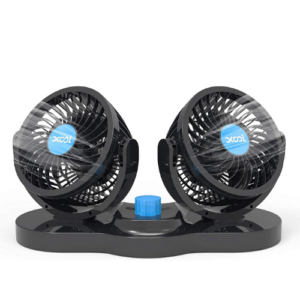 Best looking small portable air conditioner
The Frigidaire FGPC1044U1 is a compact AC that packs a powerful punch. Its streamlined design is modern and attractive.
We appreciate the 360° airflow that reaches all corners of your room. In addition to its sleek control panel, you can adjust this AC's settings via the Frigidaire app on your phone from anywhere.
The Frigidaire FGPC1044U1 is ENERGY STAR certified for efficiency. It has filtration capabilities to improve air quality as well.
Though this AC is considered small and portable, it's heavy. It weighs 80 lbs., so you may need to enlist the help of a friend to move it into place in your home.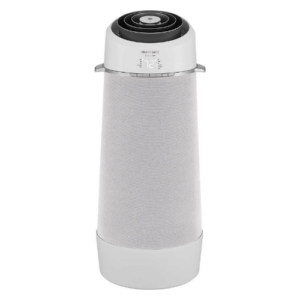 Size
16.63" x 12.63" x 36.18"
Portable v. window AC
Not sure if you need a portable or window AC? There are benefits and drawbacks to both. Choosing the right one depends on your space and cooling needs.
Both types of AC work well for renters and dorm dwellers since you can take them with you when you move out. They're a relatively inexpensive investment that can make a big improvement in your space.
If you think a window air conditioner better meets your needs, check out our reviews of small window ACs.
The final word on small portable AC units
There are many options when purchasing an air conditioner. Do your homework and choose the best unit for your personal needs.
Window AC
| Pros | Cons |
| --- | --- |
| Doesn't take up valuable floor space | Blocks the view from your window |
| Comparably inexpensive | Heavy to lift into place |
| U-shaped and over-the-sill models run quietly | Can be challenging to install and remove |
Portable AC
| Pros | Cons |
| --- | --- |
| Little to no installation required | Takes up floor space |
| Can easily move to other rooms or spaces | Generally more expensive than alternatives |
| Air cooler models don't require venting; some don't need electricity either | Air cooler models need ice cartridges re-frozen daily |
If you're considering a whole-home system, reach out to our HVAC experts by clicking below.
Connect me with an AC pro.
The post The best small portable air conditioners of 2022 appeared first on HVAC Solutions.

Source: HVAC Feed 1