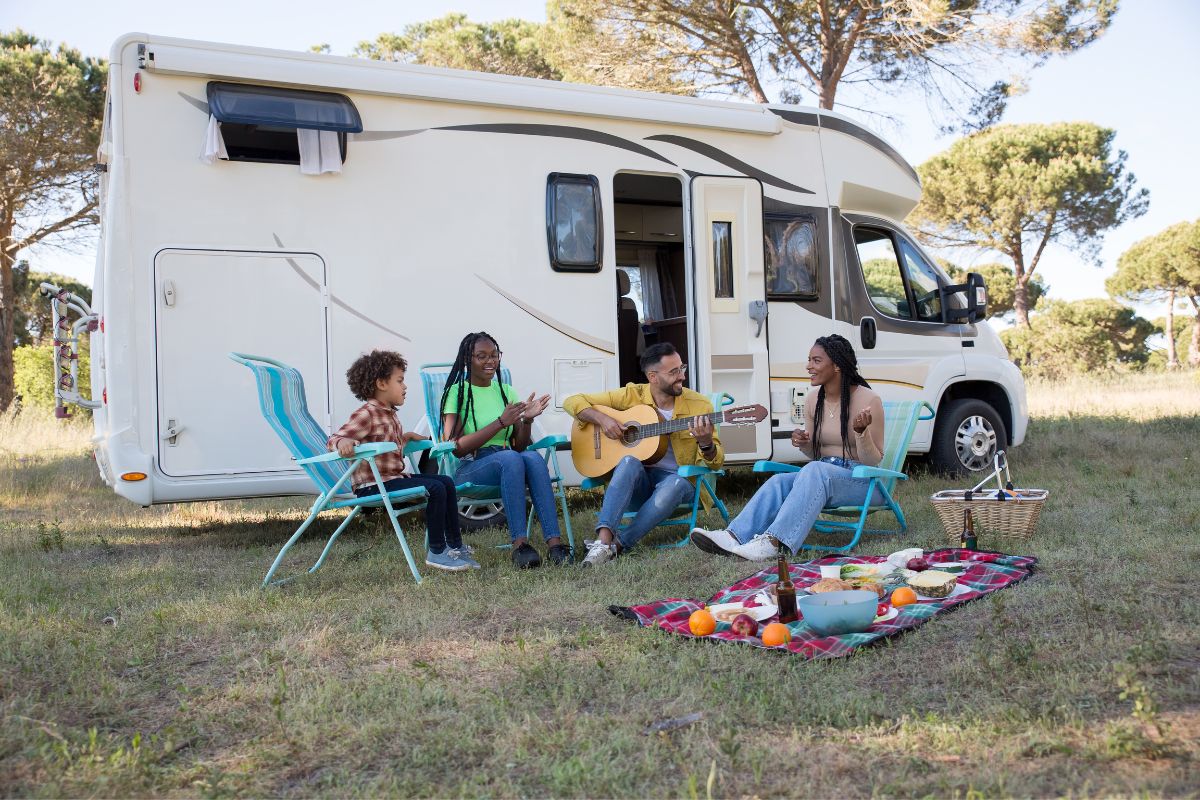 The quietest RV generators keep you comfortable on overnight excursions. Our top picks blend low-volume operation with powerful performance and quality design.
What to look for in a quiet RV generator
Metrics such as decibel (dB) level and wattage help you compare volume levels across brands. The quietest generators for RVs will be appropriately sized for the devices they power.
Decibel level
The dB scale measures the volume of sounds. The lower the number, the quieter the generator.
Here's a glimpse at the estimated decibel levels of common sounds. 
Wattage
A generator operates louder than expected when it's overwhelmed. This can happen if it's powering too many items at once or fueling an oversized device.
We recommend the following wattage levels for common RV applications.
2000-watt generators can power 30-amp RVs and devices such as window air conditioners, smartphones and fridges. 
3000-watt generators can power 30-amp RVs, central RV air conditioners, microwaves and some tent heaters. 
4000-watt generators are best for 50-amp RVs or 30-amp RVs with multiple power-hungry devices like an oven and TV. 
The quietest RV generators
We combed through expert reviews and real customer feedback to find the quietest generators for RVs. Following are our top picks. 
Quietest RV generator overall
Generac iQ3500 | $999.
The quietest RV generator on our list is the Generac iQ3500. Generac claims this model is 40% quieter than the popular Honda EU2200i. 
This Generac takes the guesswork out of refills. With a "runtime remaining" display, you'll always know when the 2-gallon tank is getting low. 
If you love glamping, this generator is perfect for you. Two integrated USB ports make for easy smartphone and tablet charging.
We don't love the plastic construction of this model, especially since most RV generators in this price range are made of copper. Still, the quiet operation and eco-mode option help you maintain peace and quiet in the great outdoors. 
Start options: manual and electric
Weight: 109 lbs.
Outlets: 120V 30-amp RV (1), 120V 20-amp household (2), USB (2)
Parallel kit included
Dimensions
23.7" x 18" x 21.7"
Quietest value RV generator
Wen 56380i | $659.
Our value pick doesn't compromise on safety. The Wen 56380i has a spark arrestor, which prevents the generator from overheating and catching fire. For more peace of mind, this quiet RV generator is also backed by a 2-year warranty. 
You can safely charge smartphones and tablets with this Wen model. Some value generators can't do that, so this one stands out.
The Wen 53680i lasts up to 8.5 hours at half-load. With a digital load display and an electric start button, this quiet RV generator is more user-friendly than more expenseive models.
Start options: Electric
Weight: 99 lbs.
Outlets: 120V 30-amp RV (1), 120V 20-amp household (2), 12V DC outlet (1)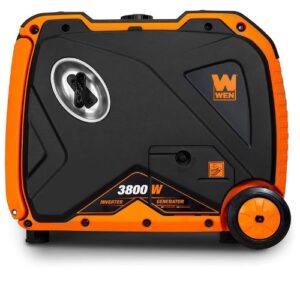 Dimensions
23.2" x 18" x 20.1"
Quietest luxury generator for RVs
Predator 3500 | $1,229.95
If you camp in the Pacific Northwest or another rainy environment, the Predator 3500 is a smart choice. The optional $30 generator cover keeps the elements at bay. 
The Predator can power central RV air conditioners up to 15,000 BTU. With integrated wheels and copper components, it's portable, rugged, and built to last.
Don't worry about overwhelming this gas-powered RV generator. The overload indicator light alerts you when the generator is powering too many devices.
The Predator's volume level is comparable to a restaurant or office conversation. Its expensive price tag is justified with a reliable power supply.
Start options: Electric
Weight: 99 lbs.
Outlets: 120V 30-amp twist-lock RV (1), 120V 20-amp household (2), 12V DC two-pin (1)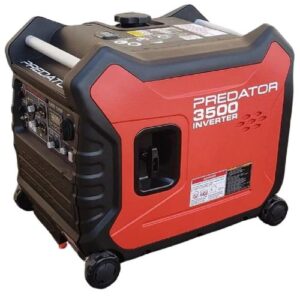 Dimensions
22.75" x 17.3" x 20"
Quietest dual-fuel RV Generator
Champion Power Equipment 200914 | $844.72
If you're far away from a gas station, a dual-fuel option offers flexibility. You can fuel the 4250-watt Champion Power Equipment 200914 generator with gasoline or propane. 
This quiet RV generator's volume is comparable to a refrigerator. The four-gallon tank lasts up to 12.5 hours between refills.
We recommend this generator for cold-weather camping. With a remote start option available, you can rev up the engine without leaving your RV.
The 3-year limited warranty exceeds most RV generators, and lifetime tech support is another standout perk. This model is EPA and CARB-compliant, though it's slightly more energy-efficient when running on gasoline. 
Start options: Manual, electric, remote
Weight: 90 lbs.
Outlets: 120V 30-amp twist-lock RV (1), 120V 20-amp household (4), 120V DC 8-amp(1)
Dimensions
26.6" x 25.6" x 23.7"
Quietest generator for 50-amp RVs
DuroMax XP12000E | $999
Our heavy-duty pick has enough power to go around. At 12,000 starting watts, the DuroMax XP12000E generator can support an extra-large RV and its appliances. 
The DuroMax is heavy at 217 lbs., but the integrated wheels and handles allow you to roll this generator like a wheelbarrow. 
The gas-powered XP12000E is cost-effective. Even with 100% copper windings and a powerful engine, this model sells at a similar price point as the 30-amp options on our list.
The larger engine size makes this generator louder than our other picks. Its volume level is similar to a vacuum cleaner. Considering its 8.3-gallon tank and powerful operation, the Duromax is impressively quiet for a 50-amp RV. 
Start options: Electric
Weight: 217 lbs.
Outlets: 120/240V 50-amp heavy-duty (1), 120/240V twist-lock (1), 120V 30-amp twist-lock (1)
Dimensions
30" x 30" x 26"
RV generator safety tips
Operate your generator outside, at a distance from the RV. The power cord should be at least 20 feet long. 
Don't leave a generator uncovered in rainy conditions. Generator covers are an affordable solution. 
Confirm your generator model's fuel source before filling it. Store all fuel in a dry area of your RV, away from heat sources. 
Before refueling your generator, power off the generator and allow 30 minutes for the device to cool down.
The post Top 5 quietest generators for RVs appeared first on HVAC Solutions.

Source: HVAC Feed 1