Amazon Prime Day 2022 officially starts June 12, but the online retail giant has rolled out early discounts on a range of home comfort products.
Our top window AC, dehumidifier, and fan picks will help you enjoy a sweat-free summer.
Prime Day 2022 HVAC reviews
We selected the top Prime Day 2022 fan, window AC and dehumidifier deals from Amazon reviews. Prices are subject to change, but all are valid at the time of publication.
Best standing fan
The Lasko tower fan's slim design is a perfect fit for any cramped space. The remote control makes it easy to change the settings from your desk.
With a 7.5-hour timer and a dimmable display, the fan stays on all day or night. The bladeless design makes the Lasko safe for animals and kids.
Lasko stands by its products, offering a one-year warranty.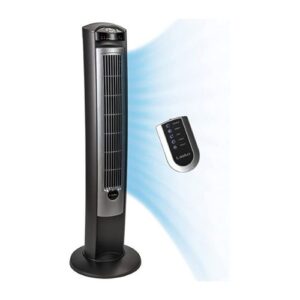 Dimensions
13″ x 13″ x 42.5″
Best portable fan
The OEMTools OEM24870 is powerful and quiet, operating at 65 dB (similar to office conversation). The high-quality aluminum blades are built to withstand the elements.
You can take this fan indoors or outdoors. It'd be a great fit for garages and workshops, or as supplemental cooling for a kitchen or living room.
Plus, the 180° tilt makes it easy to change the direction of airflow. If you prefer a standing or mounted fan, the OEM catalog has many indoor-outdoor options.
Dimensions
6.4″ x 24″ x 22.5″
Best window AC for small rooms
If you value simplicity over bells and whistles, the Frigidaire mini-compact air conditioner is a great choice. The rotary, dial-based controls make changing the two cooling modes and fan speeds easy.
The low price comes with a slight drawback: this model is louder than most. Reviewers compared it to white noise, but on the flipside, it's great for drowning out noisy neighbors. Looking for more AC options? Check out our list of best window AC units.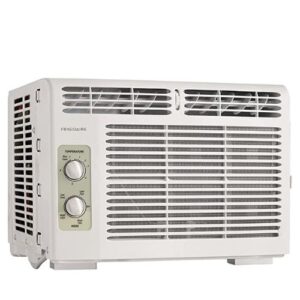 Dimensions
16″ x 15.25″ x 12″
Best window AC for large rooms
When summer nights get chilly, the Koldfront WAC18001W can bring the heat. The attached heat strip turns this AC into a dual heating-cooling powerhouse.
The three-speed WAC18001W is powerful, so it's on the heavy side. If you snag this Prime Day 2022 deal, then you may need help with installation. You'll also need a 230V plug (or an adapter if your living space doesn't have one).
With energy-saving settings like sleep mode, this model is relatively low-cost to operate.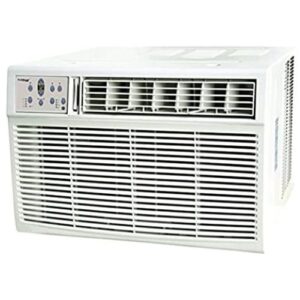 Dimensions
25.4″ x 23.6″ x 17.9″
Max square footage
1,000 (cooling), 700 (heat)
Best dehumidifier with pump
The Gree ENERGY STAR dehumidifier works in two different modes, but never passes the volume level of a conversation at home. If emptying a water bucket every few hours sounds like a chore, the continuous drain option pumps the water out through a hose.
Once the dehumidifier reaches the desired humidity level, it shuts off to conserve energy. Plus, it auto-restarts after power outages.
Even if you use the water bucket, you won't have to worry about spillage. The dehumidifier sounds an alarm if the bucket is full, removed or missing for more than three minutes.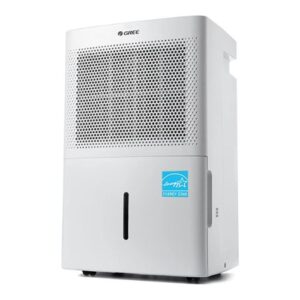 Dimensions
15″ x 24″ x 11″
Best portable dehumidifier
The GE portable dehumidifier's gray color and sleek design make it an attractive addition to any room. In SmartDry mode, it can sense indoor humidity levels and auto-adjust the fan for optimal comfort.
With castor wheels and handles, this model is easy to move between rooms. The 16-foot optional drain hose is much longer than most dehumidifiers, which is another perk.
Don't worry about remembering to replace the filter. Thanks to the built-in check filter alert, this dehumidifier will remind you.
Dimensions
11.4″ x 14.4″ x 24.1″
Prime Day 2022 deals: FAQ
When is Prime Day 2022?

Prime Day is June 12-13, but Amazon offers early deals in the weeks leading up to it.

What does a dehumidifier do?

A dehumidifier removes moisture from the air. It's a great tool for basements and other damp spaces.
Can I install a window AC myself?

Yes, but window ACs can weigh over 100 lbs. You may need a helper to install higher-capacity models.

Hiring a professional to install a window AC costs about $300.
The post Top 6 Prime Day 2022 deals: HVAC edition appeared first on HVAC Solutions.

Source: HVAC Feed 1