The World Meteorological Organization predicts the U.S. will experience a "Triple-dip" La Niña in 2023 for the first time this century. The phenomenon will bring unusual fall weather to many areas.
Wondering how the Triple-dip La Niña will affect you? We'll explain below and share how to keep your home as comfortable as possible amid fluctuating weather conditions.
What is Triple-dip La Niña?
La Niña is a weather pattern that occurs in the Pacific Ocean, causing the water near the equator to cool a few degrees. This small change impacts weather all over the world. 
The cooler temperatures in the eastern Pacific cause fewer rain clouds to form there. In turn, places like the southwestern U.S. have a drier than usual year.
La Niña can also promote more lightning along the Gulf Coast and more tropical storms in the Caribbean.
The term Triple-dip La Niña indicates that this will be the third consecutive year of La Niña conditions. It will likely amplify the typical effects of La Niña, which climate change has already exacerbated. 
While reports vary, Bloomberg forecasts the world will experience $1 trillion in weather-related damages by the end of 2023, including harm from floods, droughts, storms, and fires. Experts predict negative impacts on crops, energy supply, shipping, and inflation. 
🌧️ What's the difference between La Niña and El Niño?
With El Niño, the eastern Pacific temperatures rise rather than fall. This causes moisture to increase in the air, bringing rainstorms. Generally, the Northwestern U.S. has a warmer, drier winter in an El Niño year, while the Southeast experiences increased rainfall. 
In many ways, El Niño causes the opposite of La Niña.
How will Triple-dip La Niña impact my local weather?
Heat and drought
According to predictions from the National Oceanic and Atmospheric Administration, fall 2022 will be hotter than usual. Every state except for the northernmost regions of Washington, Idaho, Montana, North Dakota, and Minnesota will likely see above-average temperatures through November. 
Existing droughts across the west will continue, severely impairing farms in the region. The country's southern half will see less rain and snow for the remainder of 2022.
Hurricanes
La Niña's weather patterns cut off wind shear in the Caribbean and elsewhere. This means tropical storms and hurricanes in the Atlantic grow stronger and more frequent.
2022 is expected to have an above-average hurricane season, with between 14 and 21 storms. 
Cold and snow
Into the winter, the northern U.S. and New England will see colder-than-average temperatures. Additionally, snowfall will be above-normal in these regions.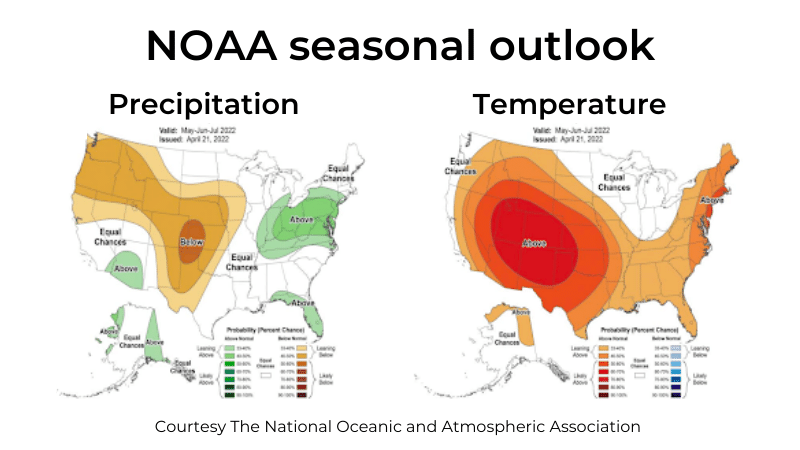 Staying comfortable in La Niña weather
A warmer fall means an extended cooling season. With your AC working overtime, preventative maintenance will keep it in good health. This includes:
Changing your air filter regularly
Cleaning debris like fallen leaves from in and around your condenser
Scheduling a twice-annual HVAC system checkup
Book your HVAC maintenance appointment now
Since the weather tends to fluctuate at this time of year with cooler mornings and warmer afternoons, you may prefer to open your windows and use a fan to keep comfortable. Our favorite fans include this tower fan by Honeywell and this energy-efficient box fan by Hurricane. 
If you live in a coastal region, check out our piece on prepping your AC for hurricanes. It includes tips to prevent damage from high winds and power surges. 
And, if you're in the northern U.S. and New England, make sure you schedule an appointment for furnace maintenance this fall. You'll want yours to heat effectively when winter brings cold temps and heavy snow. 
Schedule furnace maintenance now
The post "Triple-dip" La Niña: what is it, and how will it affect my weather? appeared first on HVAC Solutions.

Source: HVAC Feed 1